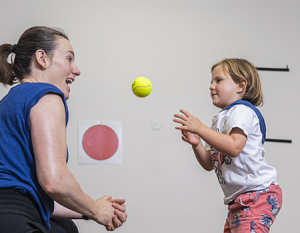 The Motor and Brain Development Lab at the Waisman Center is recruiting children 6-10 years old with autism for a research study that looks at the brainstem and corresponding behaviors in children with autism and typical development.
Children will complete 2-2.5 hours of behavioral tasks and a 1-hour magnetic resonance imaging (MRI) brain scan. The behavioral tasks will include a brief IQ assessment and various sensory and motor assessments (asking your child to do activities like drawing, playing with balls, hopping, touching or grasping objects, sorting objects, doing sit ups, and balancing). These activities can be completed in one visit or across multiple study visits, depending on the preference of the family.
During the study visit, a parent/caregiver will answer questions about the child in the form of questionnaires and an interview.
Families will be compensated $50/ MRI scan and $10/hour for their participation. Meals during testing will be reimbursed at the UW per diem rate. Sibling childcare is available upon request.
All sessions will be completed at the Waisman Center. To offset transportation costs to and from the study, participants will receive up to $250 depending on the amount of travel required.
For families outside of the Madison and surrounding areas, a one-night stay at a hotel will be offered.
Interested in helping us with this study to better understand the brain and movement in children with autism?  Contact Brittany Travers and her team at (608) 263-8913 or BrainyMovtStudy@waisman.wisc.edu for more information.
PI: Brittany Travers
Lab: The Motor and Brain Development Lab
Keywords: Motor Development, Autism, Brain Imaging