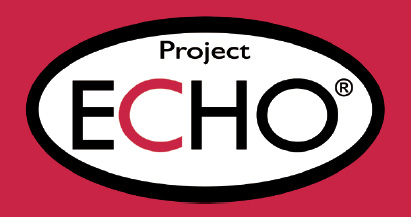 Project ECHO is a lifelong learning and guided practice model that is designed to build capacity of individuals around the state to provide evidence-based services.  The heart of the ECHO model is its hub-and-spoke knowledge-sharing networks.  Hub and spoke knowledge-sharing networks create a learning loop:
Community providers learn from specialists.
Community providers learn from each other.
Specialists learn from community providers as best practices emerge
ECHO History and Philosophy
Project ECHO was launched in 2003 as a healthcare initiative before expanding into other domains. It grew out of one doctor's vision. Sanjeev Arora, M.D., a liver disease specialist at the University of New Mexico Health Sciences Center in Albuquerque, was frustrated that he could serve only a fraction of the hepatitis C patients in the state. He wanted to serve as many patients with hepatitis C as possible, so he created a free, educational model and mentored community providers across New Mexico in how to treat the condition.
A study published in the New England Journal of Medicine found that hepatitis C care provided by Project ECHO trained community providers was as good as care provided by specialists at a university.
The ECHO model is not traditional "telemedicine" where the specialist assumes care of the patient, but is instead telementoring, a guided practice model where the participating clinician retains responsibility for managing the patient.
Amplification – use technology to leverage scarce resources
Best practices – to reduce disparity
Case-based learning – to master complexity
Data – monitor outcomes with our web-based database
 All Teach, All Learn
When all the principles are applied, a learning community in which "All Teach and All Learn" comes together. This includes:
Interactive Components
Guided Practice
Ongoing Mentorship
Peer-to-Peer Learning
Collaborative Problem Solving
ECHO Models: Medical and Education