Faculty Candidate Talk: Keegan Korthauer, PhD
March 13, 2019 @ 12:00 pm

-

1:30 pm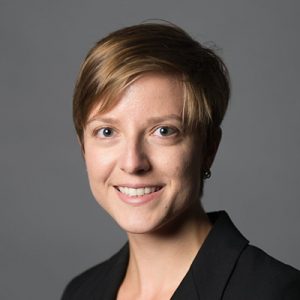 Speaker: Keegan Korthauer, PhD
Talk Title: "Accurate Inference of DNA Methylation Data: Statistical Challenges Lead to Biological Insights"
About the Speaker: Keegan Korthauer is a postdoctoral research fellow in the Department of Data Sciences at the Dana-Farber Cancer Institute and the Department of Biostatistics at Harvard T. H. Chan School of Public Health. Korthauer's research focuses on developing statistical methodology and computational tools for the analysis of high-dimensional genomics data. Most of this work revolves around experiments that use next-generation sequencing technologies to characterize the genomic basis of complex traits. In the past, she has focused on problems of analyzing the mutation spectrum of cancer genomes and identifying differential gene expression patterns in populations of single cells. Korthauer's current research aims to provide analysis tools to understand how epigenetic modifications influence transcriptional regulation. In particular, her talk will focus on the statistical challenges involved in the analysis of DNA methylation sequencing data, and how addressing those challenges can lead to biological insights. Using a statistical tool she recently developed, she was able to demonstrate a causal link between DNA methylation and gene repression that was masked using previous approaches. Complementary to her methodological research, Korthauer also collaborates with several experimental biologists and clinician scientists to study the epigenetic landscape in cancer disease progression and treatment.
About the Cluster Hire:
UW's Cluster Hiring Initiative was launched in 1998 as an innovative partnership between the university, state and the Wisconsin Alumni Research Foundation (WARF). In its first phase, the initiative authorized nearly 50 "clusters" and nearly 150 new faculty through several rounds of hiring. In 2017, phase two of the Cluster Hiring Initiative was authorized with a goal of supporting at least 12 clusters.
A proposal by several Waisman Center investigators for a Functional Genetics/Genomics of Neurodevelopmental and Neurodegenerative Diseases cluster at the Waisman Center was selected by the UW-Madison Cluster Hire Initiative.
New faculty hires who are part of the Functional Genetics/Genomics of Neurodevelopmental and Neurodegenerative Diseases cluster at the Waisman Center will help develop a pipeline of discovery that begins with patients in the clinics and ends with new approaches for treatments or therapies. This cycle of translational research would start with identifying patient-specific genetic variants, and then continue through experimental studies to confirm whether these variants truly cause disease. Ultimately, new panels for diagnosis and new approaches for treatment may be discovered.
Related Events