Faculty Candidate Talk: Neil C. Dani, PhD
March 16, 2022 @ 1:00 pm

-

2:00 pm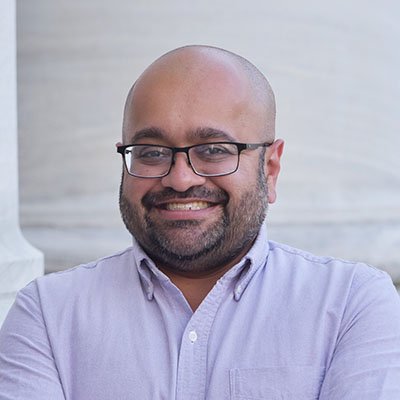 Speaker: Neil C. Dani, PhD
Postdoctoral Fellow
Boston Children's Hospital
Talk Title: "Lighting Up Cells of the Choroid Plexus Brain Barrier"
Location: John D. Wiley Conference Center, T216 Waisman Center or via Zoom
About the Speaker: Dr. Neil Dani is a postdoctoral fellow at Boston Children's Hospital in the laboratory of Dr. Maria Lehtinen and is an Instructor of Pathology at Harvard Medical School. He completed graduate training at Vanderbilt University with Dr. Kendal Broadie where he studied the impact of extracellular signals on neuromuscular synapse function. For his postdoctoral research he focused on the choroid plexus, a source of cerebrospinal fluid and extracellular signaling factors that support brain development and function throughout life. New research shows that choroid plexus can gate immune cell entry into the brain and contribute to neuroinflammation underlying autism spectrum disorder and neurodegenerative disease. However, the underlying mechanisms remain poorly understood. To help address these setbacks, he has used single cell and single nucleus transcriptomic analysis and spatial mapping to generate the first cell atlas of the choroid plexus across brain regions and ages in the mouse brain. Next, he has developed live imaging tools to visualize choroid plexus cell function in explants and in awake behaving mice. Together, these advances set the stage for his future research program that will investigate cellular mechanisms of choroid plexus barrier function in neurodevelopment and potential remodeling in disease.
About the Cluster Hire:
UW's Cluster Hiring Initiative was launched in 1998 as an innovative partnership between the university, state and the Wisconsin Alumni Research Foundation (WARF). In its first phase, the initiative authorized nearly 50 "clusters" and nearly 150 new faculty through several rounds of hiring. In 2017, phase two of the Cluster Hiring Initiative was authorized with a goal of supporting at least 12 clusters.
A proposal by several Waisman Center investigators for a Functional Genetics/Genomics of Neurodevelopmental and Neurodegenerative Diseases cluster at the Waisman Center was selected by the UW-Madison Cluster Hire Initiative.
New faculty hires who are part of the Functional Genetics/Genomics of Neurodevelopmental and Neurodegenerative Diseases cluster at the Waisman Center will help develop a pipeline of discovery that begins with patients in the clinics and ends with new approaches for treatments or therapies. This cycle of translational research would start with identifying patient-specific genetic variants, and then continue through experimental studies to confirm whether these variants truly cause disease. Ultimately, new panels for diagnosis and new approaches for treatment may be discovered.
For Zoom Participation Contact:
Clark Kellogg at kellogg@waisman.wisc.edu
Related Events