Faculty Candidate Talk: Zhuzhu Zhang, PhD
March 10, 2022 @ 12:00 pm

-

1:00 pm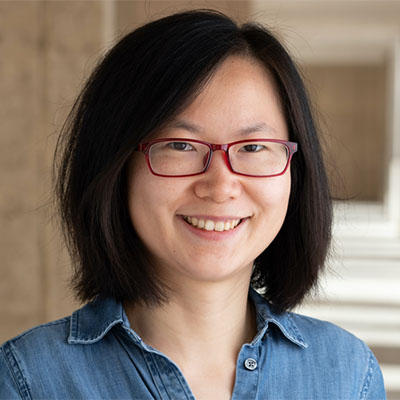 Speaker: Zhuzhu Zhang, PhD
Postdoctoral Fellow
Salk Institute for Biological Studies
Talk Title: "Single-cell Studies of Epigenomic Regulations in Brain Circuitry and Disorders"
Location: John D. Wiley Conference Center, T201 Waisman Center or via Zoom
About the Speaker:
Zhuzhu Zhang is a postdoctoral research fellow at the Salk Institute for Biological Studies working with Joseph Ecker and Edward Callaway. Before joining Salk, Zhuzhu received her Ph.D. in computational biology & bioinformatics as well as M.S. in statistics in 2014 at the University of North Carolina at Chapel Hill (UNC), where she studied the influence of chromatin state on transcriptional regulation. She also received an M.S. in developmental biology at Purdue University and M.S. in biochemistry at Lanzhou University in China.
Zhuzhu is broadly interested in understanding the epigenomic and transcriptional regulation at single-cell resolution, using both experimental and computational approaches. Specifically, Zhuzhu studies neuronal cell types and functions in the mammalian brain and investigates their molecular signatures in the context of neural pathways and circuits by developing and deploying new single cell multi-omics approaches. She has developed Epi-Retro-Seq, a single cell epigenomics method that combines retrograde tracing to study neural circuits with single cell DNA methylome sequencing. Using Epi-Retro-Seq, her study revealed unique epigenomic signatures of mouse neocortical neurons that corresponded to their laminar and regional locations, and complex principles between epigenomics profiles and axonal projections. Her work provides a framework for studying cell-type and circuit-specific epigenomic regulations that can be applied to studying epigenomic mechanisms underlying a wide range of brain function and disorders.
About the Cluster Hire:
UW's Cluster Hiring Initiative was launched in 1998 as an innovative partnership between the university, state and the Wisconsin Alumni Research Foundation (WARF). In its first phase, the initiative authorized nearly 50 "clusters" and nearly 150 new faculty through several rounds of hiring. In 2017, phase two of the Cluster Hiring Initiative was authorized with a goal of supporting at least 12 clusters.
A proposal by several Waisman Center investigators for a Functional Genetics/Genomics of Neurodevelopmental and Neurodegenerative Diseases cluster at the Waisman Center was selected by the UW-Madison Cluster Hire Initiative.
New faculty hires who are part of the Functional Genetics/Genomics of Neurodevelopmental and Neurodegenerative Diseases cluster at the Waisman Center will help develop a pipeline of discovery that begins with patients in the clinics and ends with new approaches for treatments or therapies. This cycle of translational research would start with identifying patient-specific genetic variants, and then continue through experimental studies to confirm whether these variants truly cause disease. Ultimately, new panels for diagnosis and new approaches for treatment may be discovered.
For Zoom Participation Contact:
Clark Kellogg at kellogg@waisman.wisc.edu
Related Events