Waisman "Walktober" Whirl
October 3, 2021 @ 8:00 am

-

5:00 pm

In-Person Virtual Wonder Whirlers Registration Deadline & Fees Packet Pick-Up Day of Race Sponsorship Need Inspiration?
Join us for the seventh annual

Waisman

 "Walktober" 

Whirl

 Run, Walk, & Roll for All Abilities

Join us in-person or virtual!

 Your race. Your Pace.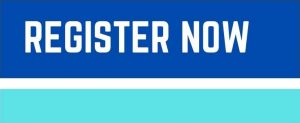 Deadlines
Registration – Please register by is due Friday, October 1.
T-Shirt – Register by September 10 to guarantee a t-shirt in your size.
All registrations are non-refundable.
Fees
Adults (In-Person or Virtual): $35
Students (In-Person or Virtual): $25
Kids (In-Person or Virtual): $15
All registrants receive:
T-shirt
Personalized race bib
Finisher certificate
How far will you go to support the Waisman Center?
The possibilities are endless!
Run, walk, or roll:
through your neighborhood
on a treadmill
or around the house
with family, friends, and neighbors near and far…everyone can participate from anywhere.
Every step, stride, and roll counts!
Keep track of your distance and let us know how far you went in support of the Waisman Center.
Share your photos, videos, and results with us and let us celebrate your success!
Be Safe!
Listed below are some tips that you may find helpful.

Take time to do a safety check. Are your shoes tied? Are you familiar with your route? Does someone know where you are going?
Be aware of your surroundings
Make sure you are visible
Dress for the weather
Have identification on you
Limit distractions
Obey all signals, traffic and safety rules, and watch out for traffic, cyclists, and pedestrians
We want to celebrate our Wonder Whirlers!! Free registration and t-shirt for Wonder Whirlers**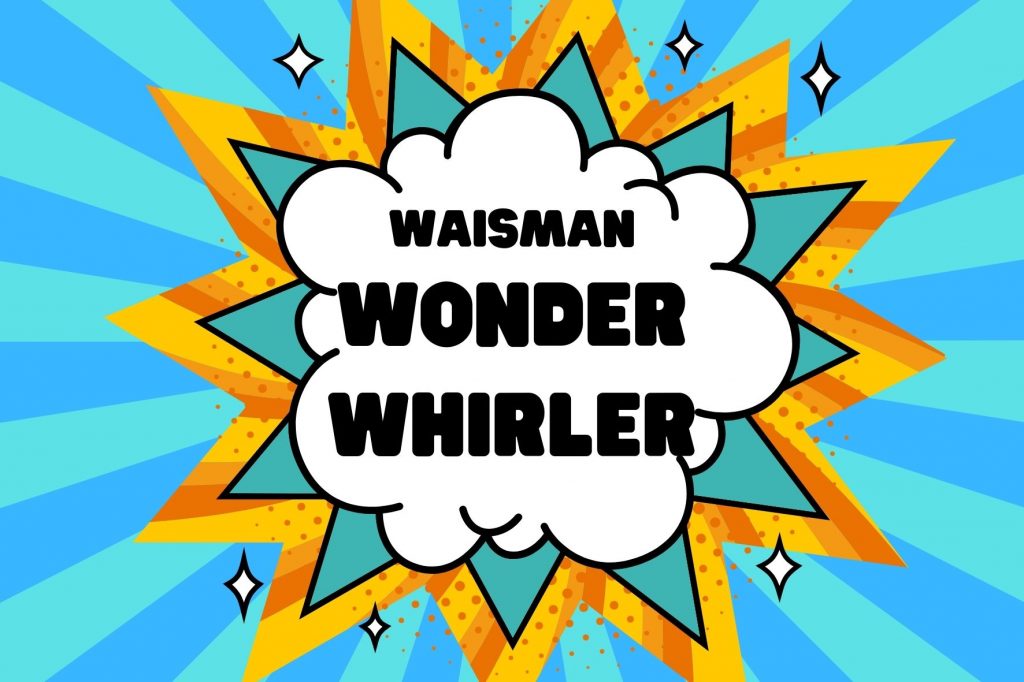 Wonder Whirlers are individuals with an intellectual and developmental disability such as autism, Down syndrome, and cerebral palsy or a neurodegenerative disease such as Parkinson's, Alzheimer's, or ALS. Wonder Whirlers represent the community we serve and inspire the work that we do.
We want to celebrate our Wonder Whirlers at the Waisman Whirl!
**In order to receive your coupon code for free registration, please contact Teresa at palumbo@waisman.wisc.edu or 608.279.7460 to share a little bit about yourself and provide a photo for your personalized on-course sign.
Packet Pick-Up:
Packets with bib numbers and t-shirts can be picked up in the main entrance of the Waisman Center on Friday, October 1 between 4:00-5:30 p.m.
Day of Race
Registration begins at 9:00 a.m. and the run/walk/roll starts at 10:00 a.m.
The kids' Fun Run race the Discovery Garden beginning at 9:00 a.m.
Join us for the fifth annual Waisman Whirl 5k and 1 mile Run, Walk & Roll for All Abilities. The event will start and finish at the Waisman Center, 1500 Highland Ave.
Directions: Turn North from University Avenue at the intersection of University Bay Drive and Farley Avenue; continue over the hill onto Highland Avenue. The Waisman Center is down the hill on the left. Enter parking lot by athletic fields. Click here for driving directions, map, and parking
Parking: Free parking in lots 76 & 60. Free accessible parking in lot 82.
Weather: The run, walk, and roll takes place rain or shine. In case of severe weather, the race director reserves the right to cancel the event.
No pets allowed. Service animals are welcome.
How Your Support Helps:
The Waisman Whirl is a great opportunity to raise awareness and funds for the Waisman Center and to come together as a community! The proceeds from this event support a broad range of activities and programs that benefit individuals and families impacted by intellectual and developmental disabilities and neurodegenerative diseases including:
Travel awards and mini-grants for students and postdocs
BE A SPONSOR:
Partner with the Friends in presenting this event. All sponsorships include a logo on the t-shirt and signs on the day of the event. Click here for more information on sponsorship opportunities.
Waisman Whirl Presenting Sponsor

— $2,500


Includes company logo prominently placed on t-shirt and publicity materials including social media, verbal recognition in

radio and TV announcements, large event banner, promotional item placement in event bags, company logo and link on 

the

Waisman Whirl

website and 8 complimentary race entries

Kids' Fun Run Sponsor

— $1,000


Logo on signs throughout Discovery Garden where kids' fun run and family activities take place, logo on kids' goodie bags,

acknowledgment in publicity materials including social media, logo on t-shirt, event banner, promotional item placement

in event bags, company logo and link on the

Waisman Whirl

website and 4 complimentary race entries




Mile Marker Sponsor

—

$750


Logo on mile marker sign and acknowledgment in publicity materials including social media, logo on t-shirt, event banner,

promotional item placement in event bags, company logo and link on the

Waisman Whirl

website and

2 complimentary race entries




Water Station Sponsor —

$500


Logo on water station sign and acknowledgment in publicity materials, logo on t-shirt, event sign, promotional item

placement in event bags, company logo and link on the

Waisman Whirl

website and 2 complimentary race entries

Contributor

(Any amount/In-kind) 
Please contact us if you are able to donate items for race bags

or post-race food and beverages. Help make this worthwhile event a great success!

Download the Sponsorship Form or contact Teresa Palumbo at 608.263.5837 or palumbo@waisman.wisc.edu
Sponsors: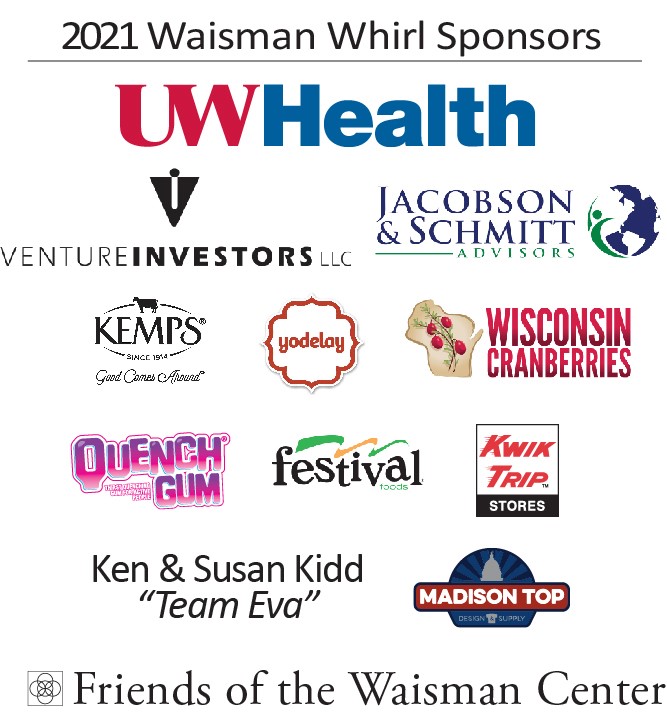 UW Health
Venture Investors
Jacobson & Schmitt Advisors
Kemps
Yodelay
Wisconsin Cranberries
Quench Gum
Festival Foods
Kwik Trip
Ken & Susan Kidd "Team Eva"
Madison Top
Friends of the Waisman Center
Related Events