Seminar: Subhojit Roy, MD, PhD, "The Curious Case of Actin in the Axon Shaft"
March 23, 2018 @ 12:00 pm

-

1:00 pm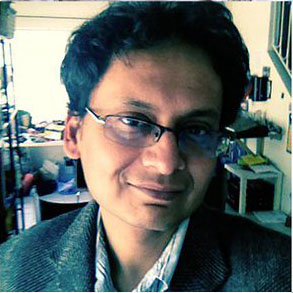 Subhojit Roy, MD, PhD
University of Wisconsin–Madison
About the Speaker: I, Subhojit (various pronunciations exist – "soob – oh! – jeet" being the most popular) started life in a small copper mining town in the state of Rajasthan, India, where my father was an engineer. I then went to medical school in Calcutta, India, with every intention to pursue a career in general Medicine. However a series of highly improbable misadventures led me to abandon this predictable path and enter the US (long story). Despite never having held a pipette in medical school (didn't even really know what a pipette was), I decided to do a PhD in neuronal cell biology with Mark Black at Temple (I cannot think of any good reason for this other than my expiring visa….). Anyway, my thesis work helped resolve a key controversy at that time, and instilled a desire of "finding new things". After a rather intense training-period of residency/fellowship and post-doctoral research in neurodegenerative neuropathology/cell biology with Virginia Lee and John Trojanowski at the ever-vibrant University of Pennsylvania, the Roy Lab was founded in 2008.
A static cell is a dead cell. My broad interest is to explore movement within cells, specifically within neurons – mechanisms that convey, deposit and retain cargoes in axons, dendrites and synapses. Towards this, we are interested in physiologic neuronal transport/trafficking, and also potential abnormalities in these processes in neurodegenerative diseases like Alzheimer's and Parkinson's disease. I am also board-certified in anatomic- and neuro- pathology.
For Further Information: Contact Teresa Palumbo at 608.263.5837 or palumbo@waisman.wisc.edu
The seminar series is funded by the John D. Wiley Conference Center Fund, the Friends of the Waisman Center and NIH grant U54 HD090256.
Related Events