Seminar – Stewart Anderson, MD – "Using Stem Cell Derived Cortical Interneurons to Study Development and Treat Disease"
October 26, 2018 @ 12:00 pm

-

1:00 pm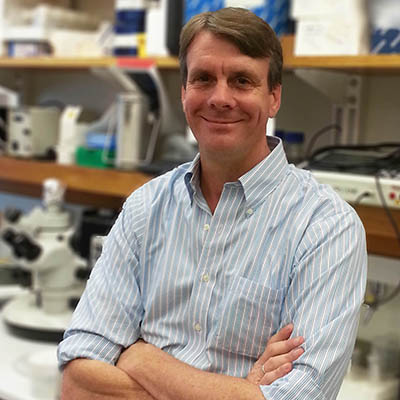 Stewart Anderson, MD
Children's Hospital of Philadelphia and UPenn School of Medicine
About the Speaker: Stewart Anderson, MD, is professor of psychiatry at the University of Pennsylvania's Perelman School of Medicine. Anderson also serves at Director of Research for the Department of Child and Adolescent Psychiatry and Behavioral Services of the Children's Hospital of Philadelphia (CHOP), and as the Associate Director of the Lifespan Brain Institute, a CHOP-Penn collaboration dedicated to identifying the neuropathological antecedents of neuropsychiatric disease. He is a member of the Scientific Council for the Brain and Behavior Research Foundation (formerly NARSAD), and is a standing member on the Neural Cell Fate study section at the National Institutes of Health.
Anderson's interest in the interface between basic science and clinical research extends to undergraduate training at Amherst College, where he majored in neuroscience and in psychology. His medical training at the University of Connecticut include two research fellowships at the National Institute of Mental Health, and his residency in psychiatry at the University of Pittsburgh included studies with Dr. David Lewis on development of the cerebral cortex and schizophrenia. Anderson then trained in developmental neurogenetics with Dr. John Rubenstein at UCSF, before starting his own laboratory at the Weill Cornell Medical College, where he also worked with patients with treatment-resistant forms of schizophrenia.
Anderson moved to UPenn and CHOP in 2012. The main focus of his laboratory concerns the molecular and cellular mechanisms that govern the development of the mammalian forebrain. Using mouse genetics, forebrain slice and dissociated culture techniques, as well as mouse and human embryonic stem cells in cell culture and transplantation experiments, they study the development of the cerebral cortex. They are particularly interested in understanding the molecular underpinnings behind the fate determination and axon targeting of subclasses of GABAergic interneurons implicated in the neuropathology of schizophrenia. New directions in the Anderson lab include the study of mitochondria in interneuron migration, maturation, and function. In addition, they are generating mouse and human stem cell-derived interneurons for use in cell-based therapies for seizures, psychotic disorders, and as tools for the study of gene-gene and gene-environment interactions in neuropsychiatric disease.
For Further Information: Contact Teresa Palumbo at 608.263.5837 or palumbo@waisman.wisc.edu
The seminar series is funded by the John D. Wiley Conference Center Fund, the Friends of the Waisman Center and NIH grant U54 HD090256.
Related Events