Seminar – Jonathan Santoro, MD – "Down Syndrome Regression Disorder: Neuroinflammation and Response to Immunotherapeutics"
September 16, 2022 @ 12:00 pm

-

1:00 pm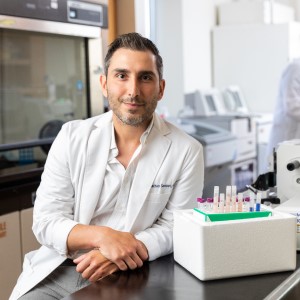 Jonathan Santoro, MD
Children's Hospital Los Angeles/Keck School of Medicine at USC
Profile: chla.org/profile/jonathan-d-santoro-md#quickset-profile1
Publications: keck.usc.edu/faculty-search/jonathan-santoro
About the Speaker: Dr. Santoro serves as the Director of Neuroimmunology and Demyelinating Disorders Program at Children's Hospital Los Angeles. He is also an assistant professor of neurology at the Keck School of Medicine at the University of Southern California. Santoro completed his undergraduate, masters, and medical degrees at Tulane University. He subsequently completed residencies in pediatrics and child neurology at Stanford University School of Medicine and subsequently had sub-specialty training in neuroimmunology and pediatric multiple sclerosis at Harvard Medical School. Santoro is and passionate clinician-scientist who has published over 50 peer-reviewed manuscripts. Santoro is one of only a handful of national clinician-scientists who treats neurologic disorders associated with Down syndrome. He has been instrumental in identifying systemic vascular abnormalities in persons with Down syndrome and moyamoya disease, a rare stroke disorder which affects persons with Down syndrome 26 times more frequently than the general population. Santoro also has clinical research expertise in inflammation as it related to cerebrovascular disease and neurocognitive disorders such as Down syndrome regression syndrome, of which he spoken on internationally. He currently serves on the American Academy of Neurology's Health Policy Sub-committee and as the representative of the AAN to the American Medical Association. Santoro is a long-standing advocate for persons with disabilities and has lobbied locally in California and on Capitol Hill.
For Further Information, Contact: Clark Kellogg at kellogg@waisman.wisc.edu
The seminar series is funded by the John D. Wiley Conference Center Fund, the Friends of the Waisman Center and Eunice Kennedy Shriver National Institute of Child Health and Human Development (NICHD) grant P50HD105353.
Related Events