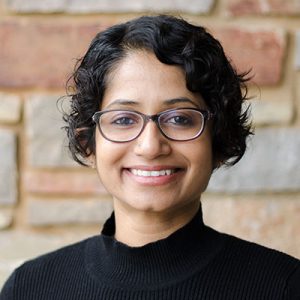 PhD, The University of Western Ontario
Assistant Professor, Communication Sciences and Disorders
Contact Information
Waisman Center
1500 Highland Avenue
Room 541
Madison, WI 53705
608.263.5641
veaswar@wisc.edu
Child Hearing Lab
Research Statement
My research focuses on auditory development in children with and without hearing loss. In particular, I am interested in investigating the effects of age, auditory deprivation, and hearing prostheses like hearing aids or cochlear implants on how sounds, particularly speech stimuli, are encoded by the auditory system using electroencephalography (EEG) techniques. In addition to studying auditory development, my research interests include investigating factors that contribute to between-subject variability in EEG measures evoked by sound. Of particular interest is the speech-evoked envelope following response.  The overall goal of my research program is to develop evidence that can help inform intervention strategies in children with hearing loss and extend the use of EEG techniques to clinical practice to help clinicians (audiologists) evaluate intervention outcomes in children.
I currently direct the Child Hearing Lab, or in short, the Chear lab. We collaborate closely with the Efferent Systems Lab directed by Dr. Sriram Boothalingam.
Selected Publications
Easwar V, Sanfilippo J, Papsin B, Gordon K. (2018) Impact of consistency in daily device use on speech perception abilities in children with cochlear implants: Datalogging evidence. Journal of the American Academy of Audiology, 29(9):835-846. doi: 10.3766/jaaa.17051.