Lindsay McCary, PhD
Psychologist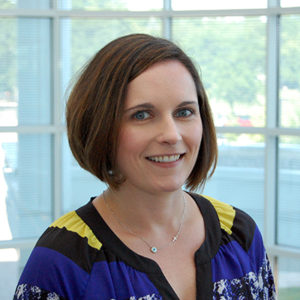 Profile
Lindsay M. McCary, PhD, is a licensed psychologist in the Autism Treatment Programs and the director of the Autism and Developmental Disabilities Clinic. She received her PhD in school psychology from the University of South Carolina and completed a two-year combined research and clinical fellowship in neurodevelopmental disabilities with an emphasis on autism spectrum disorders and fragile X syndrome. Her research and clinical interests include early detection of autism in high-risk populations, early childhood assessment and patient-centered models of care.
Clinics
Professional Certifications and Education
PhD, School Psychology, University of South Carolina
Postdoctoral Fellowship, Neurodevelopmental Disabilities, University of South Carolina
National Register of Health Service Psychologists
APA Internship, Louisiana State University Health Sciences Center
Department Appointments
Current Research
Lindsay McCary's research focuses on the behavioral phenotype of fragile X syndrome and the FMR1 premutation including comorbidities and early developmental trajectories.  Currently, she is the sub-investigator for a clinical trial in children and adolescents with Down syndrome.
Selected Publications
Roberts, JE, Tonnsen, BL, McCary, LM, Ford, AL, Golden, RN, & Bailey, DB, Jr. (2016). Trajectory and predictors of depression and anxiety disorders in mothers with the FMR1 premutation. Biological Psychiatry, 79(10), 850-7. doi: 10.1016/j.biopsych.2015.07.015

McCary, L.M., Grefer, M., Mounts, M., Robinson, A., Tonnsen, B., & Roberts, J. (2012). The importance of differential diagnosis in neurodevelopmental disorders: Implications for IDEIA. The School Psychologist, 66(2).