The Friends of the Waisman Center present seven awards each year to Waisman students, staff, and and family volunteers. The awards acknowledge outstanding achievements by students, exceptional job performance, skills, and accomplishments of staff, and significant contributions by family volunteers. The awards include a plaque and a $500 check.
The awards underscore the importance of Waisman Center students. staff, and family volunteers in furthering the mission of the Waisman Center.
The awards are presented annually at the Friends of the Waisman Center annual meeting and reception.
The Waisman Center also presents several Wisconsin Distinguished Graduate Fellowships at the Friends meeting. These competitive awards are given to graduate students working with a Waisman principal investigator and supports research, training, and tuition remission for a nine-month academic year.
Wisconsin Distinguished Graduate Student Fellowships
Ellie Breitfeld
Nominated by Jenny Saffran, PhD
Ellie is a doctoral student in psychology. She was nominated for this award by Jenny Saffran for her work in Saffran's Infant Learning lab which is focused on investigating how infants learn about the auditory world. Ellie's research looks at how infants learn words and then further at why they learn the words that they do. Specifically, she is studying what active learning processes motivate infants. As Saffran states in her nomination,
"Ellie is poised to be an immensely successful scientist. My own ideas have already been influenced by Ellie's input as I was not working on any of the questions she's posing before she arrived in my lab. She is dedicated and deeply engaged by her studies, and she has already developed multiple fascinating lines of independent research. She is highly motivated and an excellent communicator. She has exhibited a great deal of perseverance and drive. Ellie cares deeply about how her work fits within our field. She is also drawn to interdisciplinary questions and is not afraid to stretch beyond her intellectual comfort zone. Ellie is a rising star in our field and has all the skills to become a highly impactful scientist."
Ryan Risgaard
Nominated by Andre Sousa, PhD
Ryan is a graduate student in the Medical Scientist Training Program where he is working on both an MD and a PhD. He was nominated for this award by Andre Sousa for his work in the Sousa lab both during his research rotation in the lab and now as an official graduate student. Ryan's research for his dissertation is focused on looking at a specific population of inhibitory neurons that display human-specific features particularly in the prefrontal cortex, temporal cortex, striatum, and olfactory bulb in order to trace their developmental origin. His work will take a cross-species approach to study the unique properties of these cortical neurons further refining the understanding of the human brain architecture.
As Sousa states in his nomination letter, "Upon meeting Ryan, I was immediately impressed by him. He demonstrated a very solid knowledge on several topics in developmental biology, genetics, and neuroscience. His excitement for answering the questions he's posing is obvious to everyone in the lab. He has always interacted with his colleagues with enthusiasm and has presented his research in a clear and thorough manner during lab meetings. On top of his research qualities, Ryan has also shown that he is very organized and reliable. Ryan truly deserves this fellowship and I have no doubt that he will be successful."
Graduate Student Awards
IDDRC Graduate Student Award

Megan Braun
Nominated by Luigi Puglielli, MD, PhD
Megan is a graduate student in the Neuroscience Training Program who is currently working on her thesis project in Luigi Puglielli's lab which is focused on molecular mechanisms of neurodevelopment and neurodegeneration. Her research overall is zeroing in on uncovering the molecular mechanisms of human disease with her thesis work focused on two different aspects of the endoplasmic reticulum acetylation machinery that was discovered by Puglielli.
As Puglielli states in his nomination letter, "I was immediately impressed by the fact that Megan wanted to learn biochemistry and tackle questions that are key to our understanding of fundamental cellular events. She clearly understands the potential impact of her research and appreciates the translational impact it can have. She is truly a talented, serious, hard-working, and highly motivated student with a great future in biomedical research."
IDDRC Graduate Student Award
Nicole West
Nominated by Anita Bhattacharyya, PhD

Nicole is a graduate student in cellular and molecular biology and is part of Anita Bhattacharyya's lab which investigates brain development in intellectual and developmental disabilities such as Down syndrome and fragile X using stem cells. Her research is looking into the cellular and molecular mechanisms that may be behind the neurodegeneration of basal forebrain cholinergic neurons that is strongly correlated with cognitive function and an early indicator of Alzheimer's disease in Down syndrome.
As Bhattacharyya states in her nomination letter, "Nicole is a fast learner with good scientific hands, as evidenced by her ability to easily master human stem cell culture in the first months in the lab. She is highly goal-oriented and very well-organized. Nicole's greatest strength is her ability to plan and execute rigorous experiments. I consider Nicole among the top graduate students at her career stage. She has a genuine passion for research that will help pave the road for a successful career for this talented young scientist."
UCEDD Graduate Student Award:
River Steen
Nominated by Allison Ackerman, MS, CCC-SLP & Abygail Marx, CCC-SLP
River was a graduate student in the Department of Communication Sciences and Disorders and a Wisconsin Leadership Education in Neurodevelopmental and Related Disabilities (LEND) trainee. River completed clinical placements in several of the Waisman Center Clinics and in the Waisman Early Childhood Program.
As Allison Ackerman and Abygail Marx state in their nomination letter, "River has demonstrated exceptional clinical abilities in her placements here at the Waisman Center, but it is the work that she has accomplished above and beyond the standard clinical and leadership expectations that has set her apart. She made the choice to take on this extra clinical work and then spent her own time creating a sensory board for one of the children in the preschool. The board was carefully planned out and beautifully designed for the specific needs and preferences of this child. River designed and completed this project completely of her own volition and using her own time and resources. It has served as an example of her deep commitment to the children that she works with and her willingness to do extra work to support them. We cannot think of a more deserving graduate student for this award."
Staff Awards
Staff Award:
Jinkuk Hong, PhD
Nominated by Marsha Mailick, PhD & Leann DaWalt, PhD
Jinkuk was nominated for this award by Marsha Mailick and Leann DaWalt for his 23 years of work as a researcher and statistician in the Lifespan Family Research Lab. The lab is dedicated to the advancement of knowledge about families who have a member with an intellectual and developmental disability with a special emphasis on how these families change over the lifespan. He has been a crucial member of the lab and plays a central role in multiple ongoing research studies.
As Mailick and DaWalt state in their nomination letter, "Jinkuk has been a treasured colleague as he has offered his significant expertise and support to the entire group. His valuable collaborations within and outside of the lab have resulted in important advancements in our understanding of individuals with intellectual and developmental disabilities. His work has been outstanding, with a strong commitment to rigor and innovation. Jinkuk consistently goes above and beyond to very quickly, efficiently, and carefully prepare data and provide highly technical analyses to keep projects going. He is the 'keeper of the data' for multiple studies and his efforts have been central in securing grant funding for the entire program. Jinkuk is the glue that holds the lab's various projects together."
Staff Award:
Melissa Henning
Nominated by Bernadette Gillick, PhD
Melissa was nominated for this award by Bernadette Gillick for her expertise and outstanding skill as the Waisman Center's human rtesources manager. Melissa has been with Waisman for 11 years and works diligently to ensure that the right people are brought into the center.
As Gillick states in her nomination letter, "Melissa is an example of a staff leader who not only understands the importance of the Waisman mission, but also that hiring and retaining an engaged and productive team is a key component to research success. Throughout the process of building my lab here, Melissa has displayed outstanding communication and problem-solving abilities to work with me and my team when we have questions about their position and trajectories. The importance of having such an individual as Melissa in a leadership role during a time of transition is pivotal for incoming faculty. Time and time again, Melissa has proven herself an outstanding resource and a valued colleague."
Family Appreciation Award for Volunteer Efforts
Family Appreciation Award for Volunteer Efforts:
The Ptaszynski Family
Nominated by the Brittany Travers Motor and Brain Development Lab
The Ptaszynski family was nominated for this award by Brittany Travers, Emily Skaletski and Olivia Surgent for their involvement in the Motor and Brain Development Lab's community advisory board and for helping with training efforts for the UW LINK study – which is Waisman's Signature Research Project on the center's core grant. The family consistently dedicates time to assist the lab in whatever ways that they can.
As stated in their nomination, "Katy Ptaszynski is an exceptionally knowledgeable person with fantastic communication skills. Her perspective as both a parent and advocate is remarkable. She is realistic but positive, and sees the best in people. Xander Ptaszynski has helped with training efforts by coming into the Waisman Center to help train newer team members on assessment administration, an important task for the execution of studies. The family has helped make sure our lab is doing the most neurodiversity-affirming and rigorous research that we can. In so many ways, our lab's research has benefitted because of Katy and Xander's incredible efforts and willingness to share their time and talents with our team."
Previous Award Winners
Wisconsin Distinguished Graduate Student Fellowships:
Quanfa "Frank" He
Nominated by James Li, PhD
Frank is a fourth-year doctoral student in clinical psychology. He was nominated for this award by James Li for his work in the Li lab and on the Waisman Center signature research project with the P50 grant. Frank's research is focused on the use of genetic methods such as polygenic risk scores and ways these tools can inform the diagnosis and eventual treatment of children with neurodevelopmental disorders such as autism and ADHD. According to Li,
"This research is transformative in the field of child psychology because basic research in this space has very rarely been translated into real world clinical applications. It is especially exciting because of its clear clinical significance for children with neurodevelopmental disorders." Another focus of Frank's research is to build robust measurements of mental disorders across racial-ethnic groups with an emphasis on youth. This research has garnered much attention and as Li states, "…is incredibly important because most clinically relevant genetic studies are comprised of entirely White, European populations. Frank is also directly contributing to the center's signature research study with his genetic analysis skills as well as data collection. As Li says, "Frank has clearly made himself an invaluable member of our research team."
Raghu Ramesh
Nominated by John Svaren, PhD
Raghu is a doctoral student in comparative biomedical sciences. He was nominated for this award for his work in the lab of John Svaren which is focused on Schwann cells and the neurological disorder, Charcot-Marie Tooth disease or CMT. His research is devoted to understanding the epigenetic reprogramming that occurs in Schwann cells after nerve injury. His PhD project involves finding the molecular trigger that activates this nerve repair program. Unveiling the trigger is impactful because Schwann cells have the ability to spearhead the nerve regeneration process and determine the molecular mechanism for repair which is crucial for debilitating injuries, myelinopathies, and hereditary nerve disorders like CMT.  As Svaren states in his nomination,
"Raghu has been working on developing new Cut&Run techniques to enhance our ability to document chromatin modifications and transcription factor binding in smaller cell populations, and he has developed the companion bioinformatic skills to analyze the data to address very important biological questions. Based on his accomplishments, I recommend him as an excellent recipient of this award."
---
IDDRC Graduate Student Award
Haley Weaver
Nominated by Jenny Saffran, PhD
Haley is a doctoral student in the Infant Learning Lab directed by Jenny Saffran. Her research is focused on early word meanings in language development or what words actually mean to infants, and how word meanings might differ from one baby to another. As Saffran states in her nomination,
"Haley is singlehandedly responsible for the Infant Learning Lab's successful shift to online studies during the pandemic, which has allowed us to continue our grant-funded research while our in-person research remains shut down. Haley is the complete package. She is dedicated and deeply engaged by her studies, and she has already developed  multiple fascinating lines of independent research. I was not working on these questions before Haley arrived on campus, or even thinking about them. Indeed, my own ideas have already been heavily influenced by Haley's input. Her technical skills are outstanding, and she has led my lab through COVID into the new world of infant eye-gaze data collection via Zoom and Lookit."
Jenn Soriano
Nominated by Katie Hustad, PhD
Jenn is a doctoral student in speech language pathology in the lab of Katie Hustad. Jenn's research interests are focused on communication challenges in children with intellectual and developmental disabilities (IDD). Her scholarship centers on the study of speech development in children with speech motor disorders where she is especially keen on studying dysarthria in children who are multilingual, examining the unique challenges at the intersections of speech acquisition, neuromotor speech disorders, and multilingualism. This is an area that has received little research attention, and a dire need exists in this space. As Hustad states in her nomination letter,
"Jenn has an exceptional level of curiosity that characterizes only the best and the brightest students. She is one of the most talented doctoral students I have ever worked with. She is meticulous, with a keen eye for detail. She approaches research with outstanding insight into scientific rigor and transparency. She is highly motivated and driven to learn. Her work ethic is outstanding. She is also a lovely person who has a real talent for relating to all sorts of people. She is deeply committed to community building and is a wonderful citizen and leader in the lab. I have every confidence that she will make important contributions to the field."
---
IDDRC Undergraduate Student Awards:
Alina Grimaldo
Nominated by Bernadette Gillick, PhD
Alina is a rising second year biochemistry major and an undergraduate research scholar in the Pediatric Neuromodulation Laboratory directed by Bernadette Gillick. Alina has engaged in an active role in the lab's first-in-world National Institutes of Health R01-funded research, focused on assessing, over the first two years of life, concurrent recovery and development of the infant brain and resultant function after early stroke or brain bleed. As Gillick states in her nomination,
"With Alina's exceptional attention to detail and organization, she has been instrumental in refining study processes and forms, including a novel 'Travel Passport' which informs families of the outcomes of each visit with us and allows them information to process and bring home for further discussion. She is a model undergraduate, exemplified by her early, eager and punctual involvement, willingness to assume responsibility with a wide variety of tasks, and openness and respect in working with students and families/children of all ages and diverse backgrounds. She will continue on with the lab into the next academic year. I have no doubt that Alina's efforts will expand this next year to lead to a first-author publication surrounding our data and community engagement objectives, national presentations and exceptional recruitment and data acquisition efforts on our R01 and beyond.
---
Staff Awards:
Beth Capowski,PhD
Nominated by David Gamm, MD, PhD
Beth was nominated for this award by David Gamm for her 19 years of stem cell work at the Waisman Center in the labs of David Gamm for 15 years and Clive Svendsen for four. As Gamm states in his nomination,
"Beth has been integral in the submission, obtainment, and execution of more than two dozen federal, foundation, and industry-sponsored grants. She has helped bring in over $20 million in funding, and is tasked with the most challenging projects in my lab, which she frequently "troubleshoots" before passing them on to others.  She always has her door open and people in my lab on the 6th floor always pop in for her advice and expertise, particularly in cell and molecular biology. She is a realist, and is impeccably honest, transparent, and rigorous., has mentored more than 20 trainees, research interns, and research specialists, and has published multiple highly impactful articles. She has also been a continuous, willing, tireless, and highly-skilled resource for the CMN Core and the entire Waisman Center (6th floor in particular). She is a consummate team scientist and is brilliant, kind, and visionary. Her absence will be felt deeply, and it is only fitting to acknowledge her tremendous contributions to the center. All scientists should have her integrity, and I know she has made a lasting impression on me.  I am a better scientist because I have had the privilege of working with her. And she's fun (but don't tell her I said that)."
Mary Locast, OT
Nominated by Ann Lauritzen, MMSW
Mary was nominated for this award by Ann Laurizten for her work as an occupational therapist on several different clinical teams at the Waisman Center and within the Waisman Early Childhood Program. As stated in her nomination,
"Mary is a role model in professionalism, dedicated to doing what is best for families, for her team, the program, and the overall vision and mission of the Waisman Center. She has been extremely successful in her role as an OT over these years, as well as serving as a family advocate, a mediator, instructor, and trainer. Mary is an expert in many areas!  She has attended conferences and trainings and then returned to WECP to provide professional development for our staff to expand the impact of the training. From her team's perspective, one of the most important areas where she exceeds all expectations is in ensuring a positive, safe, open, honest, and fun workplace culture. Mary has an exceptional work ethic, working hours and hours to ensure our best possible program, with an outstanding eye for detail and commitment to relationships with all stakeholders. Families and colleagues consistently seek her out for her expertise in the fields of OT, early childhood education, disability awareness and advocacy and community resources and support as well as for other professional and personal input and support. She has also mentored and trained more than 160 UW occupational therapy students during her tenure at the WECP."
Christopher Lang
Nominated by Jody Bleck, MS
Christopher was nominated for this award by Jody Bleck for his 30 years of service and commitment to furthering the mission of the Waisman Center through his positive attitude, friendly disposition, and his diligent and meticulous work at keeping our spaces clean and tidy. As Bleck states in her nomination,
"Chris carries out his responsibilities at the highest level and takes great pride in his work and doing it well. He makes such a positive impact on his coworkers and visitors and is an example for all. Chris makes everyone's day better because he is so positive."
Chris is also an accomplished artist who creates very detailed drawings. He recently contributed several pieces to the Harvey A. Stevens International Collection of Art by People with Disabilities that is maintained by the Friends of the Waisman Center.
---
Family Appreciation Award for Volunteer Efforts:
The Villeneuve Family – Sam, Drew, Bren, and Sage Villeneuve
Nominated by Phoebe Natzke, MS, CCC-SLP &
Ashley Sakash, MS, CCC-SLP
Sam, Drew, Bren, and Sage Villeneuve were nominated for this award by Phoebe Natzke and Ashley Sakash from the Katie Hustad lab for their ongoing and dedicated participation in research. The lab met the family at the Waisman Center Day with the Experts: Cerebral Palsy when Bren was only 12 months old. They were the first family to enroll in the Study on Emerging Abilities in Language and Speech. The family has been a true advocate for Bren and other children born with hypoxic ischemic, encephalopathy, and cerebral palsy by participating in research and sharing their family's experiences. The family regularly comes to the Waisman Center from Platteville to participate in the longitudinal research study having already made 15 visits for the project. As stated in their nomination,
"The family has invested heavily into ensuring that their participation in research will help other families in the future. They take the mission of the Waisman Center and the spirit of inclusion back to their local community and Grant County."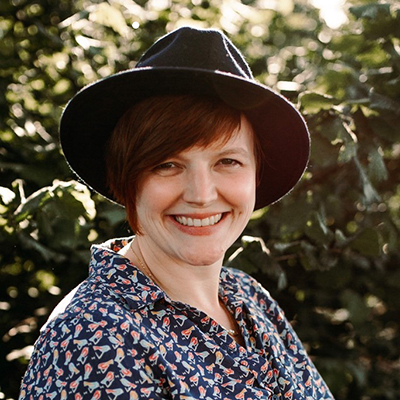 Brittany St. John
Nominated by Karla Ausderau, PhD
Brittany is a fifth year doctoral student in Kinesiology: Occupational Science. She was nominated for this award by her mentor, Karla Ausderau. Brittany's research is focused on two areas: investigating health disparities and factors influencing participation in health promoting activities for individuals with disabilities and their families and understanding family relationships and context to support the development of ecologically valid family interventions targeting parent and child outcomes. Brittany is committed to disseminating the importance of inclusive research methods and the significance of lived experiences of disability in understanding health disparities and barriers to health promotion. She was a Waisman Morse Scholar and LEND trainee.
As Karla states in her nomination, "Brittany exemplifies the Waisman Center's core mission through her fervent pursuit of inclusive research, promotion of health for people with disabilities, and dedication to interdisciplinary training and collaborations. Her commitment to community partnerships and stakeholder focused dissemination efforts are the embodiment of the Wisconsin Idea. She shows promise as a future scholar and advocate for children's development and family well being."
Olivia Surgent
Nominated by Brittany Travers, PhD
Olivia is a fifth year doctoral student in neuroscience. She was nominated by Brittany Travers for her work in her lab. Olivia's dissertation is focused on the developmental, psychosocial and neurobiological basis of hand grip strength on autism and why it differs in autistic individuals. Her research has the potential to transform how we conceptualize the motor symptoms in ASD as they relate to key neurobiological functions and structures, potentially unveiling novel biomarkers and creating new pathways for clinical interventions.
Brittany states in her nomination letter "Olivia is my first doctoral trainee, and she has proven herself to be incredibly productive and promising young scientist. She is asking important questions about the neurobiological basis of sensory and motor skills in autistic individuals. While most studies use only one neuroimaging modality, Olivia is combining multiple neuroimaging techniques to elucidate what is happening in the brain to lead to motor skill differences in autistic individuals. She is the ideal graduate student: rigorous in her attention to detail, intellectually curious, an excellent communicator, and fiercely committed to science for the benefit of others. Her passion for doing science that helps the autism community is unparalleled, and she has been an exceptional contributor to the mission of our lab and to the mission of the Waisman Center."
IDDRC Graduate Student
IDDRC Graduate Student Award
Matt Zammit, PhD
Nominated by Brad Christian, PhD
Matt recently completed his PhD in medical physics. He was nominated for this award by Brad Christian. Matt's research investigated the time course of neuroimaging biomarkers for Alzheimer's disease in adults with Down syndrome. His research involved detailed analysis of PET and MRI neuroimaging data acquired from Christian's Alzheimer's Biomarker
Consortium Down Syndrome study.
As Brad states in his nomination letter, "Matt has been a tremendously hard working researcher with an incredibly high level of productivity. His demanding thesis project
necessitated not only a deep understanding of the scientific questions we're pursuing in a rapidly evolving field, but also required exceptional organizational skills and creativity. These attributes are something that Matt has had to work diligently to develop, as he continues to grow into a talented young scientist. Matt has been an invaluable resource in my lab
with his willingness and patience to not only train and help new students become acclimated to the lab setting, but also in contributing toward a welcoming, inclusive and overall positive lab environment."
UCEDD Graduate Student
UCEDD Graduate Student Award
Sarah Bubash
Nominated by Leann DaWalt, PhD and Anne Bradford Harris, PhD
Sarah is a third year doctoral student in the special education program in the Department of Rehabilitation Psychology and Special Education. She is also a trainee in the Leadership Education in Neurodevelopmental Disabilities (LEND) program. She was nominated for this award by Leann DaWalt and Anne Bradford Harris. Sarah's contributions to the LEND program in the last year include a major effort in preparing and launching the "Disability Justice" modular curriculum for other LEND trainees, participating in the pilot of a Transition Consultation interdisciplinary team activity for LEND trainees and faculty to serve families (remotely), co facilitating group learning experiences for 1 st year LEND trainees, and working with the Wisconsin Integrated Transition Pilot Planning project, a one year collaborative effort with communities in Wisconsin to improve transition planning for families who have difficulty accessing services. All of this work has been concurrent and in addition to her doctoral work in special education.
As stated on their nomination, "Sarah is a gifted teacher, a compassionate colleague and advocate for people with intellectual and developmental disabilities, and an eager and enthusiastic team member. She is a joy to work with and exemplifies the type of student who contributes to the expertise and mission of the Waisman Center UCEDD. We look forward to Sarah's continued excellent contributions to improving the lives of people with IDD in her future career."
University Staff Awards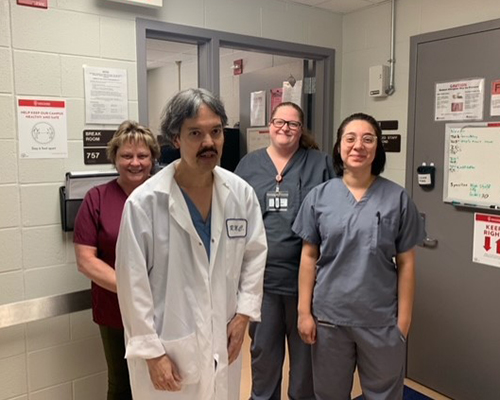 Dawna Bollig, Megan Eastwood, Roy Emerson, & Maria Perez
Nominated by Jules Panksepp, PhD and Tracy Hagemann, PhD
Dawna, Megan, Roy and Maria were nominated for this award by Jules Panksepp and Tracy Hagemann for their work as animal research technicians (ARTs) in the Waisman Center's Rodent Model Core. The animal research technicians are essential personnel who worked onsite throughout the pandemic. After the university announced the shut down in March of 2020, there was a scramble to order and store enough supplies to sustain the animals with food, water, bedding, and other materials for an extended period during this uncertain time. The ARTs worked long hours to meet requirements of the shut down and to subsequently maintain irreplaceable research animals for Waisman investigators over the coming months.
As stated in their nomination form, "Megan Eastwood and Roy Emerson have been employed as ARTs at Waisman for 12 years, Dawna Bollig for 10 years and Maria Perez for 3 years. During this time, there have been many changes in the Rodent Model Core, and all of the ARTs have continually taken on new tasks to facilitate research and offer technical support for investigators. There is a constant rapport between the ARTs and research staff to accommodate research needs and maintain regulatory compliance. The University Staff Award would be a meaningful acknowledgement of their dedication and important role in our research programs."
Academic Staff Award
Clark Kellogg
Nominated by Jody Bleck, MS
Clark was nominated for this award by Jody Bleck for his work with the Waisman Communications team as a media specialist.
As stated in her nomination letter, "Clark's role on the communication team has continued to expand as he has developed his skills. He showed tremendous initiative when he expanded his skillset and filled a need to broaden our digital presence and audio and video communication systems and capabilities. Clark has become the go to person at Waisman for help with AV, remote meeting/event planning and support services. He shows great patience and provides consistent and exceptional customer service. Clark is generous with his time and effort, ensuring weekend and after hour events are staffed and come off without a problem. His flexibility and willingness to never say "no" when someone needs his help means that he is many times staying late and sacrificing his personal time. He willingly gives of his time after hours and on weekends to successfully carry out the many outreach, community and fundraising events that are coordinated by the Waisman communications team. He always has a positive attitude and high level of professionalism. Clark is a tremendous asset to the  communications team and the broader Waisman Center community."
Family Appreciation Award
Pam Miller & Giizhik & Mino Klawiter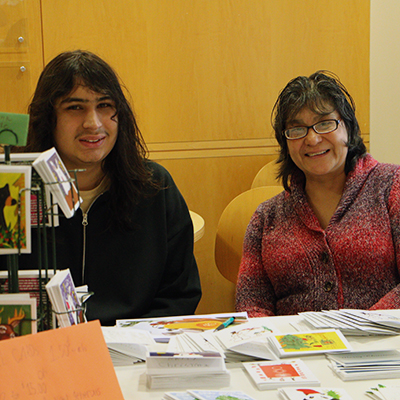 Nominated by Teresa Palumbo
Pam Miller & Giizhik & Mino Klawiter were nominated for this award by Teresa Palumbo for their ongoing and dedicated efforts to raise funds and awareness about the Waisman Center's autism research through the sale of notecards designed by Giizhik and his brother Mino.
As stated in her nomination, "Through designing and selling his art as notecards and prints, Giizhik and his family have raised autism awareness and significant funds for autism
research at the Waisman Center. Pam, Giizhik's mother, has sold thousands of cards at locations throughout their community including grocery stores and shopping centers. At their booth sales, they include Waisman materials and information about autism research and resources to help individuals on the spectrum and their families. Pam and Giizhik are great
community ambassadors in sharing the work of the Waisman Center throughout Sawyer County and directing support to the center's autism efforts. The family donates 100 percent of the proceeds (more than $11,000 to date!) from their card sales to autism research at center. In sharing their experiences, they hope to increase understanding and respect for individuals with autism and promote the mission of the Waisman Center."
Wisconsin Distinguished Graduate Fellowships
Brianna Piro-Gambetti — nominated by Sigan Hartley
Sarah Furnier — nominated by Maureen Durkin
IDDRC Graduate Student
Keegan Schoeller — nominated by Xinyu Zhao
UCEDD Graduate Student
Kiley McLean — nominated by Anne Bradford Harris & Lauren Bishop
IDDRC Undergraduate Students Awards
Keegan Schoeller — nominated by Xinyu Zhao
University Staff Awards
Lisa Fisher & Manda Ratcliff — nominated by Amy Whitehead
Academic Staff Awards
Carrie Arneson — nominated by Leann DaWalt & Anita Bhattacharyya
Elizabeth Hecht — nominated by Amy Whitehead
Family Appreciation Award
Sharon, Steve & James Manlick — nominated by Audra Sterling
Wisconsin Distinguished Graduate Fellowships
Michael Rigby nominated by Luigi Puglielli
Sahar Javadi nominated by Xinyu Zhao
IDDRC Graduate Student Awards
Phu Duong nominated by John Svaren
UCEDD Graduate Student Awards
Emily Wilson nominated by Anne Bradford Harris
IDDRC Undergraduate Students Awards
Oskar Zarzycki nominated by Brittany Travers
UCEDD Undergraduate Student Award
Shira Forester nominated by Joan Ershler
University Staff Awards
James Mulder nominated by Julie Schears
Family Appreciation Award
Lynn & David Renner nominated by Katie Hustad
Wisconsin Distinguished Graduate Fellowships
Desia Bacon nominated by Jenny Saffran
Emily Lorang nominated by Audra Sterling
IDDRC Graduate Student Awards
Katherine Sarkisian nominated by Hill Goldsmith
UCEDD Graduate Student Awards
Laura Lins nominated by Anne Bradford Harris & Gail Chodron
IDDRC Undergraduate Students Awards
Jason Kim nominated by Qiang Chang
UCEDD Undergraduate Student Award
Camryn Burge nominated by Joan Ershler
University Staff Awards
Sonja Oetzel nominated by Julie Schears
Academic Staff Awards
Yina Xing nominated by Xinyu Zhao
Family Appreciation Award
Elise Gold & Jenna Hughes nominated by Katie Hustad
Wisconsin Distinguished Graduate Fellowships
Arezoo Movaghar nominated by Marsha Mailick
Rista Plate nominated by Seth Pollak
UCEDD Graduate Student Awards
Hanna Sawher nominated by Anne Bradford Harris
IDDRC Undergraduate Students Awards
Michael Stockton nominated by Xinyu Zhao
University Staff Awards
Jan Torkildson & Zoe Blair nominated by Jody Bleck
Academic Staff Awards
Amy Whitehead nominated by Bill MacLean
Family Appreciation Award
Regina Nance & Tre'Von Byrd nominated by Katie Hustad
Wisconsin Distinguished Graduate Fellowships
Camila Lopez-Anido nominated by John Svaren
IDDRC Graduate Student Awards
Jeff Jones nominated by Su-Chun Zhang
UCEDD Graduate Student Awards
Alex Puk nominated by Anne Bradford Harris & Gail Chodron
IDDRC Undergraduate Students Awards
Kristine McLaughlin nominated by Andy Alexander & Brittany Travers
University Staff Awards
Ruth Munz nominated by Joan Ershler
Academic Staff Awards
Denice Springman nominated by Tracy Hagemann
Family Appreciation Award
The Monson Family nominated by Barb Roeber
Wisconsin Distinguished Graduate Fellowships
Lindsay Dubois nominated by Maureen Durkin
UCEDD Graduate Student Awards
Iulia Mihaila nominated by Anne Bradford Harris
IDDRC Undergraduate Students Awards
Alyssa Wild nominated by Houri Vorperian
University Staff Awards
Mike Ales nominated by Jody Bleck & Amy Whitehead
Academic Staff Awards
Paul White nominated by Bill MacLean
Family Appreciation Award
Lorraine & Kiana Narváez nominated by Teresa Palumbo
Wisconsin Distinguished Graduate Fellowships
Joseph Ma nominated by John Svaren
Robert Bradley nominated by Su-Chun Zhang
IDDRC Graduate Student Awards
Cynthia Chow nominated by Sam Gubbels
UCEDD Graduate Student Awards
Collette Fischer nominated by Anne Bradford Harris
IDDRC Undergraduate Students Awards
Ellie Fisher nominated by Houri Vorperian
Eric Polich nominated by Xinyu Zhao
University Staff Awards
Pao Lee nominated by Jody Bleck
Academic Staff Awards
Anne Bradford Harris nominated by Dan Bier
Family Appreciation Award
Bob & Angie Tramburg nominated by Marlena Holden
Wisconsin Distinguished Graduate Fellowships
Natalie Patzlaff nominated by Xinyu Zhao
Samuel Hurley nominated by Andy Alexander
IDDRC Graduate Student Awards
Brianna McMillan nominated by Jenny Saffran
UCEDD Graduate Student Awards
Michelle Johnson nominated by Josh Lapin
IDDRC Undergraduate Students Awards
Enio Perez nominated by David Gamm & Joe Phillips
University Staff Awards
Susan Ellmaurer & Choutae Yang nominated by Terri Peck
Academic Staff Awards
Shelly Godar nominated by Ruth Litovsky
Barb Roeber nominated by Seth Pollak
Family Appreciation Award
Kris, Todd, Shanna & Kayla Wiegand nominated by Barb Roeber
Wisconsin Distinguished Graduate Fellowships
Hongda Li nominated by Qiang Chang
Kristen Allison nominated by Katie Hustad
IDDRC Graduate Student Awards
Rebecca Shalev nominated by Leann Smith
UCEDD Graduate Student Awards
Elliot "Max" Wilson nominated by Casey Reiser & Walt Schalick
IDDRC Undergraduate Students Awards
Tatiana Campbell nominated by Kristin Shutts
UCEDD Undergraduate Student Award
Caitlin Zablotney nominated by Anne Harris & Kristin Aasen-Gowen
University Staff Awards
Eric Schafer nominated by Marsha Mailick
Academic Staff Awards
Karla Knobel nominated by John Svaren
Family Appreciation Award
Andrea Wipperfurth & Max & Zoe Goldstein nominated by Barb Wagner
Wisconsin Distinguished Graduate Fellowships
Emily McFadd nominated by Katie Hustad
Holly Hung nominated by John Svaren
IDDRC Graduate Student Awards
Ronghui Li nominated by Qiang Chang
UCEDD Graduate Student Awards
Kim Leibhart nominated by Anne Harris
IDDRC Undergraduate Students Awards
George Bonadurer nominated by Anita Bhattacharyya
University Staff Awards
Heather Asplund nominated by Douglas Swiggum
Academic Staff Awards
Lynda Wright nominated by David Gamm
Family Appreciation Award
Claudia, Isabella, & Paula Prolla nominated by Barb Wagner
Wisconsin Distinguished Graduate Fellowships
Cindy Huang nominated by Su-Chun Zhang
Emily Cunningham nominated by Qiang Chang
IDDRC Graduate Student Awards
Matthew Maenner nominated by Maureen Durkin
UCEDD Graduate Student Awards
Katie Weir nominated by Josh Lapin
IDDRC Undergraduate Students Awards
Daniel Brunner nominated by Sam Gubbels
UCEDD Undergraduate Student Award
Leah Zimmerman nominated by Erik Carter & Beth Swedeen
University Staff Awards
Michelle Justice nominated by Mary Fendry
Academic Staff Awards
Nicole Schmidt nominated by Hill Goldsmith
Family Appreciation Award
Justine Mays Family nominated by Seth Pollak & Barb Roeber
Wisconsin Distinguished Graduate Fellowships
Erin Jones nominated by John Svaren
Lynn Sisco nominated by Erik Carter
IDDRC Graduate Student Awards
Courtney Karasinski nominated by Susan Ellis Weismer
UCEDD Graduate Student Awards
Jessica Valadez Spruyt nominated by Anne Heintzelman & Barb Wagner
IDDRC Undergraduate Students Awards
Jacob Zimbric nominated by Anita Bhattacharyya
UCEDD Undergraduate Student Award
Jenna Evans nominated by Angela Radloff
University Staff Awards
Harrison Wiley nominated by Carole Maddox
Academic Staff Awards
David Wargowski nominated by Larry Kaplan
Family Appreciation Award
Peggy Nied & Family nominated by Barb Wagner
Wisconsin Distinguished Graduate Fellowships
Paige Jany nominated by Albee Messing
Sara T. Kover nominated by Len Abbeduto
IDDRC Graduate Student Awards
Jimin Lee nominated by Katie Hustad
UCEDD Graduate Student Awards
Nasuh Malas nominated by Anne Harris
IDDRC Undergraduate Students Awards
Matthew Pesko nominated by Erik Carter, Beth Swedeen, & Colleen Moss
UCEDD Undergraduate Student Award
Anne Eichmeyer nominated by Susan Prodell
University Staff Awards
Mary Fendry nominated by Teresa Egan
Academic Staff Awards
Renee Makuch nominated by Marsha Mailick & Jan Greenberg
Wisconsin Distinguished Graduate Fellowships
Brendon Nacewicz nominated by Richie Davidson
2007—Renee Pierpont nominated by Susan Ellis Weismer & Mark Seidenberg
IDDRC Graduate Student Awards
Elizabeth Roos nominated by Susan Ellis Weismer
UCEDD Graduate Student Awards
Nicole Ditchman nominated by Erik Carter
IDDRC Undergraduate Students Awards
Lindsay Johnson nominated by Susan Riesch & Karen Kedrowski
UCEDD Undergraduate Student Award
Andrea Hayes nominated by Joan Ershler
University Staff Awards
Peggy Johnson nominated by April Meiller & Jon Wolff
Academic Staff Awards
Teresa Palumbo nominated by Pat Mitchell
Wisconsin Distinguished Graduate Fellowships
Alison B. Wismer Fries nominated by Seth Pollak
Sandra Klein nominated by Clive Svendsen
IDDRC Graduate Student Awards
Robert Krencik nominated by Su-Chun Zhang
UCEDD Graduate Student Awards
Alison Conniff nominated by Linda Tuchman-Ginsberg
University Staff Awards
Lori Vavrus nominated by Donna Cole
Academic Staff Awards
Julie Gamradt nominated by Dan Bier
Wisconsin Distinguished Graduate Fellowships
Heather Geye nominated by Susan Ellis Weismer & Morton Gernsbacher
Woosung Cho nominated by Albee Messing
IDDRC Graduate Student Awards
Amy Jo Miller Schwichtenberg nominated by Julie Poehlmann
UCEDD Graduate Student Awards
Daniel Miner-Nordstrom nominated by Rita Hohlstein
University Staff Awards
Mary Rasmussen nominated by April Meiller & Jon Wolff
Wisconsin Distinguished Graduate Fellowships
Aimee Arnoldussen nominated by Mark Seidenberg
Oleg Broytman nominated by Jim Malter
IDDRC Graduate Student Awards
Katharine Graf Estes nominated by Jenny Saffran & Julia Evans
UCEDD Graduate Student Awards
Teresa Rommelfanger nominated by Susan Heighway & Rita Hohlstein
Wisconsin Distinguished Graduate Fellowships
Erica Kesin Richmond nominated by Len Abbeduto
Hyun-Jung Kim nominated by Clive Svendsen
IDDRC Graduate Student Awards
Allison B. Wismer Fries nominated by Seth Pollak
UCEDD Graduate Student Awards
Norah Kutz nominated by Amy Fruchtman
Wisconsin Distinguished Graduate Fellowships
Matthew Pankratz nominated by Su-Chun Zhang
Melissa Pavetto nominated by Len Abbeduto
IDDRC Graduate Student Awards
Hyun-Jung Kim nominated by Clive Svendsen
UCEDD Graduate Student Awards
Brianne Patchell nominated by Amy Fruchtman
Amy White nominated by Richard Pauli
Wisconsin Distinguished Graduate Fellowships
Paul Shattuck nominated by Marsha Mailick
IDDRC Graduate Student Awards
Erik Thiessen nominated by Jenny Saffran & Fred Wightman
UCEDD Graduate Student Awards
Charles Degeneffe nominated by Rita Hohlstein
IDDRC Graduate Student Awards
Paul Shattuck nominated by Marsha Mailick
UCEDD Graduate Student Awards
Aaron Bishop nominated by Rita Hohlstein
IDDRC Graduate Student Awards
Sally Miles nominated by Robin Chapman
UCEDD Graduate Student Awards
Kirsten Beach nominated by Rita Hohlstein
IDDRC Graduate Student Awards
Steve Nanda nominated by Kenneth Mack
IDDRC Graduate Student Awards
Yvette Pettee nominated by Marsha Mailick
UCEDD Graduate Student Awards
Melanie Gillingham nominated by Rita Hohlstein