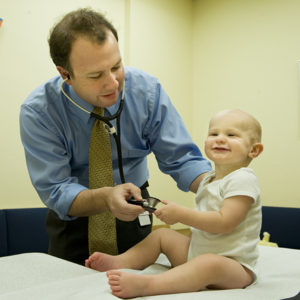 The Waisman Center Clinics, in partnership with UW Health and American Family Children's Hospital, provide comprehensive clinical care and support for children with disabilities and their families.
An interdisciplinary team of professionals works together in the Waisman Center Clinics, combining knowledge in the following areas: audiology, biochemical and clinical genetics, nursing, nutrition, occupational therapy, orthopedics, pediatrics, pediatric neurology, pediatric rehabilitation, physical therapy, psychology, social work, and speech and language. On a visit to the Waisman Center, clients will most likely be seen by professionals representing a number of these areas.
Many health concerns bring people to the Waisman Center from throughout Wisconsin, as well as neighboring states and other parts of the country. A child may be "at risk" for a developmental problem; a person may evidence a mild, moderate, or severe developmental disability; or a child with a developmental disability may face compounded difficulties in a family with multiple challenges. Individualized care is provided according to the needs of the child identified in collaboration with their parent or guardian. Most services focus on the needs of children with developmental disabilities from birth to age 21.
The primary clinical services provided at the Waisman Center include:
screening or evaluation
diagnosis
treatment or intervention
follow-up assistance or support
information and referral
Throughout the service delivery process, professionals work with families and community personnel to identify the needs of each client and family. These considerations include the involvement of school psychologists, teachers, social service agency personnel, residential and vocational providers, therapists, and physicians.