Madeline C. Barger, MS, LMFT, BCBA, CST
Position title: Lead Behavior Analyst, Teen/Adult Clinic Lead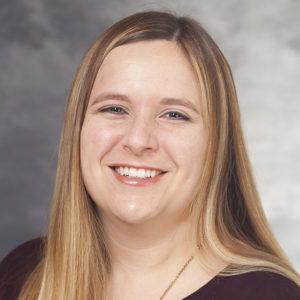 Profile
Madeline Barger, MS, LMFT, BCBA, CST is a licensed behavior analyst and licensed marriage and family therapist, and AASECT certified sex therapist. Barger is the clinic coordinator in the Waisman Center Autism Treatment Programs. She provides leadership in program development based on Applied Behavior Analysis (ABA) for teens and young adults and their families. Barger also provides focused behavioral treatment for families in the Growing Together program. Barger has extensive experience in providing both autism and mental health interventions to individuals and families across the lifespan including individual, couple, and family therapy, sex education and therapy, social skills and behavioral intervention, and parent and professional trainings. Barger previously worked as a lead clinician in a center-based program providing supervision for behavioral treatment for school-age children, teens, and adults with autism.
Professional Certifications and Education
BA, Communication Arts and Music Performance, University of Wisconsin, Madison
MS, Marriage and Family Therapy, Edgewood College
Licensed Marriage and Family Therapist
BACB Verified Course Sequence, Ball State University
Licensed Behavior Analyst, State of Wisconsin
Sexual Health Certificate Program, Sex Therapy Track, University of Michigan, Ann Arbor
Certified sex therapist with the American Association for Sex Educators, Counselors and Therapists
Certificate in internet psychology
PEERS certified provider
Research Statement
Currently Barger has written and leads the Autism Treatment team developing sexuality education curricula for clinical use and quality improvement.  
Selected Publications
Warner, S., Barger, M., & McCary, L. M. (2022). Individualized Sexuality Education for People with Autism Spectrum Disorder. Education and Training in Autism and Developmental Disabilities, 57(4), 359-370.

Barger, M.C. (2015). Dating across the spectrum. Autism Notebook. Oct/Nov

Barger, M. C. (2015). Plugged in: Parenting autism in the age of the internet. Autism Notebook. Jun/Jul: (10-11).