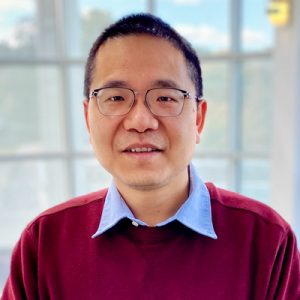 PhD, University of Texas – Austin
Postdoc, Yale University
Core Director, Data Science
Contact Information
Waisman Center
1500 Highland Avenue
Room 517
Madison, WI 53705
daifeng.wang@wisc.edu
Daifeng Lab
Research Statement
Daifeng's research focuses on developing machine learning approaches and bioinformatics tools to analyze multimodal data in complex brains and brain disorders for understanding underlying cellular and molecular mechanisms. Particularly, he is working on deciphering functional genomics and gene regulation for disease and clinical phenotypes across neurodevelopmental, neuropsychiatric, and neurodegenerative diseases, aiming to discover potential novel mechanisms and genomic engineering principles for precision medicine.
Selected Publications
Gupta, C., Xu, J., Jin, T., Khullar, S., Liu, X., Alatkar, S., Cheng, F., & Wang, D. (2022). Single-cell network biology characterizes cell type gene regulation for drug repurposing and phenotype prediction in Alzheimer's disease. PLoS computational biology, 18(7), e1010287. https://doi.org/10.1371/journal.pcbi.1010287

Giffin-Rao, Y., Sheng, J., Strand, B., Xu, K., Huang, L., Medo, M., Risgaard, K. A., Dantinne, S., Mohan, S., Keshan, A., Daley, R. A., Jr, Levesque, B., Amundson, L., Reese, R., Sousa, A., Tao, Y., Wang, D., Zhang, S. C., & Bhattacharyya, A. (2022). Stem cell reports, 17(6), 1366–1379. https://doi.org/10.1016/j.stemcr.2022.05.001

Javadi, S., Li, Y., Sheng, J., Zhao, L., Fu, Y., Wang, D., & Zhao, X. (2022).

Sustained correction of hippocampal neurogenic and cognitive deficits after a brief treatment by Nutlin-3 in a mouse model of fragile X syndrome

.

BMC medicine

,

20

(1), 163. https://doi.org/10.1186/s12916-022-02370-9

Gupta, C., Chandrashekar, P., Jin, T., He, C., Khullar, S., Chang, Q., & Wang, D. (2022).

Bringing machine learning to research on intellectual and developmental disabilities: taking inspiration from neurological diseases

.

Journal of neurodevelopmental disorders

,

14

(1), 28. https://doi.org/10.1186/s11689-022-09438-w

Fathi, A., Mathivanan, S., Kong, L., Petersen, A. J., Harder, C., Block, J., Miller, J. M., Bhattacharyya, A., Wang, D., & Zhang, S. C. (2022).

Chemically induced senescence in human stem cell-derived neurons promotes phenotypic presentation of neurodegeneration

.

Aging cell

,

21

(1), e13541. https://doi.org/10.1111/acel.13541

Lin, C. X., Li, H. D., Deng, C., Liu, W., Erhardt, S., Wu, F. X., Zhao, X. M., Guan, Y., Wang, J., Wang, D., Hu, B., & Wang, J. (2022).

An integrated brain-specific network identifies genes associated with neuropathologic and clinical traits of Alzheimer's disease

.

Briefings in bioinformatics

,

23

(1), bbab522. https://doi.org/10.1093/bib/bbab522

Shen, M., Guo, Y., Dong, Q., Gao, Y., Stockton, M. E., Li, M., Kannan, S., Korabelnikov, T., Schoeller, K. A., Sirois, C. L., Zhou, C., Le, J., Wang, D., Chang, Q., Sun, Q. Q., & Zhao, X. (2021).

FXR1 regulation of parvalbumin interneurons in the prefrontal cortex is critical for schizophrenia-like behaviors

. 

Molecular psychiatry

,

26

(11), 6845–6867. https://doi.org/10.1038/s41380-021-01096-z

Jin, T., Rehani, P., Ying, M., Huang, J., Liu, S., Roussos, P., & Wang, D. (2021).

scGRNom: a computational pipeline of integrative multi-omics analyses for predicting cell-type disease genes and regulatory networks

.

Genome medicine

,

13

(1), 95. https://doi.org/10.1186/s13073-021-00908-9

Jin, T., Nguyen, N. D., Talos, F., & Wang, D. (2021).

ECMarker: interpretable machine learning model identifies gene expression biomarkers predicting clinical outcomes and reveals molecular mechanisms of human disease in early stages

.

Bioinformatics (Oxford, England)

,

37

(8), 1115–1124. https://doi.org/10.1093/bioinformatics/btaa935

Huang, K., Wu, Y., Shin, J., Zheng, Y., Siahpirani, A. F., Lin, Y., Ni, Z., Chen, J., You, J., Keles, S., Wang, D., Roy, S., & Lu, Q. (2021).

Transcriptome-wide transmission disequilibrium analysis identifies novel risk genes for autism spectrum disorder

.

PLoS genetics

,

17

(2), e1009309. https://doi.org/10.1371/journal.pgen.1009309

Gao Y, Shen M, Gonzalez JC, Dong Q, Kannan S, Hoang JT, Eisinger BE, Pandey J, Javadi S, Chang Q, Wang D, Overstreet-Wadiche L, Zhao X. (2020). RGS6 Mediates Effects of Voluntary Running on Adult Hippocampal Neurogenesis. Cell Reports, 32(5):107997. doi: 10.1016/j.celrep.2020.107997.

Gandal MJ, Zhang P, Hadjimichael E, Walker RL, Chen C, Liu S, Won H, van Bakel H, Varghese M, Wang Y, Shieh AW, Haney J, Parhami S, Belmont J, Kim M, Moran Losada P, Khan Z, Mleczko J, Xia Y, Dai R, Wang D, Yang YT, Xu M, Fish K, Hof PR, Warrell J, Fitzgerald D, White K, Jaffe AE; PsychENCODE Consortium, Peters MA, Gerstein M, Liu C, Iakoucheva LM, Pinto D, Geschwind DH. (2018). Transcriptome-wide isoform-level dysregulation in ASD, schizophrenia, and bipolar disorder. Science, 362(6420). pii: eaat8127. doi: 10.1126/science.aat8127.

Wang D, Liu S, Warrell J, Won H, Shi X, Navarro FCP, Clarke D, Gu M, Emani P, Yang YT, Xu M, Gandal MJ, Lou S, Zhang J, Park JJ, Yan C, Rhie SK, Manakongtreecheep K, Zhou H, Nathan A, Peters M, Mattei E, Fitzgerald D, Brunetti T, Moore J, Jiang Y, Girdhar K, Hoffman GE, Kalayci S, Gümüş ZH, Crawford GE; PsychENCODE Consortium, Roussos P, Akbarian S, Jaffe AE, White KP, Weng Z, Sestan N, Geschwind DH, Knowles JA, Gerstein MB. (2018). Comprehensive functional genomic resource and integrative model for the human brain. Science, 362(6420). pii: eaat8464. doi: 10.1126/science.aat8464.

Comparative analysis of regulatory information and circuits across distant species. (2014). Boyle AP, Araya CL, Brdlik C, Cayting P, Cheng C, Cheng Y, Gardner K, Hillier LW, Janette J, Jiang L, Kasper D, Kawli T, Kheradpour P, Kundaje A, Li JJ, Ma L, Niu W, Rehm EJ, Rozowsky J, Slattery M, Spokony R, Terrell R, Vafeados D, Wang D, Weisdepp P, Wu YC, Xie D, Yan KK, Feingold EA, Good PJ, Pazin MJ, Huang H, Bickel PJ, Brenner SE, Reinke V, Waterston RH, Gerstein M, White KP, Kellis M, Snyder M. Nature, 512(7515):453-6. doi: 10.1038/nature13668.