Paroma Basu, University Communications
TIME Magazine, the international news weekly, has recognized a scientist at the University of Wisconsin-Madison as one of the most influential people of 2006. (see article at Time website)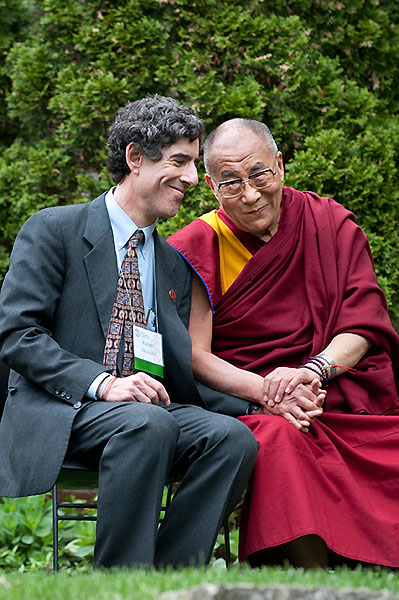 Richard Davidson, who has devoted his career to understanding how the brain regulates human emotions, is one of 100 prominent personalities featured by the magazine.
TIME annually honors the vision, ideas and accomplishments of individuals around the world, from artists and entertainers, to scientists, business titans and cultural icons. In its list last year, the publication included names such as Barack Obama, the U.S. Senator for Illinois; Peter Singer, the animal rights ethicist, and the Buddhist spiritual leader the Dalai Lama.
Davidson, a UW-Madison professor of psychology and psychiatry and director of the Waisman Laboratory for Brain Imaging and Behavior, has long explored how brain mechanisms contribute to emotional disorders such as depression and anxiety. His studies have also considered how psychological and social factors may influence physical health.
The scientist catapulted to world fame in the early 1990s when, at the personal request of the Dalai Lama, he conducted a groundbreaking investigation into the effect of meditation on the brain. Bringing a group of Tibeta2n monks to his laboratory, the scientist recorded changes in brain activity while they meditated and found heightened electrical activity in brain areas associated with attention and emotion. He also noted a spike in activity in the left prefrontal cortex-a brain region associated with positive emotions.<
The result struck a deep chord in the public consciousness, as one of the most rigorous scientific validations of an ancient spiritual practice. The study also supported the idea that activities such as meditation might help to essentially "re-wire" a brain over time to elicit positive feelings more often than negative ones.
"I'm very honored to be included in this list," says Davidson. "I hope to be able to use this to help get out a very simple message: that based on what we know about the plasticity of the brain, we can think of things like happiness and compassion as skills that are no different from learning to play a musical instrument or learning golf or tennis.
"Like any skill, it requires practice and time," Davidson continues, "but because we know that our brains are built to change in response to experience, it is possible to train our minds to be happy."
Davidson has long maintained his own daily meditation practice, and continues to communicate regularly with the Dalai Lama. He was born in 1951 in Brooklyn, New York. After attending New York University as an undergraduate, Davidson went on to Harvard University to earn a doctoral degree. He joined the UW-Madison faculty in 1984.