A Q&A with new Waisman Center investigator Sriram Boothalingam.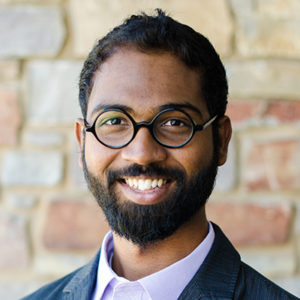 How did you get into your field of research? After I learned that the inner ear can produce sounds on its own and that the brain controls what we hear, I was hooked! I wanted to learn more about these biological mechanisms and in the process, I was fortunate to have worked with brilliant scientists and mentors.
What attracted you to UW–Madison? UW-Madison has been a hearing research powerhouse for several decades. Many groundbreaking discoveries in hearing science have come from UW–Madison. It is an immensely humbling experience to be among the very pillars of hearing research, while at the same time the opportunity to learn from leaders in the field is an opportunity I could not pass on.
What was your first visit to campus like? It was a cold and snowy day in January, but I was welcomed very warmly by everyone in the department. Although I did not get to see much of the outdoors, my UW–Madison-alumni colleagues at Northwestern had nothing but praise for the university and the city. Fittingly, I very much enjoyed my second visit to Madison and the campus in the summer.
Does your work relate in any way to the Wisconsin Idea? Some of the research that I do is to develop clinical tools that will hopefully be useful in testing and predicting hearing in babies and adults, and I hope some of my work will be useful in hearing healthcare policy making.
What's something interesting about your area of expertise you can share that will make us sound smarter at parties? I am constantly amazed at the things the ear can do, especially in animals that use hearing for special purposes. Here are interesting things about animal hearing that I slide into conversations:
• Healthy ears make faint sounds! Although we cannot hear them, clinicians measure these sounds using sensitive microphones to get an estimate of hearing function, especially in newborns.
• Some of the sounds that the ear makes can add to the richness of music. Guiseppe Tartini was the first to describe them and also included them in his compositions.
• We all know that bats use ultra-high frequency sounds to hunt their prey, typically moths. But, some moths, over several generations, have learned these bat sounds and when they hear them, they drop to the ground from tree branches to escape bats — an interesting evolutionary acoustic battle.
• Some dolphins and whales, like bats, use echolocation to navigate and hunt underwater.
Hobbies/other interests: I love to hike and camp. I am also a hobby photographer.
This Q&A first appeared on the UW-Madison news website. You can access it here.
---
Name: Sriram Boothalingam.
Title: Assistant Professor, Department of Communication Sciences and Disorders; Investigator, Waisman Center.
Hometown: Chennai, India.
Educational/professional background: BSc (Speech and Hearing), University of Mysore, India, 2007; MSc (Audiology), University of Southampton, England, UK, 2008; Ph.D. (Hearing Science), Western University, London, ON, Canada, 2014.
Previous position: Postdoctoral fellow, Northwestern University.