By Emily Leclerc, Waisman Science Writer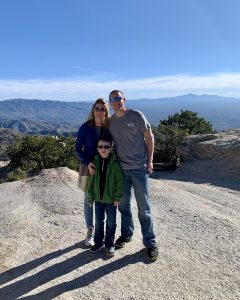 At a recent screening of the video series "The Low-Phe Life", Logan Schrimpf's favorite video was the one where the raccoons messed up the family's supply of PKU formula. It was the episode titled, The Trip, in the six-part animated video series by Kurt Sensenbrenner. The lighthearted episode is a retelling of a family's experiences traveling to Costa Rica and having their supply of formula for their two kids with phenylketonuria (PKU) ruined by raccoons. Luckily, the family brought extra formula so they didn't have to cut their trip short. Logan has PKU and his mom Kristi hopes that they will never have to experience a raccoon disaster like the one in the video.
"The Low-Phe Life" is an animated video series chronicling different experiences and stories of people living with the rare metabolic condition phenylketonuria. PKU causes buildup of the amino acid phenylalanine in the body. If left untreated, it causes irreversible damage to the brain resulting in severe intellectual and developmental disabilities. PKU is a part of the newborn screening panel and every child in the U.S. is tested for it at birth. It occurs in roughly 1 in 15,000 newborns.
The primary treatment for PKU is a strict diet that heavily restricts the amount of natural protein and supplements nutrition with a formula for life. The formula is specifically designed for individuals with PKU to replace all essential amino acids and nutrients that are cut out of the diet. On a recent Saturday morning, the Waisman Center screened the six-episode series for individuals and families with PKU.
Kurt Sensenbrenner, who created "The Low-Phe Life" and has PKU, is a documentary filmmaker. He always had an idea in the back of his mind to create a series about living with PKU. After hearing the story that would inspire the first episode, the series began to take shape. "The first episode was from this story I heard from Kevin Alexander who I met at a PKU conference. He told me this story about when he was young, spilling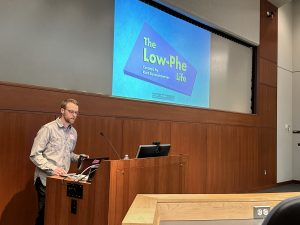 formula in the car and knowing that the car would never be the same because of the smell," Sensenbrenner says. "I make documentaries so I'm always thinking about how we can visualize these things."
That story simmered in Sensenbrenner's head for a while. Then during the COVID-19 pandemic, when he was looking for something to do, he figured out what the series should look like. He sent Alexander a microphone, had him record his story, and then Sensenbrenner storyboarded the episode. Sensenbrenner hired an animator and Alexander's story came to life. He then pitched it to National PKU News and they loved it so much that they gave Sensenbrenner a grant to create all six episodes.
Sensenbrenner reached out to the Waisman Center to ask about showing the series here. He was treated in the Waisman Center's Biochemical Genetics Clinic for PKU from birth to 18 and has recently moved back to Madison and returned his treatment to Waisman. "We know Kurt through the clinic. He reached out to us and let us know he created this series and that he felt a special connection to the Waisman Center and wanted to do a showing here," Therese Breunig, RD, CD, CLC, metabolic dietitian in Waisman's Biochemical Genetics Clinic, says.
The families who attended the screening enjoyed the relatable and fun videos. "They were funny. We were really pleased. I thought Kurt did a fantastic job with them," Kristi says. Sensenbrenner and the families also particularly enjoyed the chance to get together and talk with others who are experiencing similar things to them. "There is no other person that gets PKU like another family who is going through it and living it. Just to have the opportunity for the kids to see each other and chat was really fun," Kristi says.
For Sensenbrenner he also felt it is important to hold events and gatherings that showcase the lighter side of living with PKU. "I think it is really important to bring people together that have this shared experience. Half of Wisconsin residents with PKU go to the Waisman Center. The clinic is doing a lot of great work and bringing people into the clinic to enjoy something other than just going to get your finger pricked or talk about your diagnosis, is important," Sensenbrenner says. "Its important to have the clinic also be a community gathering center for these people."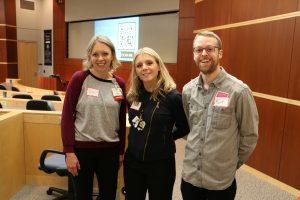 Breunig and Lisa Obernolte, MS. RD, CD, registered dietitian in Waisman's Biochemical Genetics Clinic, were equally as impressed with the series and the screening event. They were incredibly happy to bring the families together and enjoy some of the silly moments that a PKU diagnosis can bring about. "This was a more fun way of learning about PKU and relating to others. It was a different spin on building support with others in a light-hearted way," says Obernolte.
Sensenbrenner is currently wrapping up work on season two of "The Low-Phe Life" with National PKU News with a premiere scheduled for sometime in June. He hopes to also take season two on the road to create similar experiences and community bonding as the Waisman Center screening did.
If you would like to watch season one of "The Low-Phe Life", it is available on its website and on YouTube. To learn more about Sensenbrenner and his work, check out his website.
| | |
| --- | --- |
| Your support makes a difference. Donate now to advance knowledge about human development, developmental disabilities, and neurodegenerative diseases through research, services, training, and community outreach. | DONATE NOW |
---
Learn more about the Waisman Center's 50th Anniversary, including events, history, stories and images:
50 Years | 1973 - 2023
---