About the Lecture Series:
This lecture series features outstanding scholars whose presentations relate to the center's mission of advancing knowledge about human development, developmental disabilities or neurodegenerative diseases.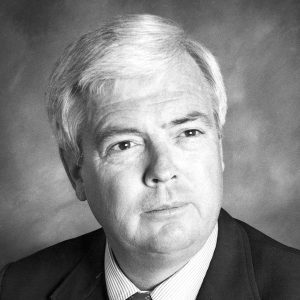 Terrence "Terry" R. Dolan, PhD, fostered significant research accomplishments and substantial growth of the Waisman Center during his 20 years as director. This lecture series, named in his honor – now in his memory – features outstanding scholars whose presentations focus on research topics related to the Waisman Center's mission of advancing knowledge about human development, developmental disabilities, and neurodegenerative diseases.
Dolan received his PhD in 1966 in an interdisciplinary program of psychology, physiology, and anatomy at the University of Texas, Austin. He was a postdoctoral fellow at the Center for Neurosciences, Indiana University from 1966-1968 and remained there as a research associate for two more years.
From 1970-1976, Dolan was affiliated with Loyola University of Chicago. He held positions as professor of psychology and assistant dean of the Graduate School and also served as director of Loyola's Parmly Research Institute. Prior to beginning his tenure at the Waisman Center, he spent one year as a Von Humboldt Fellow and directed the National Science Foundation's Sensory Physiology and Perception Program in Washington, D.C.
On May 24, 1982, Dolan was appointed director of the Waisman Center, and professor in the Departments of Neurology and Psychology, UW-Madison.
During the next two decades, he broadened the center's research programs in the behavioral sciences, most notably in the areas of aging, sensory and perceptual processes, and speech and language sciences; he expanded the center's research into new areas of science, including gene therapy and stem cell biology; and he facilitated partnerships between the Waisman Center and the public and private sectors. He was instrumental in the planning and development of a 70,000 square-foot addition to the Waisman Center that houses a biomanufacturing facility, a functional brain imaging center, research floors dedicated to stem cell and gene therapy research, and remodeled new space for the center's early childhood program.
During his time at the Waisman Center, Dolan served in leadership roles at the national and international levels, including as president of the International Association for the Scientific Study of Intellectual Disabilities and the Association of University Centers on Disabilities. In February 2001, Dolan began a leave of absence to assist Saudi Arabia in building a national research center on childhood diseases and disabilities. While guiding the evolution of the new center as executive director, he also worked as principal scientist at the King Faisal Specialist Hospital and Research Centre in Riyadh.
Dolan retired from UW-Madison on May 24, 2002. He passed away in December of 2020. He is survived by his wife Mary Ann and their four grown children.
2003—Guinevere Eden, PhD
Georgetown University
"Functional Brain Imaging Studies of Reading and Reading Disability"
2004—Keith Crnic, PhD
Pennsylvania State University
"Stress Across Context and Time: Implications for Families of Children with Early Developmental Delays"
2005—Pat Levitt, PhD
Vanderbilt Kennedy Center
"The Interneuron as a Point of Convergence in Neurodevelopmental Disorders"
2006—Julie Korenberg, MD, PhD
University of California, Los Angeles and Cedars-Sinai Medical Center
"Williams Syndrome: Gene, Brains, and Behavior"
2007—David Amaral, PhD
UC Davis MIND Institute
"Neurobiological Approaches to the Analysis of Autism"
2008—Roger Reeves, PhD
Johns Hopkins University School of Medicine
"Therapies for–and from–Down Syndrome"
2009—Ralph Adolphs, PhD
California Institute of Technology
"The Social Neuroscience of Face Perception"
2011—Stephen Suomi, PhD
Eunice Kennedy Shriver National Institute of Child Health and Human Development and National Institutes of Health
"Risk, Resilience, and Gene-Environment Interplay in Primates"
2012—Hongjun Song, PhD
Johns Hopkins University School of Medicine
"Neuronal Activity-Induced Changes of DNA Methylation Landscape in the
Adult Brain"
2012—BJ Casey, PhD
Weill Medical College of Cornell University
"The Adolescent Brain: From Human Imaging to Mouse Genetics"
2014—Gary Bassell, PhD
Emory University School of Medicine
"mRna Traffic and Local Translation in Neuronal Health and Neurologic Disease"
2016—Gordon Fishell, PhD
NYU Langone Medical Center
"The Integration of Interneurons into Brain Circuitry: Both Nature and Nurture"
2017—Susan Bookheimer, PhD
UCLA School of Medicine
"Imaging and Genetics in Autism: Integrating Risk Genes with Developmental Models"
2017—Marc Williams, MD
Geisinger Institute
"GenomeFIRST: A New Paradigm for Return of Genomic Results"
2019—Laura Ranum, PhD
University of Florida
"RAN Translation in Neurologic Disease"
2021—Connie Kasari, PhD
University of California, Los Angeles
"Personalization of Interventions for Children with ASD: What We Can Learn from Research"
2022—Hongkui Zeng, PhD
Allen Institute for Brain Science
"Understanding Brain Cell Type Diversity"