Elizabeth Kellom, MS, CGC
Position title: Genetic Counselor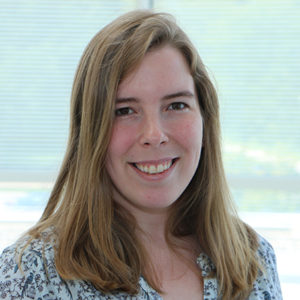 Profile
Elizabeth Kellom, MS, CGC is a clinical genetic counselor in the Medical Genetics Clinic, with a specialization in genetic causes of both vision and hearing loss. She received her BS in biology from Loras College and her MS in genetic counseling from Brandeis University in 2017. Between her degrees, she served as a Spanish medical interpreter in a community health center in Milwaukee through AmeriCorps. During her graduate school studies, she volunteered with the Massachusetts Down Syndrome Congress and Perkins School for the Blind, working with individuals with complex needs.
Elizabeth is deeply committed to disability rights and the use of genetic information to empower patients in both their healthcare and daily lives. In addition to clinical duties, she serves on the patient education committee for the National Organization for Rare Disease and is an Institutional Review Board member for the University of Wisconsin. She has written several papers about genetic eye conditions and is in the process of writing several more. She enjoys sharing her passion for the hearing and visually impaired communities with the genetic counseling students she supervises.
At home, Elizabeth enjoys spending time with her husband and two young kids, either camping, reading, hiking, or playing video games.
Clinic
Professional Certifications and Education
MS in Genetic Counseling from Brandeis University
General/Pediatric Genetic Counseling Intern at Massachusetts General Hospital
Cancer Genetic Counseling Intern at Dana Farber Cancer Institute
Prenatal Genetic Counseling Intern at Tufts Medical Center