Karen Rivedal, Wisconsin State Journal
Like harried parents anywhere, many faculty, staff and students at UW-Madison need good quality, affordable and flexible child care. And while there's any number of places around town that could provide it, many people in the university community are looking for spots near their jobs.
UW-Madison operates eight centers in and around campus that serve about 500 children a week, from infants to 12-year-olds.
"People like to have their kids close to their labs if they can," said Lynn Edlefson, coordinator of the university's Office of Campus Child Care. "It's the convenience factor, that good work-life balance that every parent wants."
Edlefson's office is sponsoring a fundraiser for the centers June 16 at Luther's Blues. Organizers hope to raise $10,000 to pay for center extras, such as new toys, equipment and added training.
Edlefson said the cash is needed to keep improving the centers, which aim to do more than just provide a place for kids to nap and eat graham crackers. The sites are nationally accredited and state-licensed, with 95 full-time teachers with degrees in early childhood education and experience levels ranging from new graduates to 30 years.
"We're not just sitting (the children) in front of a TV," Edlefson said. "It's a very integrated and age-appropriate curriculum, in a nurturing and stimulating environment."
Jean Stajich, a teacher at UW-Madison's Eagle's Wing center, works with a class of 20 children ages 3 to 5. While being interviewed, she gamely chased her charges during one of the center's free-play times, clearly having a ball herself.
"At this age, with the discovery and exploration, it's a fun learning phase, a very enjoyable time," she said. "It's about letting kids be kids."
But Stajich, who worked at a public elementary school before joining the center three years ago, said the program isn't just about having fun.
"Children learn by doing and by social interaction with their peers," she said. "You can learn a lot about geometry when you're playing with blocks."
April Kigeya, a 2003 UW-Madison graduate who now works in a campus office, enrolled both of her children, ages 5 and 2, at the Eagle's Wing center. With only one car and a husband who is still in college, Kigeya, 26, said the on-campus center is a lifesaver: convenient, affordable with university and county aid and educational.
"It's just the quality attention they give the children," she said. "They're really dedicated. (My kids) talk about their teachers all the time."
The centers also share in the university's teaching and research missions. That means up to 150 student teachers spend time at the centers every year, helping with care or just observing for one of their classes. It also means the children may participate in research on child development, if parents consent.
For example, one of the university's child-care sites is located at UW-Madison's Waisman Center, which does research on developmental disabilities including Down syndrome and cerebral palsy.
Waisman teacher Kerri Lynch said having special-needs children in the classroom — there are three in her class of 17 children ages 4 and 5 — is a good learning experience for the students without disabilities, too.
"They really get a strong sense of how to interact with people with disabilities, and it becomes natural to them," Lynch said. "They learn that before they get to a setting where teachers or the other kids may not be as accepting."
Most of the programs at the centers are for preschoolers, who can attend half-days or all day, depending on location and availability.
By far the toughest care to find — both on campus and in the larger community — is for babies.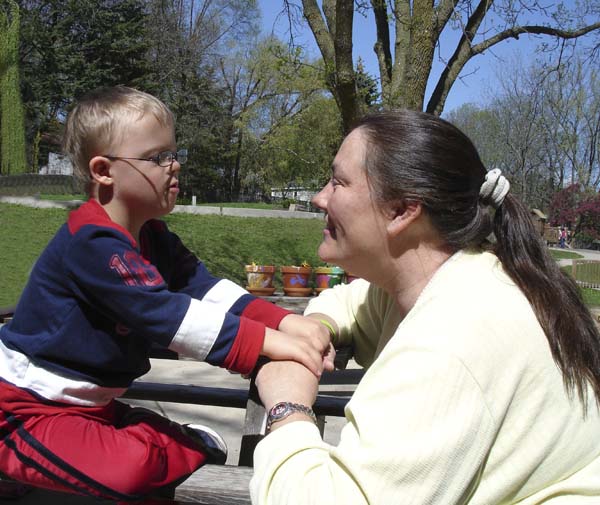 The university's infant-care programs provide space for only 44 babies, leaving some 100 families on a waiting list at any time, Edlefson said.
Infant care is scarce because it's expensive to provide, she said, after factoring the required staffing. The law mandates one caregiver for every three infants, compared to one for every 13 children ages 4 or 5; as it is, 94 percent of the centers' budgets goes for personnel costs.
Most parents pay about $300 a week for infant care or $250 for preschoolers at UW-Madison's centers. Limited financial assistance is available for academic staff and students, including some undergraduates who may have the hardest time balancing school, jobs and parenting, staff said.
"About 20 percent of the students we serve through our scholarship program are undergraduates, and they're typically single moms," Edlefson said. "But they are tenacious. A lot of them make it."
Edlefson said her focus now is to add home-based care programs. For younger children, many parents would prefer a setting in someone's home rather than a center, she said.
But regardless of location, the important thing is the quality of care, Edlefson said.
"If it's bad care, all you're doing is putting them behind when they start kindergarten," she said.