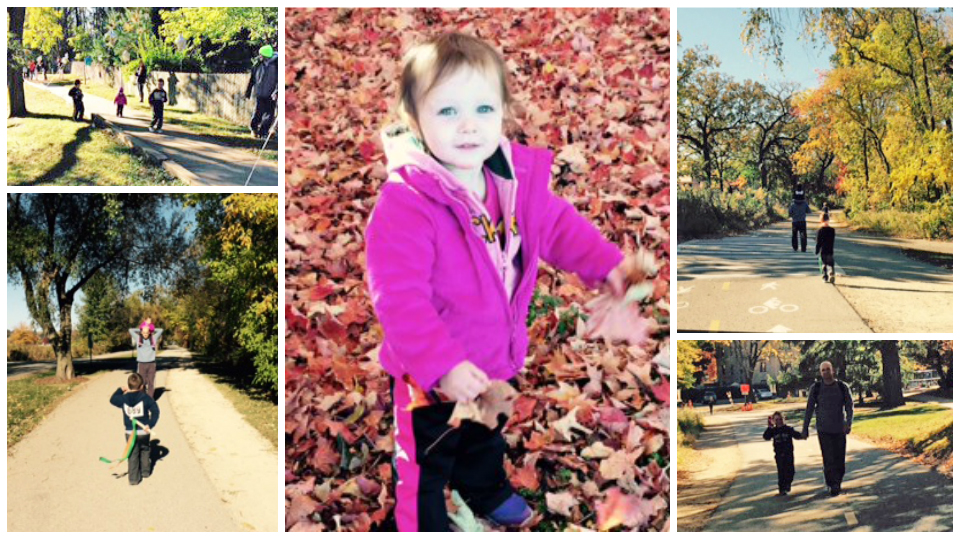 What better way to spend a crisp fall day than to go on a three mile walk with your 6, 4 and 1-year old children AND raise funds to benefit individuals and families affected by developmental disabilities and neurodegenerative diseases?
That's what Jessica and Kasey Feiner thought when they signed up for the first annual Waisman Whirl last year.
"It was great to be able to get out in the morning and go for a beautiful walk around the lake," says Kasey. "Although, I do remember feeling a little nervous about how we were going to lug our kids with us all the way!"
Turns out, they all loved it. "We took the stroller with us and the two young ones—Kellen and Reece—took turns and we had a really good time," says Kasey. "There were a few stops and a little bit of tiredness but we made it through, so we were pretty proud of everybody."
This year the Waisman Whirl is expanding beyond the inaugural 5K run, walk and roll. Being added are a more challenging 10K run and roll option as well as a less challenging one mile walk and roll. Of course, the Kids' Fun Run and all the pre-race activities will be back again.
"Our oldest, Cooper, LOVED the Kids' Fun Run," says Jessica, "and all the activities beforehand—the games, the face-painting—made it a really fun time for everyone."
Jessica and Kasey started visiting the Waisman Center after their daughter, Reece, who is 2 years old, was diagnosed with phenylketonuria (PKU), a rare disease. PKU affects approximately 15,000 people within the United States.
Individuals with PKU cannot metabolize the amino acid phenylalanine. If left untreated, PKU can lead to the accumulation of dangerous levels of the amino acid in the body, which can cause intellectual disabilities, seizures and other serious health problems.
There is no cure for PKU, and the only way to manage the disease is to adhere strictly to a diet low in phenylalanine throughout life. But almost all naturally occurring proteins contain phenylalanine, and having to avoid it makes it very difficult for individuals with PKU to consume enough protein.
This problem is exacerbated for young children who need protein to ensure proper growth and development. To make sure she has a well-rounded diet, Reece has been seeing clinicians and dieticians at the Waisman Center Biochemical Genetics Clinics.
"We didn't know about the Waisman Center until Reece came along, and now with her PKU, we can't imagine living without the support we get and the knowledge that folks at the Waisman Center have," says Kasey. "We are super happy to support the Waisman Center and help raise awareness not only about PKU but for all the services that are provided here."
The proceeds from fundraising events, such as the Waisman Whirl, help support not only the 12 specialty clinics at the Waisman Center but also other research, outreach and community support activities that benefit individuals and families whose lives have been impacted by developmental disabilities and neurodegenerative diseases.
"The Waisman Center has been a great place for our daughter to receive care," says Jessica, "and we feel very lucky to live in an area that has such a great facility."
So come along and whirl with us. The 2019 Waisman Whirl will be held on Sunday, October 6 at 10:00 a.m. You can learn more about the Waisman Whirl and register here.
By Adityarup "Rup" Chakravorty, Waisman Communications