Sam Thompson is two-and-a-half years old and a super-charged giver of hugs.His green eyes sparkle as he first embraces his physician, Jessica Scott Schwoerer, and then his dietitian, Nikki Drilias. Then it's a quick, laughter-filled sprint across the room to his parents, Josh and Angie, who also get huge hugs.
Sam is at the Waisman Center Biochemical Genetics Clinic – set up in partnership with UW Health and the American Family Children's Hospital – for a scheduled checkup. It's part of his treatment for a metabolic disorder called very long-chain acyl-CoA dehydrogenase deficiency, or VLCAD.
Individuals with VLCAD are unable to break down certain kinds of fats, called very long-chain fatty acids, to make energy, especially during the gaps between meals.
Sam's VLCAD was picked up by Wisconsin's Newborn Screening Program, which tests for 46 disorders, including about 20 metabolic conditions.
"The day after we got home from labor and delivery, we got a call from our primary care physician," remembers Angie. "We needed to come back to the hospital with Sam."
At the hospital, the Thompsons met Scott Schwoerer for the first time, and she informed them about Sam's diagnosis. He would spend the next week in the Neonatal Intensive Care Unit at St. Mary's Hospital in Madison. That's where both Scott Schwoerer and Drilias started working with him and his parents.
"Many of our patients [at the Biochemical Genetics Clinic] come to us through a positive test on the Newborn Screening Program," says Scott Schwoerer.
But not all metabolic disorders are on the newborn screen, so other patients are referred to the clinic by physicians who have identified symptoms that might be consistent with those metabolic disorders.
The majority of metabolic disorders treated at the clinics, such as VLCAD, have no cure. Instead, "they require lifelong nutritional management," says Drilias, "and our first goal, when we meet families, is educating parents about how to manage and monitor their children's diets."
Sam, for instance, has to be on a low-fat diet and drink supplements with milk three times a day. The time between his meals has to be closely monitored as well.
At the clinic, parents meet and work with a multidisciplinary team of physicians, nurses, genetic counselors and dietitians. They learn about the disorder their child has been diagnosed with and how to manage the treatment on a day-to-day basis. It can be an overwhelming experience.
"The first year was a tough one, with getting Sam to eat enough and the short times between meals" says Josh. "We would call Nikki (Drilias) all the time, with questions like 'Sam is this much short on what he was supposed to get for the day; what do we do?' and she was always available to help and support us."
Being available for parents and patients is something clinic staff take great pride in, according to Drilias.
"We really try to be there for the children and the parents, and several of them have told me that I am on their speed dial!" she says, "Treatments are often diet-oriented, so I want parents to be able to get answers quickly, especially when they have very young kids."
As children grow older, clinicians spend more time educating them so that they can become medically independent and manage their special diets themselves.
For Scott Schwoerer, these evolving connections with patients who started visiting the clinic as babies is one of the most enjoyable parts of her job. "It's great to watch these kids grow up – children who may have not survived or developed normally in the past are now living and thriving. I love interacting with the families and helping them problem-solve to make sure the children stay healthy as they grow," she says.
Maintaining these lifelong relationships helps patients as well. "We think that's a really strong part of our clinic, because we know that individuals can struggle with compliance as they get older," says Drilias. "I hope that having good relationships with my patients and their families will help them feel comfortable contacting us at any point in their lives."
Josh and Angie say that being able to connect with Nikki at any time has been very important to them and Sam. They live near Milwaukee, and it's about an hour's drive each way to the clinic from their home. "We just don't want to leave this team," says Angie.
Long distances and strong relationships are part of the clinic's initiatives throughout the state – the team participates in outreach clinics throughout Wisconsin to provide invaluable genetic services that may not be available in those parts of the state. The clinic also hosts patient and family events – such as an annual retreat for teens and young-adult women with the metabolic disorder phenylketonuria (PKU) – to foster and support networks among families who may have the same genetic condition but wouldn't have otherwise met.
The Waisman Center has a rich legacy of research and training on metabolic disorders. Clinic team members further this legacy by training medical students, residents and fellows, as well as genetic counseling students and trainees in the Leadership Education in Neurodevelopmental and Related Disabilities program.
Ultimately, it's all about the patients, says Scott Schwoerer. "For all of us at the clinic, what pushes us to come to work every day and put in our best efforts is that we know that we are helping keep children, like Sam, happier and healthier than they otherwise would have been."
The hugs she gets from Sam are an added bonus.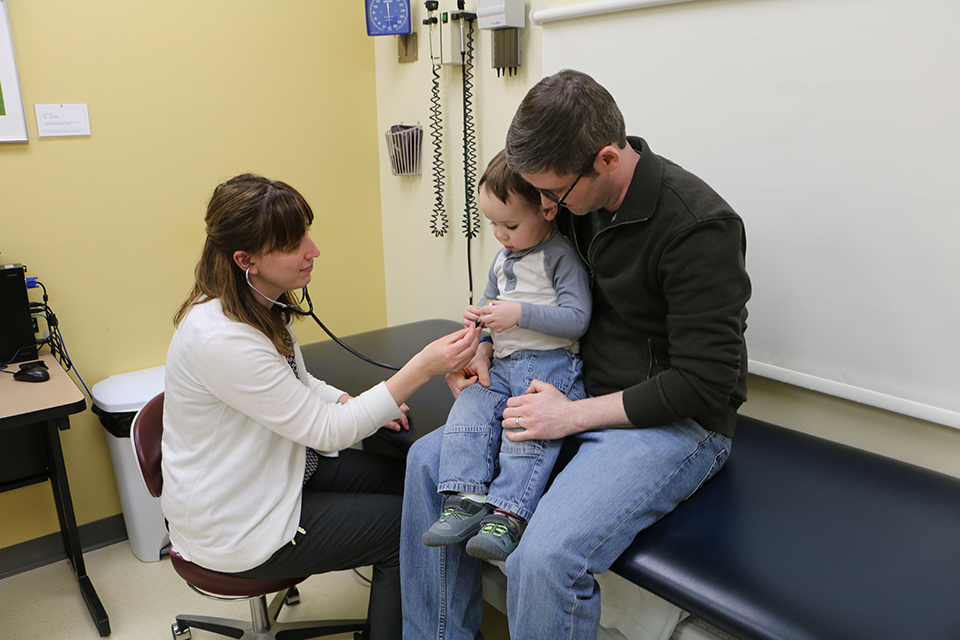 Adityarup "Rup" Chakravorty, Waisman Communications