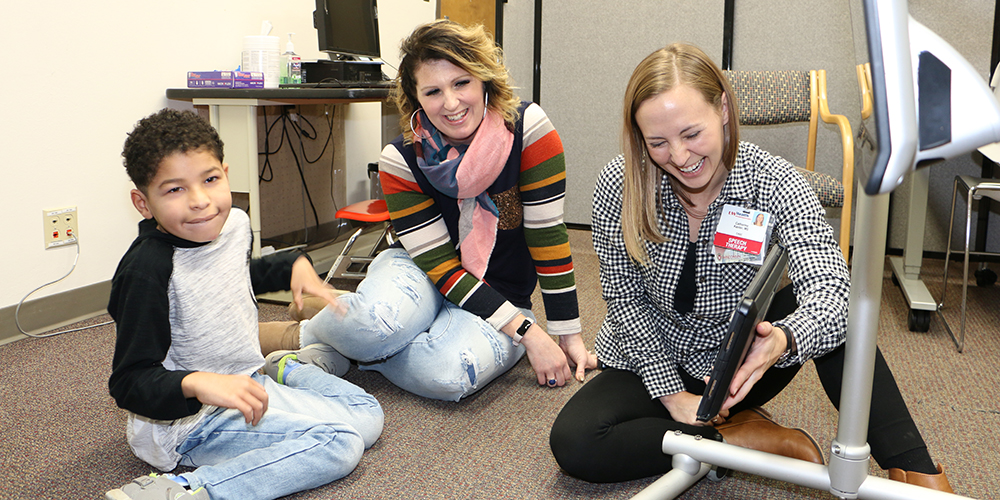 By Peter Jurich, Waisman Communications
Catherine Kanter got into speech-language pathology almost by chance.
After receiving her bachelor's degree in linguistics, she got a job as a special education paraprofessional and autism treatment therapist.
"I then found in speech-language pathology a wonderful marriage of my love for language and communication and helping individuals with disabilities, and came to UW-Madison to complete my graduate degree," says Kanter, who has worked as a full-time speech-language pathologist, or SLP, at the Waisman Center since June 2018.
In January 2020, Kanter was named the SLP of The Year by the Wisconsin Speech-Language Pathology and Audiology Association, or WSHA. WSHA is a community of SLPs and audiologists from around the state who provide leadership and support through advocacy, education, and public awareness. The award will be presented to Kanter at the WSHA state conference, which takes place Feb. 27-29.
"I chose to work as a speech-language pathologist, and specifically as an augmentative communication specialist, because I believe communication is a basic human right," Kanter says. "There has been no greater joy in my life than to help children, adults, families and teams realize the power of communication. Being SLP of The Year further cements my belief that our clients are exceptional humans with so much to tell us. We just have to find the right way to unlock their wonderful potential."
Kanter was nominated by Lindsay Duffy, whose daughter uses alternative and augmentative communication and has worked with Kanter for two years in the Waisman Communication Aids and Systems Clinic (CASC).
Alternative and augmentative communication, or AAC, refers to any method of communication outside of spoken or written language that an individual may require to communicate with others. It can come in many forms — from a simple communication board with pictures on it to an eye-tracking program that can be used on a tablet.
"Kanter has a clear passion for her job as an SLP and the kiddos that she works with," Duffy said in the nomination letter. "This passion is infectious, inspiring and engaging to the kids she works with, as well as the families. With Kanter's enthusiasm and support, she has really inspired me in my own passion for AAC and communication, helping build me up to the advocate that I am today for my daughter and her communication."
Kanter is also doing research with fellow Waisman SLP Sarah Marshall to pilot a new model of AAC accessibility for individuals with disabilities and their families. They've partnered with David McNaughton, PhD, professor of educational psychology at Penn State, to create a series of free, online AAC training modules. Though the modules are targeted toward SLPs who are looking to expand their knowledge of AAC, anyone from parents to special educators will be able to use them.
"These modules are needed as many SLP graduate programs do not require a course on augmentative and alternative communication," Kanter says. "However, the number of clients requiring AAC is only increasing."
Kanter and Marshall are additionally developing partnerships with SLPs across the state to support their clients in obtaining a thorough AAC evaluation. "Our main goal is to reduce client wait time to access necessary services and technology while building a community of knowledgeable SLPs to support AAC around the state," Kanter says.
For her success in achieving the SLP of The Year award, Kanter gives thanks to the high level of collaboration that occurs in the Waisman Center. "The amazing colleagues across the Waisman Center Clinics encourage ongoing learning and collaboration all in the best interest of our clients every day," she says. "Most importantly, the clients and families that we serve are the driving force for everything that we do. I am forever grateful for the opportunity to be a small part of their lives."