By Charlene N. Rivera-Bonet, Waisman Science Writer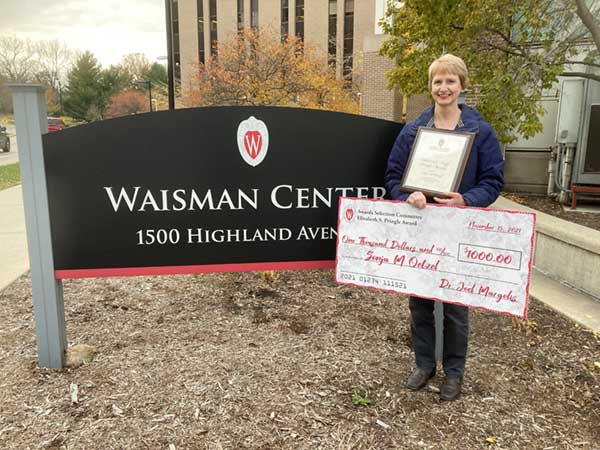 Sonja Oetzel's friendly smile is the first thing most people see when they walk into the Waisman Center. Managing the front desk, Oetzel makes the Waisman Center a positive experience for visitors, and she was recognized for it with the 2021 University Staff Pringle Award.
The Pringle Award recognizes office support employees for their outstanding achievements in areas such as continual extension of service and courtesy, promotion of excellence, leadership, innovation, and community service.
At the front desk some of her responsibilities include: directing families and interpreters to their appointments in the Waisman Center Clinics, greeting research participants, and guiding volunteers and prospective families to the Waisman Early Childhood Program. Oetzel is also an administrative support for Waisman's University Center for Excellence in Developmental Disabilities (UCEDD), and assists outreach staff on conferences, trainings, and products they develop.
"Not only does she provide a welcoming and informative presence to those connecting to Waisman programs or clinics," says Julie Schears, senior outreach specialist at UCEDD, "but Sonja also looks to improve broad lobby-related issues such as improved parking guidelines, better access for those with mobility issues, and updated signage."
Oetzel's work goes beyond making Waisman a positive and welcoming environment from the front desk. She is also an advocate for making spaces at Waisman more accessible to visitors of all abilities. For example, she advocated for more accessible restrooms, which resulted in the installation of paddle/automatic doors for those restrooms. Oetzel, a former math teacher, collected data to document parking-related challenges for visitors, which influenced a change in parking guidelines for the clinics.
Seeking opportunities to grow professionally, Oetzel regularly attends cultural diversity events and campus trainings in workplace communication skills, travel and financial support, and specific Crisis Prevention and Active Shooter training. She also constantly educates herself about the multiple projects and events happening at Waisman, says Schears.
"I consider it a privilege to work in my position at the Waisman Center," says Oetzel, "where people are equipped, and programs set up, to make a significant contribution to humanity."
Oetzel, who was selected from 40 nominees, received her award on November 15th, which included a plaque and check for $1000. At the ceremony, she thanked her husband Gary for his encouragement, her supervisor, Schears, and her co-worker Stacy for "making my days brighter and my work better."
| | |
| --- | --- |
| Your support makes a difference. Donate now to advance knowledge about human development, developmental disabilities, and neurodegenerative diseases through research, services, training, and community outreach. | DONATE NOW |