By Emily Leclerc, Waisman Science Writer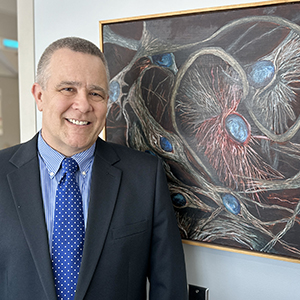 After an extensive national search, Chris Bartley was recently selected as the new managing director of Waisman Biomanufacturing (WB). Bartley most recently served as the facility's interim director.
Waisman Biomanufacturing paves the road for scientific discoveries to move into early stage clinical trials. Located at the Waisman Center, University of Wisconsin Madison, WB assists campus researchers and public and private industry partners with designing and manufacturing the products they need to move their work from bench to bedside through phase I and phase II clinical trials.
Bartley has nearly two decades of experience in biomanufacturing. He worked for UW-Madison for 30 years and WB for 17. During his tenure with WB he has held positions as a process development and manufacturing specialist and operations director before taking on the role of interim and now managing director. For Bartley, Waisman Biomanufacturing holds a high -potential to have a positive impact the field of medicine and clinical care and that is thrilling.
"When I joined in 2006, I saw WB as a place where I could utilize my strengths in research, process development and project management within the University of Wisconsin system. I saw an opportunity to bring novel ideas to the pharmaceutical market that may have otherwise died for lack of the proper pipeline," Bartley says. "WB was that pipeline and I was excited to be a part of it. I also saw Waisman and WB as facilities with a mission that focused on improving the lives of people."
Since opening its Current Good Manufacturing Practice facility (CGMP, a designation of the Food and Drug Administration) in 2001, Waisman Biomanufacturing has supported more than 70 FDA Investigational New Drug (IND) applications, both corporate and investigator sponsored, as well as several applications into global markets and has earned a reputation for working closely with clients for cost-effective, timely, and personalized manufacture of quality products. It operates and maintains seven cGMP compliant cleanrooms to allow for the production of a variety of products. WB routinely works on projects for plasmids, proteins, viral products, microbial and mammalian cell banks, and aseptic filling of products. In recent years, they have taken on more unique projects that include live microbial products, COVID therapies, and skin grafts.
"Waisman Biomanufacturing is a key partner in advancing translational research," says Qiang Chang, PhD, director of the Waisman Center, a research center focused on human development, developmental disabilities, and neurodegenerative diseases. "Chris has extensive experience and understanding of Waisman Biomanufacturing's operations and how to work with partners to drive biomedical innovation."
Over the years, WB has partnered with a broad range of biotechnology companies started by UW-Madison faculty. These include Madison Vaccines Incorporated (founded by Douglas McNeel, MD, PhD), Fujifilm Cellular Dynamics (founded by Jamie Thomson, PhD) and Stratatech (founded by Lynn Allen-Hoffmann, PhD) , which was recently acquired by Mallinckrodt Pharmaceuticals.
Bartley is honored and excited by the opportunity to lead the exceptionally experienced Waisman Biomanufacturing team and is eager to get to work.
"A part of the University's mission is to 'improve the quality of life for all.' This is why I am still here. Working at WB has given me an opportunity to live that out more closely than ever. The bio-pharmaceuticals that we make have made a difference in the lives of others, ranging from pancreatic islets to skin substitute to COVID therapies and many others," Bartley says. "There are many more that are in early stage and will take a few more years to know their true efficacy but the theme doesn't change, we are here to make a difference in others' lives. That's why I love working at WB."