By Emily Leclerc, Waisman Science Writer
For many individuals with autism and their families, their first experience with the Waisman Center may be through the center's Autism and Developmental Disabilities (A&DD) Clinic. The A&DD Clinic's primary focus is providing diagnostic evaluations and follow-up care for to individuals suspected of having autism or other developmental disabilities. "We answer the question of does the child have autism or a different intellectual or developmental disability," says Erin Thomson, MSW, LCSW, social worker, and clinic coordinator for the A&DD Clinic. "The bulk of our work is answering that question for families."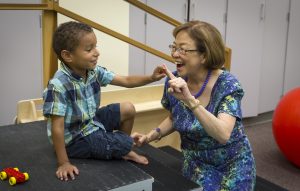 Situated on the first floor, the A&DD Clinic is one the center's 10 specialty clinics and autism treatment programs. Individuals with autism may require specialized care as the condition can be accompanied by a variety of health concerns as well as the potential need for behavioral therapies. Waisman is equipped to provide both types of services. The A&DD Clinic focuses on a person's medical concerns while the Autism Treatment Programs provide individually focused behavioral treatment.
The A&DD Clinic's primary goal is to provide diagnoses and follow-up care as needed but they specialize and excel in helping the kids whose diagnosis might not be straightforward. As autism prevalence continues to rise and the clinic's waitlist continues to lengthen, the A&DD Clinic is working to ensure their services reach those who need them the most.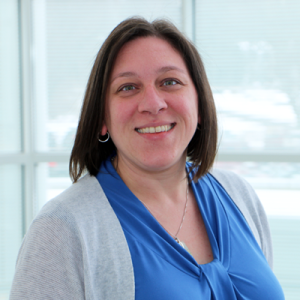 "Families want to come to the Waisman Center because they feel very confident that they are going to get a good, non-biased evaluation," Thomson says. "And for kids who are medically complex, we are 100% the right place to be. For others with a less complex history, they can be very well served by other providers in the community."
The clinic's interdisciplinary structure allows for a uniquely well-rounded view that can provide insight through a complex web of medical needs. "When you have a child that has a long history of medical complexity – they were extremely premature or had a long NICU stay or they have cerebral palsy – having those diverse perspectives that can really take a look at that child's whole development is very important," Thomson says. "We can tease apart their medical history and figure out if autism or another condition is the answer."
A historical look at a changing landscape of diagnosis and care
Tina Iyama-Kurtycz, MD, retired pediatrician with expertise in developmental and behavioral pediatrics, worked in the A&DD Clinic for more than 30 years. During her tenure, she witnessed significant change in the way autism is diagnosed and treated. "When I started in the 70s, autism had barely crawled out of the refrigerator mother theory," Iyama-Kurtycz says. The refrigerator mother theory was an early idea on why children had autism. The theory, now outdated and debunked, believed that mothers who were cold and uncaring toward their children would cause them to develop autism. "I've lived from when autism was just one uncommon severe disability with no treatment through the broadening of the autism spectrum to what it is today. That's a phenomenal change," she continues.
Iyama-Kurtycz spent her time helping parents understand where their children were developmentally and what the best next steps forward would be. She would initially meet with the families for two hours and spend that time establishing rapport with the family, gathering history, playing on the floor with the child, and evaluating the child. "In our field you learn how to see while a child is doing something else. You learn how to see what you need to know. For example, by watching a kid get up from the floor and go to their parents I could look at muscle tone and strength and a bunch of other skills while that was happening," Iyama-Kurtycz says. "I learned how to see quickly." For her, one of the things that makes the Waisman Center's A&DD Clinic special is its interdisciplinary nature.
"We have a lot of disciplines that work with children with disabilities. We are able to share that expertise with each other in a way that benefits that particular patient which is an incredible thing," Iyama-Kurtycz says. "It is the collaborative nature of the clinic that is so special. Keeping the care child- and family-centered is very important. The parents and the child are a part of the team and we collaboratively look at each child together."
Care beyond diagnosis
Children with medical complexity that are diagnosed with autism often need longer term follow-up care to address and help with other health concerns. There can be feeding and intestinal concerns, issues with sleeping, and challenging behaviors among other concerns. The pediatricians and other clinicians in the A&DD Clinic help families manage their care with a variety of techniques up until the age of 21.
After an autism diagnosis, many individuals and families then seek out a variety of different therapies and supports. Behavioral treatment is often a part of that list.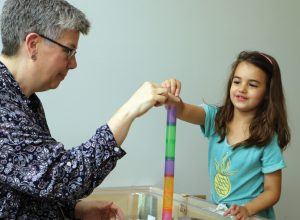 The Autism Treatment Programs (ATP) at Waisman are interdisciplinary programs focused on providing behavioral treatment services to children, teens, young adults, and their families. Using approaches founded in the principles of applied behavioral analysis (ABA), their goal is to help support positive family relationships and meaningful behavior change. Like the A&DD Clinic, the ATP team strives to create family-centered care that caters directly to the individual's and family's needs and goals.
The program started after the Waisman Center realized that there was an increasing need for autism treatment services. "The process of developing the program started from 2013-2014. Marsha Mailick, PhD, then-Waisman Center director, led a team from the UCEDD and UW Health Clinic partnership in writing a white paper that identified the need for expanding Waisman services to include treatment," says Molly Murphy, PhD, BCBA-D, behavior analyst and ATP program director. "As services were expanding in community agencies, and more individuals were receiving a diagnosis of autism locally and nationally, the time was right to be thinking about how we could expand services and create a model that could offer effective strategies focused on the family and individual with autism."
Murphy was hired in 2014 and, with the support of the UCEDD staff and UW Health partners, began to build ATP. The aim of the program from the beginning was to provide services from early childhood all the way through young adulthood, taking a lifespan approach from a family perspective. Interdisciplinary staff were brought on with a wide variety of licensures and expertise. Under Murphy and the ATP team's guidance, a blank slate grew into a diversified and highly specialized treatment program. Madeline Barger, MS, LMFT, BCBA, CST, ATP's lead behavior analyst, licensed marriage and family therapist, and an AASECT certified sex therapist, and Alyssa Walsh, PhD, licensed psychologist, were brought on in 2016, just as ATP was first starting to see clients. "We really grew this team to be able to grow our skills in supporting families with a child with autism across the lifespan and supporting their priorities for change," Murphy says. Murphy spends most of her time working with the youngest children, Walsh with those who are school age, and Barger with the teens and young adults alongside their other training and outreach responsibilities.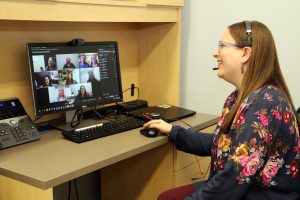 ATP uses the evidence-based principles and strategies founded in ABA to partner with individuals with autism and their families to lead their most successful lives. "ABA is one of the most frequently researched approaches for treatment leading to behavior change for people with developmental disabilities and with autism," Murphy says. "This approach is systematic. We work with individuals and families to choose assessment, to choose treatment objectives with parents, to teach in sessions, to measure outcomes, and to include the parents' perspectives on the changes they see. We also use other evidence-based curricula that are specific to family concerns or priorities for change. These provide guidance that can be individualized."
Similar to the A&DD Clinic, ATP features an incredibly interdisciplinary team including behavior analysts, psychologists, social workers, family therapists and a sex therapist. This diverse array of expertise not only provides insight into how to help individuals across many of life's challenges and experiences but also a depth of care that is not often seen in autism treatment programs. Parent coaching and individual sessions are typically weekly 90-minute slots that depend on the individual's needs and goals, and parent priorities.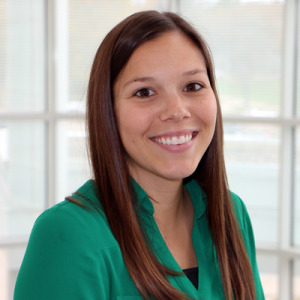 ATP's variety of spaces allow team members to meet each individual and family exactly where they are in terms of where to begin therapy. ATP has play zones with different types of typical preschool play activities offered in each area for younger children. Each child is matched with a direct service provider as they rotate through different play zones that practice learning objectives during natural play. Parents join those sessions weekly or participate in parent coaching to support learning strategies for playing, teaching, and communication with their child. The older kids still have fun activities peppered throughout their weekly sessions but they will be intertwined with different check-ins and talking about strategies to help meet their goals. "It's fun. We keep it positive," Barger says. "We also like to do activities that promote family bonding. We try to engage the parents in the child's interests."
Sessions with teens and young adults can also feature practicing a variety of life skills such as learning to start a conversation, or practicing going on a date, or teaching how to host a gathering. "We've also done bus safety where the hallway was a bus," Barger says.
Each client is fitted with sessions, strategies, and therapies that suit their wants, needs, and goals. The team also works with parents to provide strategies that they can practice between sessions and after treatment ends. Murphy, Barger, Walsh, and the rest of the ATP team work closely together to ensure each person and family that passes through the program receives well-rounded care that promotes the best version of that family's life together. And structuring their therapies as a family-based program has seen resounding success. "We focus on learning about the individual and sharing that with families. Parents are learners too and we are responsive to designing supports that also fit their needs," Murphy says.
At the moment, the biggest challenge facing both the A&DD Clinic and ATP is a long waitlist to be seen. The A&DD Clinic currently has a referral pause in place for most children over the age of 5, and families can wait months to years before being seen in ATP. Both programs are struggling to keep up with the demand for their services as the demand seems to increase each year. The programs understand how tough it can be on families to wait and are working to find solutions to the long wait times. While they work to develop those solutions, both programs strive to provide top quality care to each person and family that walks through their doors.
ATP and the A&DD Clinic focus on ensuring individuals and families have the support, resources, and guidance that they need to move through life confidently and with the least amount of stress. "Not every person with autism or their family may choose treatment and that's okay," Murphy continues. "But the outcomes are remarkable when we really focus on asking individuals and their family, 'how do you want to live your life and how can we support you'. We are looking to improve the quality of life for the individual and for the family. Then they can be part of the larger communities and in order to support that, people may just need a little help."