By Emily Leclerc, Waisman Science Writer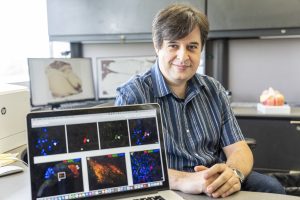 André Sousa, PhD, Waisman Center investigator and assistant professor of neuroscience, didn't even realize he had received the Cajal Club's Krieg Cortical Explorer Award. The email telling him he was this year's Explorer Award recipient accidentally went to his spam folder. "My previous supervisor nominated me. And then he called me to congratulate me and I was so confused!" Sousa says. "He said that I'd received the award and I asked him to please forward me the email? But of course, I was extremely happy and honored to receive it."
The Cajal Club's Krieg Cortical Explorer Award recognizes outstanding scientists that are researching the cerebral cortex, which is the outermost and largest part of the brain. The Explorer Award is part of the Krieg Cortical Kudos Awards that are given in three levels with the Explorer level being the middle category that recognizes early-stage investigators who received their PhD less than 10 years ago.
Sousa's lab at Waisman is dedicated to researching the mechanisms that govern cortical development and evolution. "We are trying to understand what are the mutations that have accumulated in our DNA since we split from our closest relative's lineage," Sousa says. "That includes chimpanzees, bonobos, the great apes, and other non-human primates. So, since we split from their lineage, what are the mutations that were selected for and accumulated in our genome that makes our brain different. I always tell my students we want to understand why chimpanzee DNA makes a chimpanzee brain and why human DNA makes a human brain." Sousa's work has led to several novel insights in pursuit of this goal.
The Cajal Club is a premiere club that provides a space for scientists with a special interest in the nervous system to socialize alongside emphasizing the importance of studying the structure of the nervous system. The club also provides support to neuroscientists and researchers. Established in 1947, the Cajal Club, "carries on their traditions in a spirit of openness and diversity. They look forward to recruiting the next generation of scientists, and embrace researchers and their work in model systems across the animal kingdom." The Krieg Cortical Kudos Awards are presented at the club's annual meeting at the annual meeting of the Society of Neuroscience.
| | |
| --- | --- |
| Your support makes a difference. Donate now to advance knowledge about human development, developmental disabilities, and neurodegenerative diseases through research, services, training, and community outreach. | DONATE NOW |
---
Learn more about the Waisman Center's 50th Anniversary, including events, history, stories and images:
50 Years | 1973 - 2023
---