By Pat Mitchell
The Waisman Center's premier conference center has been renamed in honor of Chancellor John D. Wiley.   The seminar series that occurs in that space will also bear his name and an ongoing fund has been established to support the series in the years ahead.
This tribute was the inspiration of Waisman Center director Marsha Mailick Seltzer, PhD, who, in her role as chair of the chancellor search committee, often reflected on the crucial role John played in the evolution of the Waisman Center.  "John is widely known as a campus builder," says Seltzer, "who helped to steer the Waisman Center's growth as a world-class facility by supporting the expansion of our research and other programs into areas that hold great promise for people with developmental disabilities and neurodegenerative diseases."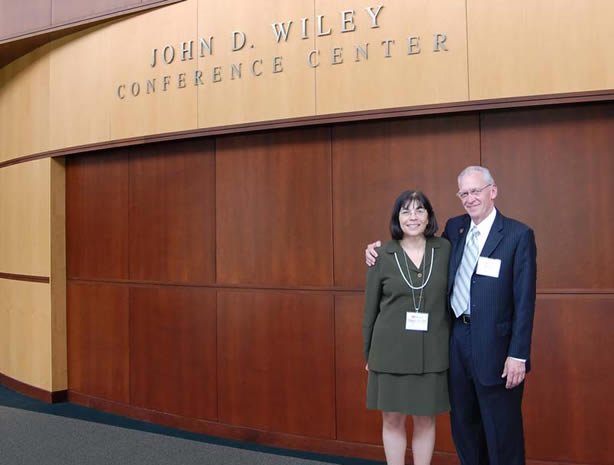 The Waisman Center's Board of Visitors spearheaded this effort to honor Chancellor Wiley, who will complete seven years of service as chancellor in September.  Not only did every board member make a personal gift, but they also contacted key community and university leaders, who joined in this cause.
The effort was planned as a surprise to Chancellor Wiley.  "We really wanted to make this a distinctive occasion and honor for John, and it is a testament to his renown that everyone we approached was so generous," says Seltzer.
The new name was unveiled at the spring meeting of the Board of Visitors on Wednesday, June 11, following faculty presentations in the conference center by Su-Chun Zhang, MD, PhD, and Ruth Litovsky, PhD.
Located on the second floor of the North Tower, the facility has become the main location for seminars and other presentations in the building since the completion of the new tower in 2001. Each year, more than 2,000 people attend various events there.