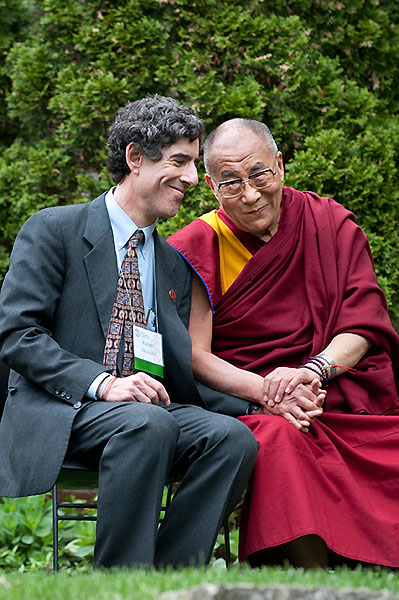 By Jill Saka
University Communications
Securing research funding is always welcome news, but this one came with a unique twist.
The Center for Investigating Healthy Minds (CIHM) at the University of Wisconsin-Madison has received a grant from the Dalai Lama's personal trust to further its research mission. The $50,000 grant is "to support the Center for Investigating Healthy Minds in researching healthy qualities of mind like kindness and compassion," according to the grant agreement.
"This was a completely unexpected and unsolicited gift and we are deeply honored that His Holiness the Dalai Lama is so supportive of our work," says Richard Davidson, CIHM director and professor of psychology and psychiatry at UW-Madison.
CIHM, located adjacent to the Waisman Laboratory for Brain Imaging and Behavior in UW-Madison's Waisman Center, supports basic and translational research on healthy qualities of mind such as kindness and compassion, how they develop, and how they might be nurtured. The Center uses state-of-the-art neuroscientific and biological tools to probe alterations in the brain and body during the expression of such positive qualities.
The Dalai Lama has a longstanding interest in Davidson's work on the neuroscience of emotion and has visited UW-Madison on several occasions. His gift to CIHM comes shortly after he attended the Center's grand opening celebration in May.
"The Dalai Lama has advocated for the importance of compassion in multiple spheres of society and he has a long-standing interest in science," Davidson says. "The CIHM combines the rigor of science and an openness to important but difficult to study qualities such as compassion and happiness, and thus captures two of the key passions of the Dalai Lama. We are inspired by his gift and will do our best to insure that it is used in the most beneficial way possible."
The grant can be applied toward any research conducted at CIHM. Its use has not yet been determined.