By Maggie Ginsberg-Schutz
Channel 3000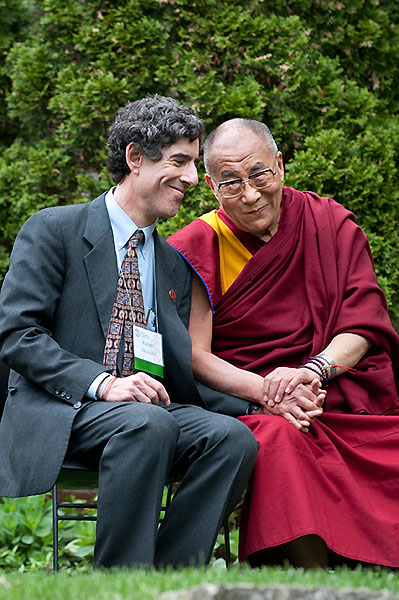 On an otherwise nondescript day in 1992, UW neuroscience professor Richard Davidson sat in a small waiting room outside the personal residence-in-exile of Tenzin Gyatso—better known as the fourteenth Dalai Lama—in Dharamsala, India. He'd been summoned by a faxed letter with a seemingly simple premise: His Holiness was tired of scientific researchers putting all the focus on negative emotions such as anxiety and depression. He wanted Davidson and his colleagues to study kindness and compassion using the tools of modern neuroscience.
Davidson, meanwhile, was not only a respected psychologist and neuroscientist with a healthy roster of awards and accolades to his name; he was also a self-professed "closet meditator" and spiritual seeker. As he sat waiting to meet with His Holiness the Dalai Lama face to face for the very first time, Davidson suddenly began to sweat. His heart began to race. He couldn't catch his breath. The man who'd built a career cataloguing physical symptoms like these in others but had never considered himself high in anxiety recognized on a cognitive level exactly what was happening.
"I was really having all the signs of panic. I know what they are, but I've never had a panic attack," says Davidson. "I absolutely had no idea how I was going to begin."
The doors swung open and staff members collected Davidson, escorting him to where the Dalai Lama stood waiting.
"I have this very vivid recollection of this extraordinary transition over the course of maybe fifteen seconds," he says. "You know, this dramatic emotional change. I just felt every smidgen of anxiety completely and totally just absolutely gone. And I felt like this was the most secure place for me on the planet."
From that day forward, Davidson's scientific yang began to curl itself more comfortably against the spiritual yin he'd been secretly harboring for years. His academic training didn't present a dichotomy against this mindful energy; it hummed with a thrilling synergy. Davidson doesn't remember what was said, exactly. But he's certain the Dalai Lama knew precisely what he was doing when he seemed to intentionally and immediately ease Davidson's extreme physical symptoms.
"I came to see that that is the power of compassion," says Davidson.
Compassion is now a core component of Davidson's groundbreaking work at the University of Wisconsin's Center for Investigating Healthy Minds, the brain research facility at the Waisman Center where the Dalai Lama visited for its grand opening and to which he recently made a rare personal donation of $50,000. The Dalai Lama's compassion has also influenced the work of Davidson's friend Jonathan Patz, the Nobel Prize–winning professor and director of the Global Health Institute at UW–Madison.
After working closely with the Dalai Lama at a May 2011 conference in India titled "Ecology, Ethics and Interdependence," Patz and Davidson decided to produce the upcoming "Change Your Mind Change the World" event, slated for May 15 at Overture Center, featuring nine leaders who fundamentally get this idea of mindful, interconnected health—including the Dalai Lama. The exiled Tibetan leader will also spend the preceding day, May 14, leading teaching events at the Alliant Energy Center, sponsored through Deer Park Buddhist Center and Monastery in Oregon, Wisconsin, where head abbot Geshe Sopa resides. Sopa's sixty-plus-year friendship with the Dalai Lama is the reason His Holiness began traveling to the Madison area in the first place. He continues to visit with remarkable frequency, due to this unique, decades-old web connecting the university, Sopa, Davidson and now Patz.
"I think there is something about the prairie and the Midwest," says Davidson, who famously turned down a named-chair position at Harvard—one of any university's top honors—in 1998 to stay at UW–Madison. "Egos are not grown as large here as they are on the coasts. Barriers are more permeable. The opportunity for interdisciplinary collaboration, I think, is more real here than it is in most other places. And I think that His Holiness sees that and really, deeply appreciates that. I think for those reasons he has a real fondness for Madison in particular and for the Midwest more generally."
It's more than just an interesting, feel-good story—some academics still scoff at these interwoven concepts of compassion, mindfulness, interdependence, ethics, science and spirituality, but people like Davidson and Patz believe they not only harmonize, they are the heartbeat of global health.
"We have really big ambitions for this work," says Davidson. "It's not just to conduct mundane scientific research but it's really to transform the world."