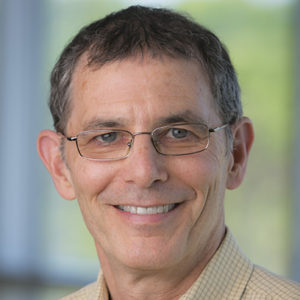 Albee Messing, a University of Wisconsin-Madison professor of comparative biosciences and an international leader in research on Alexander disease, has been named director of the Waisman Center, UW-Madison School of Medicine and Public Health Dean Robert Golden announced April 14.
Golden says Messing was selected for the position due to his unique combination of experience, skill, scientific excellence and loyalty to the Waisman Center as well as his ability to maintain the center's upward trajectory during a time of transition.
"Dr. Messing is an internationally renowned scientist who has developed an innovative scientific program while serving in a series of leadership roles in the Waisman Center. He is exceptionally well positioned to advance the Waisman Center's missions through a seamless transition in leadership," says Golden.
The Waisman Center is a research hub within UW-Madison's Office of the Vice Chancellor for Research and Graduate Education and focuses on research, clinical care, training and outreach related to developmental disabilities and neurodegenerative diseases.
Founded in 1973, it has more than 600 employees and an annual operating budget that exceeds $35 million. Fifty-seven faculty members from 20 UW-Madison academic departments are engaged in more than 100 projects spanning both biological and behavioral research, including autism and Parkinson's disease, among others. The Waisman Center is also home to 13 specialty clinics which serve more than 4,000 patients each year, a model inclusive preschool for both typically developing children and children with developmental disabilities, and a GMP biologics production facility for phase I/II human clinical trials.
Messing was appointed interim director of the center in May 2014. He replaced Marsha Mailick, who went on to serve as interim vice chancellor for research and graduate education and was recently chosen to permanently fill that position. Messing will report to the dean of the School of Medicine and Public Health.
"I'm excited and honored to lead the many Waisman Center faculty, scientists and staff who carry out the important work of understanding and treating some of human health's most challenging conditions," says Messing. "These efforts inspire hope for those affected by these conditions and advance the science and knowledge of human development."
The Waisman Center's major efforts during the current year include increasing the capacity of clinical diagnostic and treatment services, expanding the unique, long-term collaboration with Marshfield Clinic into the area of genetics, and preparing the upcoming renewal of the center's core grant, which provides significant funding for research infrastructure.
"The Waisman Center has a robust program of research that benefits individuals and families in our community, across the United States and around the world," notes Messing. "I look forward to continuing the Waisman Center's strong relationships with our campus, community and private partners."
"The Waisman Center is a jewel in the UW-Madison crown, a shining example of the Wisconsin Idea. It integrates service, discovery and training in a vitally important area, and serves as an important resource for patients and their families throughout our state," says Golden.
"Recent findings from the Centers for Disease Control and Prevention show that one in six children have a developmental disability. This makes the work that we do to discover the causes and consequences of these conditions all the more important," says Messing.
Messing brings a unique perspective to his new role. A faculty member of UW-Madison's School of Veterinary Medicine since 1985, he will continue research on Alexander disease, a progressive and usually fatal neurological disorder in which abnormal aggregates known as Rosenthal fibers occur in astrocytes of the brain and spinal cord. Messing and his colleagues discovered the genetic basis for Alexander disease in 2001, which highlighted the fundamental role of astrocytes in neurological disease.
His laboratory maintains a broad program of research spanning molecular biology, animal models, biomarker discovery and drug development. Messing has been a Waisman Center investigator since 1998. He has held numerous leadership positions there during his tenure, including associate director for biological sciences and director of the Rodent Models Core since 2001.
Messing received his B.S. from Yale University in 1974 and his veterinary medical and doctoral degrees from the University of Pennsylvania. He previously taught pathology and microanatomy in the UW-Madison School of Veterinary Medicine and leads the Laboratory of Developmental Neurogenetics at the Waisman Center.
Messing has been the recipient of both the Weil and Moore Awards from the American Association of Neuropathologists and, in 2010, was selected by the Spanish Society of Neurology to give the Santiago Ramón y Cajal Lecture. He has served on the Medical and Scientific Advisory Board for the United Leukodystrophy Foundation since 2007. Messing's service to UW-Madison includes numerous search and review committees, and a term as chair of the Graduate School's Principal Investigator's Committee in 2005-06.