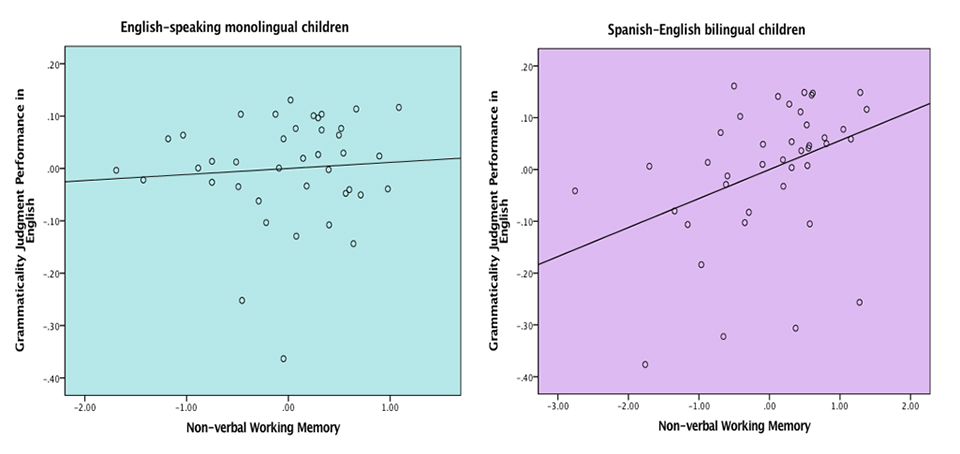 Title: Grammatical processing and non-verbal working memory in monolingual and bilingual children
Legend: Spanish-English bilingual children did not perform as well on the English grammaticality judgment task, and showed greater reliance on nonverbal working memory during grammatical processing compared to monolingual English-speaking children.
Citation: Gangopadhyay, I., Davidson, M.M., Ellis Weismer, S., & Kaushanskaya, M. (2016). The role of nonverbal working memory in morphosyntactic processing by school-aged monolingual and bilingual children. Journal of Experimental Child Psychology, 142, 171-194. doi: 10.1016/j.jecp.2015.09.025
Abstract: The current study examined the relationship between nonverbal working memory and morphosyntactic processing in monolingual native speakers of English and bilingual speakers of English and Spanish. We tested 42 monolingual children and 42 bilingual children between the ages of 8 and 10 years, matched on age and nonverbal IQ. Children were administered an auditory grammaticality judgment task in English to measure morphosyntactic processing and a visual n-back task and Corsi blocks task to measure nonverbal working memory capacity. Analyses revealed that monolinguals were more sensitive to English morphosyntactic information than bilinguals, but the groups did not differ in reaction times or response bias. Furthermore, higher nonverbal working memory capacity was associated with greater sensitivity to morphosyntactic violations in bilinguals but not in monolinguals. These findings suggest that nonverbal working memory skills link more tightly to syntactic processing in populations with lower levels of language knowledge.
About the Lab: Margarita Kaushanskaya, PhD is an Associate Professor in the Department of Communication Sciences and Disorders. Research in her Language Acquisition and Bilingualism Lab examines language and cognitive development in bilingual children with and without developmental disabilities.