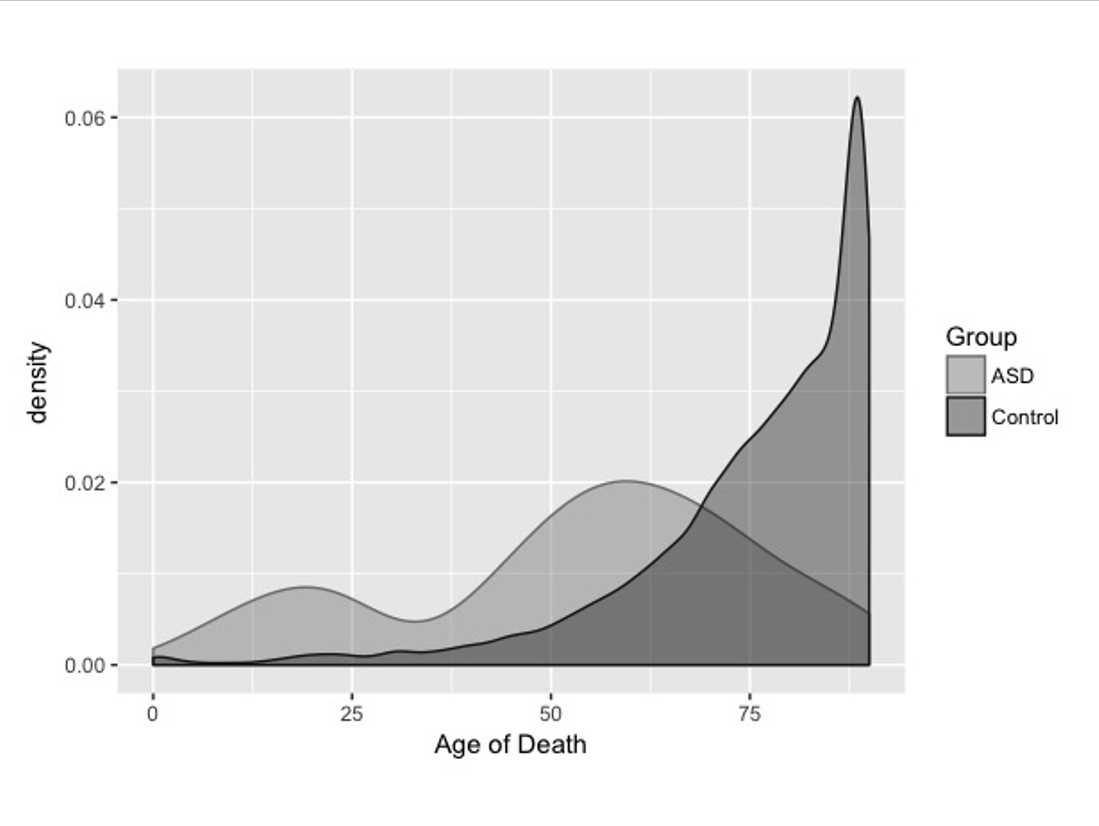 Title: Using Machine Learning to Identify Patterns of Lifetime Health Problems in Decedents with Autism Spectrum Disorder
Legend: This figure displays the distribution (kernel density estimate) of age of death for the full sample of adults with autism spectrum disorder (N = 131) and community controls (N = 16,981) who received health services at the Marshfield Clinic since 1979. Adults with autism spectrum disorder died, on average, at age 56.1 (SD = 21.8) while community controls died, on average, at age 75.2 (SD = 15.4).
Citation: Bishop-Fitzpatrick, L., Movaghar, A., Greenberg, J. S., DaWalt, L. S., Brilliant, M. H., & Mailick, M. R. (In Press). Using machine learning to identify patterns of lifetime health problems in decedents with autism spectrum disorder. Autism Research.
Abstract: As a large wave of individuals with autism spectrum disorder (ASD) diagnosed in the 1990s enters adulthood and middle age, knowledge about the patterning of lifetime health problems will become increasingly important for prevention efforts. We retrospectively analyzed diagnostic codes associated with de-identified electronic health records using a machine learning algorithm to characterize diagnostic patterns in decedents with ASD and matched decedent community controls. Participants were 91 decedents with ASD and 6,186 sex and birth year matched decedent community controls who had died since 1979, most whom were middle aged or older adults at the time of their death. We analyzed all ICD-9 codes, V-codes, and E-codes available in the electronic health record and Elixhauser comorbidity categories associated with those codes. Diagnostic patterns distinguished decedents with ASD from decedent community controls with 75% sensitivity and 94% specificity solely based on their lifetime ICD-9 codes, V-codes, and E-codes. Decedents with ASD had higher rates of most conditions, including cardiovascular disease, motor problems, ear problems, urinary problems, digestive problems, side effects from long-term medication use, and non-specific lab tests and encounters. In contrast, decedents with ASD had lower rates of cancer. Findings suggest distinctive lifetime diagnostic patterns among decedents with ASD and highlight the need for more research on health outcomes across the lifespan as the population of individuals with ASD ages.
About the Lab: Lauren Bishop-Fitzpatrick conducted this research while a post-doc in the Waisman Center's Post-Doctoral Training Program in Intellectual and Developmental Disabilities Research. Bishop-Fitzpatrick has now established her independent program of health services research, which aims to identify strategies to help adults on the autism spectrum live long, healthy, and self-determined lives in their communities. She is interested in modifiable factors that improve health equity and reduce health disparities in adults on the autism spectrum. Her current research includes three projects that aim to: (1) investigate heterogeneity in health and mental health conditions in middle aged and older adults on the autism spectrum using Wisconsin Medicaid data; (2) characterize condition-based and neighborhood-level socioeconomic disparities in Medicare beneficiaries on the autism spectrum; and (3) adapt and pilot an intervention designed to reduce distress and improve health in middle aged and older adults on the autism spectrum. She is also broadly interested in education and training aimed at educating the workforce of practitioners who provide community-based services to people with developmental disabilities.