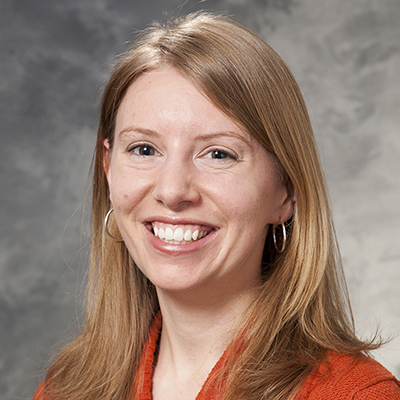 Leann Smith DaWalt, PhD, a longtime Waisman Center investigator, began her appointment as the director of the University Center for Excellence in Developmental Disabilities (UCEDD) on Oct. 14.
She succeeds Bill MacLean, PhD, who retired in early October.
The UCEDD supports the full inclusion and self-determination of people with developmental disabilities and their families through a broad range of service, training, and outreach programs including the Waisman Center Clinics, the Waisman Early Childhood Program, and the Leadership Education in Neurodevelopmental Disabilities (LEND) training program.
"In my time at the Waisman Center, I've had the opportunity to become increasingly involved in the activities of the UCEDD," DaWalt says. "I am inspired and excited by the UCEDD's mission and the many opportunities to serve our state through the work of the UCEDD."
DaWalt joined the Waisman Center in 2006 as a postdoctoral fellow under the mentorship of Marsha Mailick, PhD, and Jan Greenberg, PhD. After completing her fellowship in 2008 she became a Waisman Center investigator and co-PI of the Lifespan Family Research Program. DaWalt's research focuses on the impact of intellectual and developmental disability on the family system and the role of the family and community in supporting development for individuals with disabilities across the lifespan. She is also the PI of several intervention studies focused on teens and adults with autism spectrum disorder (ASD).
Her interest in supporting individuals with disabilities and their families began during college when she worked as an in-home therapist for a child with ASD.
DaWalt has a bachelor's degree in psychology from Lambuth University in Jackson, Tennessee, and a master's degree and PhD in developmental psychology from the University of Notre Dame.
As director, she aims to continue the expansion of UCEDD's reach throughout the state. "I look forward to being able to support our teams in carrying out their work," she says. "As technology continues to improve, I see the UCEDD providing more training, technical assistance, and direct service throughout Wisconsin."
DaWalt is also focused on further cultivating collaborations internally. "I am eager to support the ongoing integration across programs within the Waisman Center," she says. "I hope these efforts will directly benefit translational research and improve the lives of individuals with disabilities and their families."