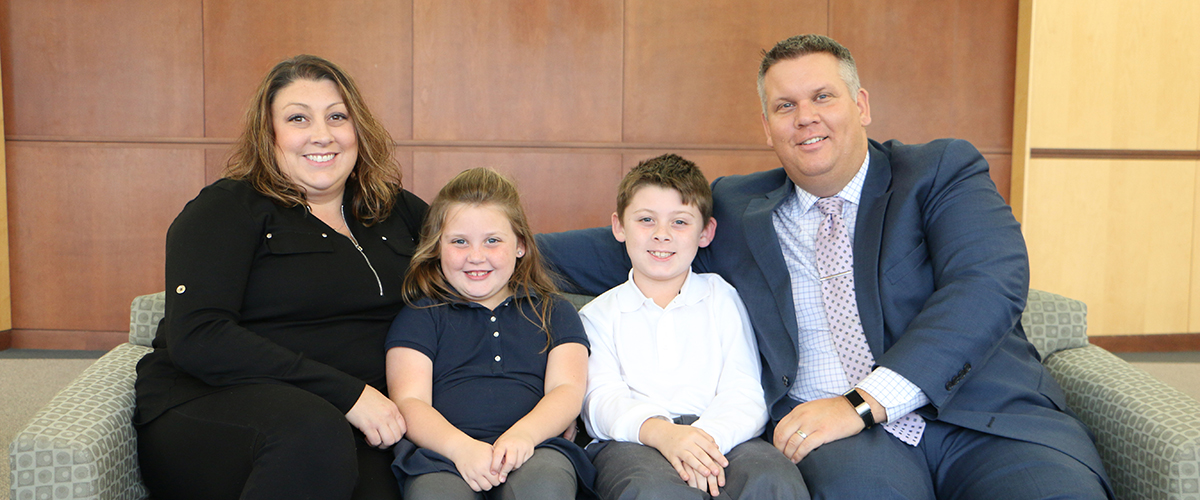 By Peter Jurich, Waisman Communications
People are drawn to the Friends of the Waisman Center's board for many different reasons. For Scott Kornstedt, it's Raegan, his 6-year-old daughter who loves strawberries and reads at the top of her first grade class.
Shortly after Raegan was born to Scott and his wife Carrie, she was diagnosed with phenylketonuria, or PKU — a rare metabolic disorder that prevents her from properly metabolizing phenylalanine, a common amino acid that exists in most proteins. PKU is a rare disorder that affects approximately 16,000 people in the U.S. It is one of 47 disorders for which newborns in Wisconsin are screened. If left untreated, it can cause intellectual disabilities, seizures, among other health-related issues.
"It was shocking," says Carrie of the diagnosis. "We had no idea what PKU was and some of the staff at the hospital didn't know enough to tell us anything. They just told us not to Google it." Instead, the Kornstedts were referred to the Biochemical Genetics Clinic at the Waisman Center where they met with Greg Rice, MD, a clinical biochemical geneticist. Scott says that after an hour with Rice, his and Carrie's fears were assuaged. Rice and an interdisciplinary team of genetic counselors and dieticians discussed a treatment plan for Raegan that included adhering to a strict, low phenylalanine (Phe) diet.
Raegan's PKU diet requires that all of her food be painstakingly recorded and weighed.
"When she was a baby, we had to monitor every blueberry she ate and then every blueberry that fell on the floor so that we knew what she had actually eaten," says Carrie.
Today, the clinics provide the Kornstedts with protein supplements and specialized medical food products for PKU that are low Phe. "All of her pasta comes from here," Carrie says. "All of her rice, which is like the foundation of a lot of her meals. And then all of her formula and chocolate bars are coming from here as well. It's very helpful."
Raegan has regular follow-up appointments at the Waisman Center every six months. The center has also been a source for community connections and other opportunities. Carrie has attended cooking workshops hosted by the Waisman Center that have brought her and her family in touch with other families affected by PKU. "Some of the other families have kids close to the same age as Raegan and we've become friends, which is awesome," Carrie said.
Today, Raegan is thriving. She keeps so busy and is far from letting her disorder affect her life. She is involved in swimming, ballet, tee ball, and soccer. As Carrie puts it, "We are leading the average 6-year-old life."
Giving back
While Raegan's diagnosis brought the Kornstedts through the Waisman Center's doors, Scott's connection to the center began even earlier. Shortly after the Kornstedts moved to Madison from Appleton in 2012, Scott participated in the Friends of the Waisman Center's annual golf benefit through his employer, Filbrandt and Company.
"It was an interesting kind of coming together," Scott says. "We moved down here. I happened to work for Filbrandt, who supports the Waisman Center. Reagan was born and we kind of go from there," he
says. "Just in that short amount of time, we've not only met people who also have PKU, but we've run into people that we already knew who also have some different disorders that are treated at the center," Scott says.
As a generous way of saying thanks, Scott and Carrie support and volunteer valuable time to the Waisman Center. "To me, you don't have to be giving thousands and thousands of dollars," Scott says. "There's tons of other things that you can do to give back. I think it's something that can be done even if it's not necessarily monetary."
Scott, for his part, has worn many hats in his volunteer work at Waisman: He joined the Friends board in 2015 where he has served in various leadership roles, including two terms as board president and as a co-chair of the Friends golf outing and the Waisman Whirl, Run Walk & Roll for All Abilities.
The annual run, walk, and roll attracts teams of many sizes, but few are as large as Raegan's Racers. The Kornstedts rally friends, family, neighbors and co-workers to join them in support of the Waisman Center. In 2019, Scott says, their team's size "hit the 50 mark."
Scott and Carrie say that with all of their volunteer work, their main goal is to raise awareness not just for the Waisman Center, but for the diseases and conditions that are researched within its walls.
"We get so much from our care that if we can give a little back to help, that's great," Carrie says.
| | |
| --- | --- |
| Your support makes a difference. Donate now to advance knowledge about human development, developmental disabilities, and neurodegenerative diseases through research, services, training, and community outreach. | DONATE NOW |