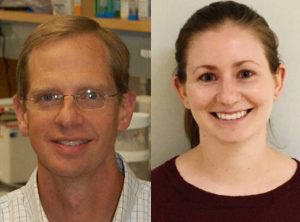 By Peter Jurich | Waisman Communications
A big congratulations to researcher Kim Edwards and Waisman investigator David Gamm, MD, PhD, on winning the inaugural Randy Wheelock Research Award. Gamm is also an associate professor of ophthalmology and visual science as well as the director of the McPherson Eye Research Institute.
The two will receive $50,000 from the Choroideremia Research Foundation (CRF) for their proposal, "Identifying the Function of REP-1 Protein in Retina (RPE/Photoreceptors) and Non-Retina Tissues."
Choroideremia (CHM) is is a rare inherited eye disorder that affects one in every 50,000 individuals. It causes progressive vision loss and ultimately leads to total blindness. The CHM gene encodes a REP-1 protein. Currently, there is neither treatment nor cure for CHM.
"As a graduate student, I am humbled and grateful for the opportunity to continue working with the scientific and medical experts in the CRF consortium," says Edwards, who is a research assistant in Gamm's lab. "This award will enable me to develop a greater understanding of the underlying pathobiological mechanisms of choroideremia and push towards our collective goal of finding an effective treatments."
"I am honored that Ms. Edwards' research, which seeks new therapeutic targets to combat REP1 dysfunction, will be supported through the inaugural Randy Wheelock Research Award," Gamm says.
Gamm met Wheelock at a research conference many years ago and says Wheelock used "his persuasive intelligence, compassion, humor, and crushed hot pepper recipe" to encourage Gamm to study
choroideremia.
"We are pleased to be able to provide this grant which will both nurture the career of a young professional, as well as support meaningful scientific advancements for CHM in Randy's memory," says CRF executive director Kathi Wagner.