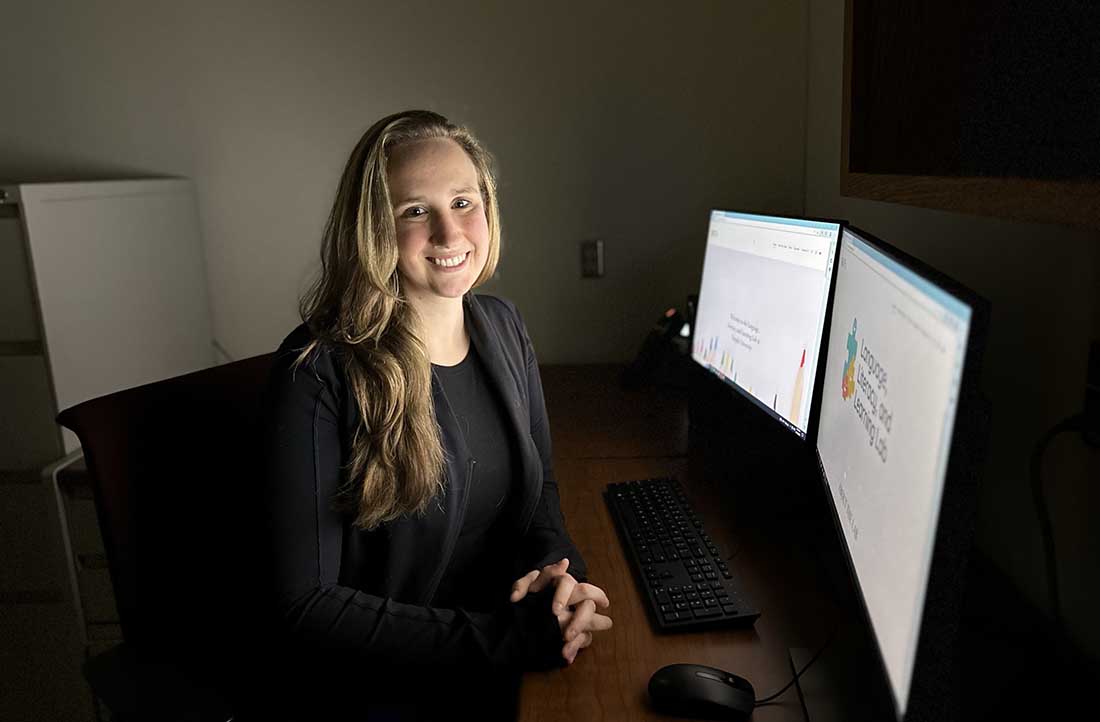 By Emily Leclerc, Waisman Science Writer
The Waisman Center welcomes Rebecca Alper, PhD, CCC-SLP, an assistant professor in the department of communication sciences and disorders as a new investigator. She joins UW-Madison from Temple University in Philadelphia. Alper's research focuses on improving early interventions for young children who are at risk for or who have been diagnosed with a communication disorder.
Alper's path to communication sciences was not straight forward. She initially started down the biotechnology path and sprinkled in some reproductive embryology research as well. It wasn't until she started in a voice physiology lab seeking research with more direct human interaction that she found the path she wanted to be on. "I knew I always wanted to do research. I really like science, research, and math as well as languages. So, this area is a great mesh of all of those," Alper says. She is also a licensed speech-language pathologist.
In particular, Alper has a distinct interest in intervention work, especially early intervention, as it has the greatest potential for long-term outcome improvements. Her lab, the Language, Literacy, and Learning Lab, focuses on family-centered early language and literacy interventions primarily with children from birth to five who are at risk for or have already been diagnosed with a communication disorder. "Early intervention is one of the areas in which there is this great potential for high yield long-term," Alper says. She works with monolingual English speakers, bilingual English and Spanish speakers, and monolingual Spanish speakers.
Alper pursues three main ideas in her research. The first is trying to understand why existing interventions work for some families and not others. The second then looks at developing new and improved interventions to fill in some of those gaps. The third is investigating how system-level factors, like policies and laws, affect families' access to early supports and what the long-term outcomes are. On top of her research goals, Alper also has two clinical trials in progress. The first is looking at the effectiveness of a remote primary preventative coaching intervention while the second is working to understand how parent and caregiver characteristics influence the quality of their interactions with their children as well as early-intervention outcomes. For Alper, the Waisman Center is the perfect place to continue her work.
"It is an ideal place at this point in my career. Waisman is perfect or as close to perfect as any place can get, to have a really robust research infrastructure and access to the local community with the flexibility we have to now expand our work," Alper says. "It is just such a rich intellectual and clinical environment."
When she is not working in her lab or teaching classes, Alper loves to be outdoors. She is a big fan of Madison's abundance of trails, parks, and bike paths. One of her dogs, a corgi with whom she recently started agility training, is also pleased by Madison's outdoor spaces. Alper has also started volunteering at Heartland Farm Sanctuary which is an animal protection organization in Stoughton, Wisconsin. This has been occupying much of her free time. While ensuring she has the time and space to pursue these hobbies, among others, Alper feels particularly dedicated to her work and can't wait to see how her journey will continue at Waisman.
"I feel very strongly about giving children equitable access to opportunity and a social responsibility to pay things forward," Alper says. "I just think that families are incredible, resilient, and adaptable. We as a society become so much stronger when we support families and support children."