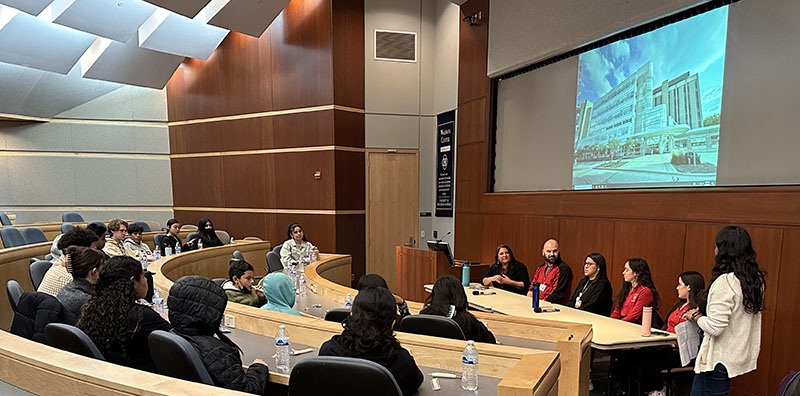 By Charlene N. Rivera-Bonet, Waisman Science Writer

A group of middle school students from Centro Hispano of Dane County visited the Waisman Center for a tour of the scientific laboratories and meeting with a career panel consisting of experts in the field of intellectual and developmental disabilities.
Centro Hispano is the leading non-profit organization serving the Hispanic community in Dane County. Their program Juventud provides academic support, parent engagement, and leadership development to middle school-aged Latino and Spanish speaking youth enrolled in the Madison Metropolitan School District (MMSD).
"Our goal for our youth program field trips is to expose our students to resources and opportunities in the community," says Jackelyn Velasquez, youth program community engagement coordinator at Centro Hispano. The hope is to provide experiences for the students that will deepen their social and historical knowledge, encourage interest in art and culture, highlight different career opportunities, and nurture their interpersonal skills, Velasquez says.
Thirteen students from Juventud attending Sherman and Sennett Middle Schools made their way to the Waisman Center after school to learn about research and clinical care related to intellectual and developmental disabilities.
Through experiential visits to scientific labs, the students observed a portable magnetic resonance imaging scanner, looked at retinal stem cells and neurons under a microscope, performed short experiments on language learning, and experienced a hearing test. They also learned about the research done in each lab, and what the techniques they experienced are used for.
"We thoroughly enjoyed hosting this group. They were very engaged, asked great questions, and even started some thoughtful discussion predicting the outcomes of our experiment!" says David Curtis, MS, CCC-SLP,
bilingual speech-language pathologist and lab manager at the Language Acquisition and Bilingualism Lab, who led one of the tours. This lab is led by Margarita Kaushanskaya, PhD, professor and chair of communication sciences and disorders and Waisman Center investigator.
The tours were followed by a panel of Waisman staff and students who are Spanish-speakers. The panel was composed of a therapist, social worker, research program manager, and two graduate students in kinesiology. They each answered questions related to their career paths, what they liked about their jobs, school and work-life balance, and interacting with individuals with intellectual and developmental disabilities, among others.
"Our students really enjoyed the experience and left with a different perspective on research and developmental disabilities. They liked breaking up into groups to walk around the building and experience different activities," Velasquez says. "One student talked about the panel and how they really enjoyed seeing and hearing from Latinx voices." Most of the tour guides and panelists were either Hispanic, or Spanish-speakers themselves.
Beyond learning about science, the goal of the tour is to expose students to role models and different career paths in science to spark their interest in STEM (science, technology, engineering and mathematics) fields. Plans are already in place to host another group of students in the fall.
"Our hope is to continue the collaboration with Waisman in order to maintain a mutually beneficial relationship," Velasquez says. "A huge part of our youth programs revolves around partner and volunteer engagement. We hope the students look to our partners and volunteers as mentors and someone they can confide in."
| | |
| --- | --- |
| Your support makes a difference. Donate now to advance knowledge about human development, developmental disabilities, and neurodegenerative diseases through research, services, training, and community outreach. | DONATE NOW |
---
Learn more about the Waisman Center's 50th Anniversary, including events, history, stories and images:
50 Years | 1973 - 2023
---