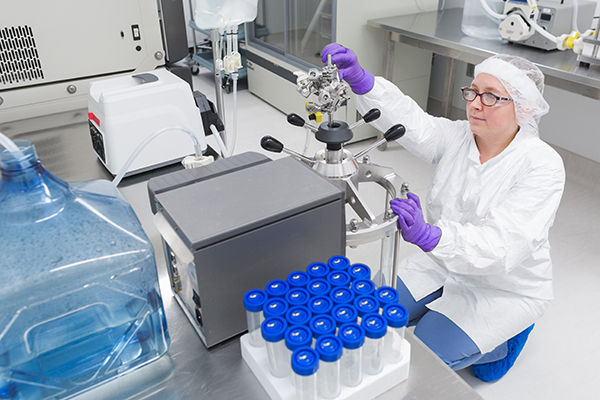 By Emily Leclerc, Waisman Science Writer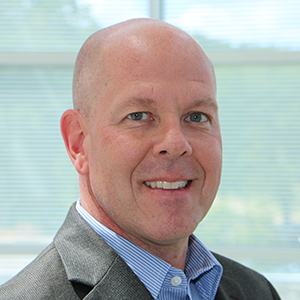 One of Carl Ross's favorite stories is actually an account of one of his failures. In the early 2000s Ross, the former managing director of Waisman Biomanufacturing (WB), was working to make a rhinovirus (the virus that is responsible for the common cold) that could be used to test the efficacy of vaccines. His attempt failed. But during his time working on the project, Ross had the opportunity to work with wonderful people who had been handling the cell lines and rhinovirus for decades. He had the chance to show the cultured cells to the person who isolated them, 30 years after isolation. He was able to speak to Dr. Leonard Hayflick, a scientist who discovered that cells will only divide a certain number of times before dying.
It wasn't until several years later and two more attempts, by other people, that WB was able to successfully build the rhinovirus they were after. Ross was unable to complete the project but the experience and knowledge gained far outweighed that defeat.
"I love this story because of the things I learned. Up to this point I was mostly a bacterial fermentation guy, but working at WB challenges people to learn so much outside of their past experience and comfort zone," Ross says. "I love this story because of the fantastic people I met and the opportunity to learn about their distinguished careers. I love this story because of how it demonstrates the teamwork and perseverance that is so often required in drug development." This is his favorite story because of its power to illuminate the strengths and importance of WB.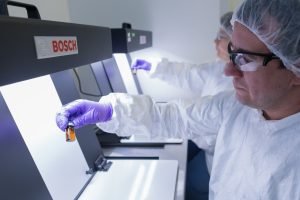 Waisman Biomanufacturing is a cGMP (Current Good Manufacturing Practice) bio-pharmaceutical manufacturing facility specializing in biologics for phase I and II human clinical trials. Housed in the Waisman Center, WB is an important driver of translational research as it is a bridge from bench-to-bedside. Turing investigatory lab work into an FDA-approved drug or treatment can take decades and millions, if not billions, of dollars. That often leaves academic researchers without the resources to move their discoveries past their laboratory doors.
The Waisman Center decided in the late 90s that in order to bolster their focus on translational research, they needed a way around the manufacturing hurdles. The decision was to build a manufacturing facility that would not only serve campus investigators but industry at large. UW-Madison, a hub of research prowess, saw the promise in the idea and threw their support behind it.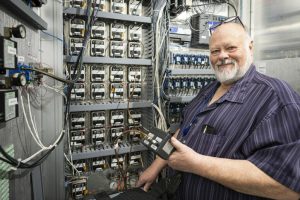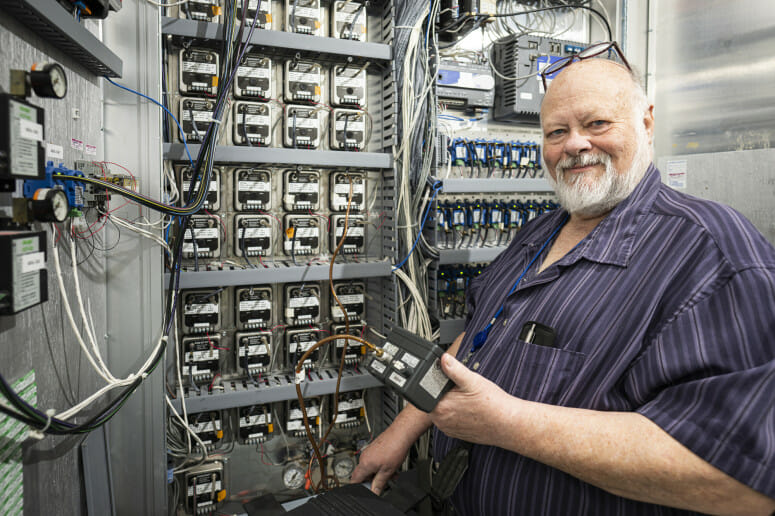 In 2001, WB opened on the fourth floor of Waisman's North Tower as the first multiproduct, academic cGMP facility. Today, there are dozens of cGMP facilities on academic campuses. "I think it's just an incredible tip of the hat to the Waisman Center for having the courage to put in a manufacturing facility because it was a very new idea back in the early 2000s," says Derek Hei, PhD, Chief Technology Officer for Clade Therapeutics and the first director of WB. "The investment the university made in building that facility really helped cultivate some of the science that was coming out of UW-Madison and helped to set the stage for some of the therapies that are right now entering the clinic."
WB sits at the forefront of biomanufacturing with industry level standards and the expertise to bring products from conception to clinical trials. They are experts in collaboration and swift innovation, often outpacing commercial companies. They provide services to Waisman investigators, academic partners from all over the world including researchers across UW-Madison, and private industry contracts with biotechnology companies. 95% of WB's work comes from industry contracts rather than academic projects as obtaining academic funding for clinical trial products can be a challenge. But 50% of those industry contracts come from UW-Madison-affiliated work.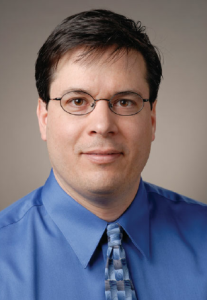 WB has changed immensely since its early days of hiring staff before there was a facility to work in. "When I came to the Waisman Center in 2000, WB was a blueprint and a slab of concrete. We had to build it," Hei says. When Ross first toured, they were still installing the drywall. "We were trying to build the plane while flying it," Ross says. But both Hei and Ross saw potential in this unusual idea of having an in-house manufacturing facility that was not solely dedicated to the researchers on staff. "I thought that this model was really quite innovative and a great way to do things," Ross says. "I still think that to be honest."
Originally, WB was only going to support 6-8 staff members but today they have more than 30 employees with a host of students as well. They have nine clean rooms, two process development labs, and offices spread across the entire center. And this facility, that is still growing and changing today, has been a part of several influential and important projects.
From 2005 to 2010, WB and WiCell, a supporting organization of UW-Madison that specializes in human pluripotent stem cell research, housed the National Stem Cell Bank. This was home to the 21 stem cell lines that were approved for federal funding by then-President George Bush. This was the first stem cell bank for human embryonic stem cells.
Worcester HIV Vaccine is a biotech company in Worcester, Massachusetts that is working to produce a vaccine for the virus HIV. WB developed manufacturing for five DNA components and four protein components succeeding where many others had failed, including large pharma companies. This vaccine is now a frontrunner among HIV vaccines as it enters phase II clinical trials.
Plenty of WB's influential work comes directly from their own Madison backyard.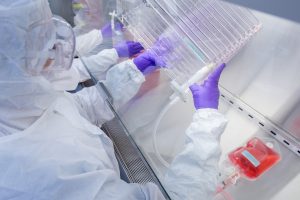 WB has had a long and fruitful relationship with the biotech company Stratatech, which was started by B. Lynn Allen-Hoffmann, PhD, a UW-Madison professor. Stratatech specializes in regenerative skin tissue and WB was responsible for manufacturing and caring for the cell line Stratatech uses to create new skin grafts. This collaboration produced WB's first and only product to date that has gone commercial. "This is a good example of how WB is designed to enable early clinical trials and then transfer out to enable later trials and commercial manufacturing," Ross says.
Cynata Therapeutics, another biotech company founded in technology developed at UW-Madison and licensed by WARF (Wisconsin Alumni Research Foundation), still partners with WB today. They were instrumental in manufacturing Cynata's mesenchymal stromal stem cells which became one of the first induced stem cell derived allogeneic cell therapies to hit clinical trials. As Cynata continues to expand and grow, WB remains a dedicated partner assisting the company with trials conducted all across the globe.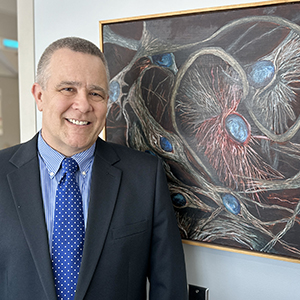 For those who work in WB, the career path can be quite gratifying. There is a sense of pride that comes from knowing you are working on projects that have the potential to change human lives. "I used to do basic research looking for cures or to confirm therapies, but now I am supporting the manufacturing of therapies for different conditions that are actually going to be used in patients in clinical trials," says Bill Kreamer, a recently retired facilities and equipment specialist who had been with WB since 2002. "It's very rewarding to realize we're doing something. It is not just basic research. It is actual therapeutics we are working on."
WB has had a tremendous impact on UW-Madison and hundreds of industry partners beyond campus. They are highly adept at what they do and have the track record to prove it. So far, WB has filed around 75 Investigational New Drug (IND) applications with the Federal Drug Administration (FDA). These applications allow the treatment or therapy to begin human clinical trials. WB gives meaning to Waisman's goal of taking treatments and therapies from bench to bedside along with UW-Madison and beyond. "The idea is that WB is the bridge," Ross says. "We complete the picture."
The new director of WB, Chris Bartley, is equally as committed to WB's mission as Ross and Hei were. He is continuing to push WB's mission forward and striving to help Waisman, UW-Madison, and the community beyond bring their work directly to patients. "The University and its individuals have always promoted the underlining theme of helping others. Working at WB had given me the opportunity to live that out more closely than ever. I get to work with a great team of critical thinkers with a passion and drive to bring quality novel products to the clinic. The bio-pharmaceuticals that we make have made a positive difference in the lives of others, from pancreatic islet cells to skin substitute to COVID-19 therapies and more. We have so much in the pipeline that may take a few more years to know their true efficacy but the theme doesn't change," Bartley says. "We are here to make a difference in other's lives. The Waisman Center has always supported the work that WB does and we are proud to be a part of the center."
| | |
| --- | --- |
| Your support makes a difference. Donate now to advance knowledge about human development, developmental disabilities, and neurodegenerative diseases through research, services, training, and community outreach. | DONATE NOW |
---
Learn more about the Waisman Center's 50th Anniversary, including events, history, stories and images:
50 Years | 1973 - 2023
---