By Emily Leclerc, Waisman Science Writer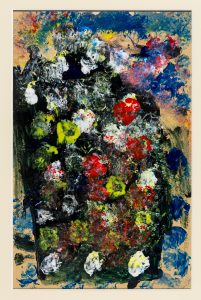 People of all abilities have been creating art for thousands of years. From etchings on rocks and cave paintings to detailed works with watercolors and oil paints, humanity has been drawn to artistic expression for its entire history. The walls of the Waisman Center are no exception. Wonderful works of art depicting class field trips and landscapes, fall leaves, and stray cats peek out from clinic rooms, line hallways, and adorn the walls of conference rooms. The building is a unique gallery with more than 200 pieces of art from the Harvey A. Stevens International Collection of Art by People with Developmental Disabilities. The collection began more than 45 years ago and was inspired by a single gift of art.
In 1976, Harvey Stevens, a decades-long advocate for individuals with disabilities and the center's first administrator, was gifted a piece of art by an artist in Brazil with an intellectual and developmental disability. The piece, titled, Amor Perfeito or Perfect Love, by David, is a large colorful work done in mixed media. The work inspired Stevens to create a collection at the Waisman Center that would only feature art by individuals with disabilities from across the globe.
Before joining Waisman, Stevens had worked for many years with the disability community. In 1939 he began teaching high school students with intellectual and developmental disabilities (IDD) before working as the superintendent of several state residential facilities for more than 25 years. He came to the Waisman Center in 1972 where he formulated administration policies and helped to establish special programs such as the art collection. Stevens also founded the Friends of the Waisman Center, which is a nonprofit organization that helps to support Waisman and many activities to benefit individuals with disabilities and their families. The Friends maintains the collection as one of its major projects.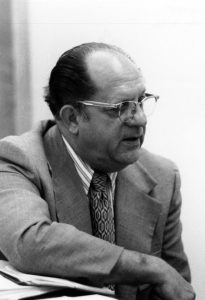 In 1979, the collection was dedicated and named the Harvey A. Stevens International Collection of Art by People with Developmental Disabilities in Stevens' honor. Today, the collection features more than 200 works of art by 150 artists representing more than 17 countries. All pieces are donated, housed, and maintained at the Waisman Center.
One of the artists who has donated works to the collection has actually been working at the Waisman Center for more than four decades. Christopher Lang, who has an IDD, has long been a part of the Waisman community. He works as a custodial assistant and helps keep the Waisman Center tidy by vacuuming and dusting. It is only in recent years though, that he started to talk about and share his art. His co-workers were pleasantly surprised at the talent he had kept hidden away.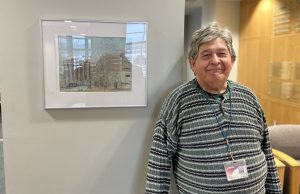 Lang likes to draw buildings and geometric shapes. Most of his drawings focus on interior spaces or places that have meaning to him like different places he has lived, a favorite restaurant, or exteriors of his home. He is very meticulous and pays close attention to maintaining accurate perspectives. He also uses rulers to ensure all of his lines are straight. His drawings are primarily done with colored pencils with his favorite color being red. "It's relaxing," Lang says. One of his recent pieces depicting the Waisman Center is displayed in the lobby. It is a focal point for all to see as they enter the building. Chris is proud to have his art displayed and has many pieces framed at home as well. Having his art included in the collection gives others the opportunity to appreciate his artistic abilities.
The Stevens Art Collection has three main goals: to encourage people with disabilities to express themselves and expand their world through art, to show others that people with disabilities have valuable perspectives and messages to share with the world, and to act as a resource for those studying the impacts and effects of art therapy. To help further the collection's reach, the Waisman Center has participated in several different outreach projects that showcase the collection over the years.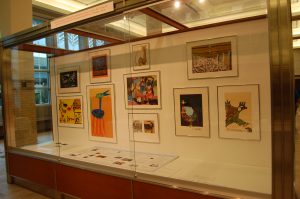 In 2010, a selection of works from the collection were featured as an exhibit at the Dane County Regional Airport in Madison in partnership with Tandem Press. The exhibit was on display for several months where visitors from all across the country could appreciate it as they traveled to and from Madison. "The Waisman Center exhibition is beautiful, fascinating, and inspiring. It is a perfect welcome to and farewell from Madison," wrote one commenter on the exhibit. Another visitor stated that it was one of the most interesting and beautiful art exhibits they had ever seen.
Six years later, in 2016, in celebration of the collection's 40th anniversary, the Waisman Center put out a Call for Art. 91 pieces were added to the collection from 3 different countries. It is the biggest influx of submissions in the collection's history.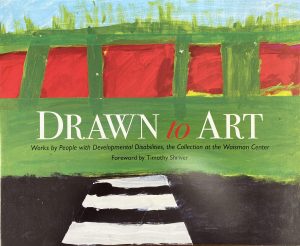 The next year Ellen Seuferer, a then-Friends board member and former gallery owner, led an initiative along with several key community members, to create a book that showcased the collection. The book, titled, Drawn to Art, features 80 works from the collection alongside information about the artists. Its creation was inspired by a desire to find another way to bring the art of individuals with IDDs into the public eye. The foreword of the book is written by Timothy Shriver, PhD, chairman of the Special Olympics.
The publication of the book was accompanied by a three-month exhibit at the Chazen Museum of Art in 2018. The Chazen has the second largest collection of art in Wisconsin. The exhibit brought important exposure to these works of art and curated an even broader audience for the collection. The ability to showcase art from the Stevens Collection in such public venues such as the Chazen and the Dane County Regional Airport helps to create important space for art and artists of all abilities.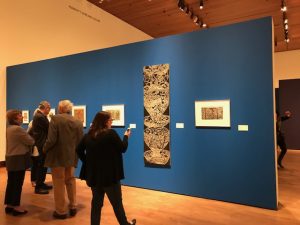 "So wonderful to see artwork from such beautiful and inspiring individuals. They have so much to share and to see it all out on display in such an inclusive and informative manner made me so happy. Thank you," was one comment written about the exhibit. The collection touched hundreds of visitors with one mentioning their son who has cerebral palsy. "Very meaningful," the commenter wrote. "Our son has cerebral palsy and other neurological issues that impact him… he now, [for the first time,] enjoys art class with a talented teacher!"
For some of the artists featured in the collection, being able to share their art with others is a unique pleasure. Artist Matt Ward, who has donated to the collection, particularly enjoys being able to share his art. "I didn't want my art to sit around my apartment," Ward says. "Having my art at the Waisman Center is a milestone for me. I enjoy the recognition. The picture for me – I think in pictures – is of other people looking at my art and smiling." Ward, who has autism, has also been with the Waisman Center for many years as he attended the Waisman Center's Early Childhood Program starting when he was three.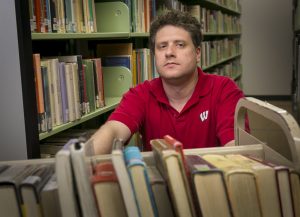 Today, Ward, who is in his forties, has been able to spin his love of art into a small business – Matt Ward Enterprises.
His favorite type of art at the moment is fractal graphics. Fractals are never-ending patterns that appear the same across different scales. He also really likes making intricate origami –the Japanese art of folding paper in decorative shapes and figures –as it is calming for him. At the Waisman Center's 40th anniversary celebration, his origami pieces were featured as table decorations. Ward says that making art is an important source of amusement for him. For others who would like to make art Ward says, "…just feel free to make the art you want to as long as it doesn't offend."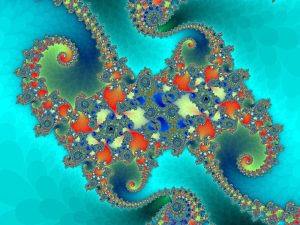 People of all abilities have been drawn to express themselves through art. The walls of the Waisman Center provide a perfect gallery to display the collection and help inspire the next generation of artists of all abilities.
"The art [in the collection] captures what I like to refer to as 'diffability'. It is the notion that each individual is differently abled," writes Shriver in the foreword of Waisman's art book Drawn to Art. "Each piece of art helps us not only discover and embrace our differences but also see the many threads of the shared human spirit that bring us together."
| | | |
| --- | --- | --- |
| The description of the Stevens Art Collection being put on the wall of the Chazen in 2018 | "The Coop of White Chickens" by SebastiaoTheodoro Paulinoda Silva | "Green House with Flowers" by Robert Hanneman |
| "The Waisman Center" by Madison artist and Waisman employee Christopher Lang | "Sunset Beyond the Lighthouse" by Dieball | Billy Borg, standing in front of his piece titled "Road" at the Chazen in 2018. |
| Artist Dan Campbell with "Untitled" | "The Old Civic Center" by Madison artist, Phil Porter | |
| | |
| --- | --- |
| Your support makes a difference. Donate now to advance knowledge about human development, developmental disabilities, and neurodegenerative diseases through research, services, training, and community outreach. | DONATE NOW |
---
Learn more about the Waisman Center's 50th Anniversary, including events, history, stories and images:
50 Years | 1973 - 2023
---