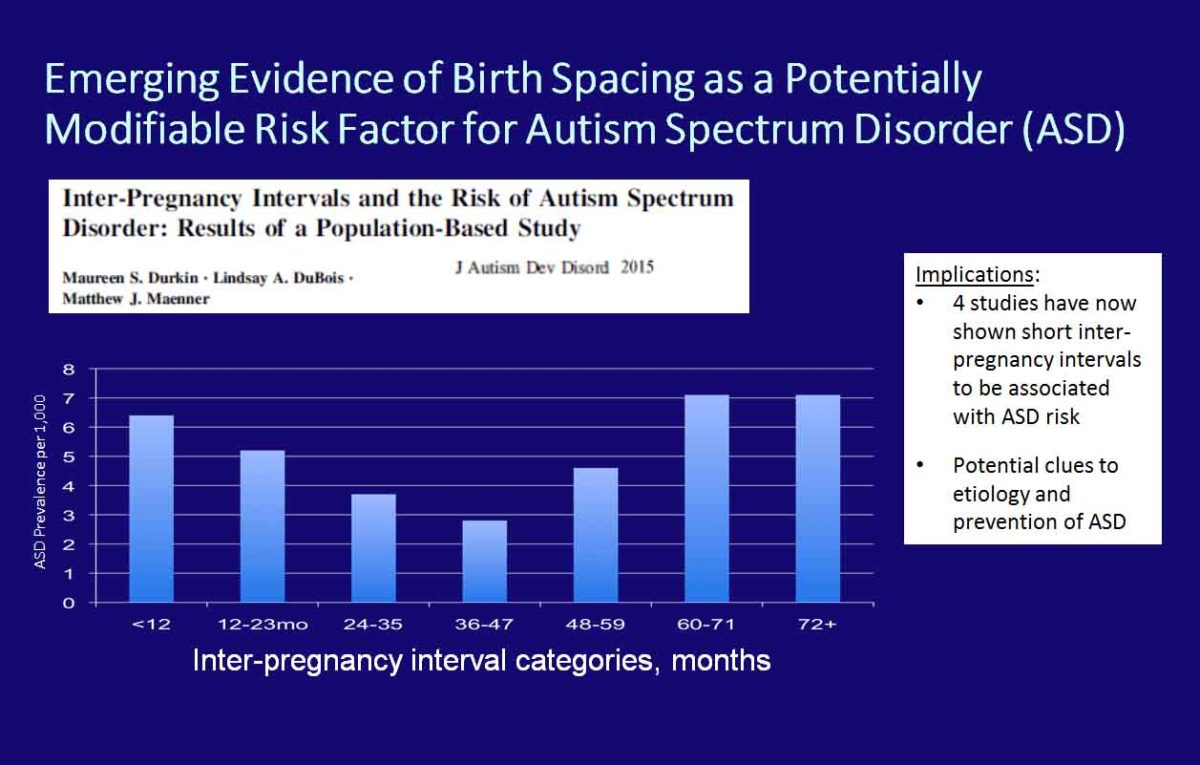 Citation:  Inter-pregnancy intervals and the risk of autism spectrum disorder: results of a population-based study. Durkin MS, DuBois LA, Maenner MJ, Journal of Autism and Developmental Disorders, 2015; 45(7): 2056-66.
Abstract:  Recent studies have reported an increased risk of autism among second-born children conceived <12 months versus >36 months after the birth of a sibling. Confirmation of this finding would point to inter-pregnancy interval (IPI) as a potentially modifiable risk factor for autism. This study evaluated the relationship between IPI and autism spectrum disorder (ASD) risk in a Wisconsin birth cohort of 31,467 second-born children, of whom 160 resided in the study area and were found to have ASD at age eight years. In adjusted analyses, both short (<12) and long (>84 month) IPIs were associated with a two-fold risk of ASD relative to IPIs of 24-47 months (p<0.001). The long IPI association was partially confounded by history of reproductive loss.
About the investigator: Durkin's research interests include the epidemiology, prevention, antecedents and consequences of neurodevelopmental disabilities and childhood injuries, both globally and within the United States. She has collaborated in the development of cross-cultural methods for screening for developmental disabilities and methods for surveillance of childhood injuries, and has directed international studies of the prevalence and causes of neurodevelopmental disabilities in low income countries. Durkin has also directed a cohort study of neuropsychological outcomes of neonatal brain injuries associated with preterm birth and with metabolic disorders detected on newborn screening and is currently a principal investigator on the Wisconsin Surveillance of Autism and Other Developmental Disabilities System.