Jaden Cassidy is three years old and a whirlwind of energy.
He bursts into the exam room, jumps on the exam table, flings off his jacket and cowboys boots and whirls around with a beaming smile, expecting—and getting—an enthusiastic round of applause.
Jaden's vibrant nature masks the difficult journey he and his family and friends have had just to be able to celebrate his third birthday. While pregnant with him, Jaden's mother, Jalissa Cassidy, went into early labor, delivering her son after just over 32 weeks of pregnancy.
"His stomach was not connected to his intestines," says Jalissa. "My water just broke and we went into early labor."
Jaden ended up having life-saving surgery in La Crosse and was subsequently transferred to Meriter Hospital in Madison after a week. He was in the neonatal intensive care unit (NICU) for 69 days.
"I remember thinking, 'will we have to go back at some point? Will he need more surgeries?'" says Jalissa. "But we haven't had to go back for anything like that."
They have visited the Newborn Follow-Up Clinic at the Waisman Center several times. Led by Maria Stanley, MD, the Waisman Center Newborn Follow-Up Clinic is a partnership with UW Health and the American Family Children's Hospital (AFCH), and one of 13 interdisciplinary clinics at the Waisman Center.
The clinic sees patients from Madison-area hospitals, such as Meriter Hospital, but also from other facilities from around the state.
In fact, more than 6,000 infants across Wisconsin are born prematurely—before 36 weeks of pregnancy. Infants who are born prematurely often face multiple developmental and medical challenges.
"We see kids with a range of complications related to prematurity," says Stanley, "and also kids with a range of medical issues that led to NICU stays for them."
To treat and care for young children with a broad range of medical needs, the clinic team needs to have diverse skills and expertise. "We are so fortunate to have a team of highly experienced experts in a range of disciplines, all working together to provide excellent care," says Stanley.
Jalissa and Jaden are happy to have been able to see several different specialists on the same clinic visit—from a psychologist to a speech and language pathologist, from a nutritionist to a physical therapist.
"At the newborn clinic I could talk with specialists from diverse areas about all the concerns that I had," says Jalissa, "and always, someone was able to sit down with me, make suggestions and help me find my independence as a mom and help me support my child so he thrives after everything he had been through."
"Being a new mom is huge, let alone being a mother of a child with significant health issues," says Jalissa. While Jaden was in the NICU, he was monitored round-the-clock and Jalissa was rarely alone with him. "When it was time to take him home I remember thinking, 'what am I doing? How am I going to support this child? How will I know the right thing to do?'" she says.
And that's the whole point, says Stanley. "The absolute number one purpose is to support the children and their families after discharge from the NICU," she says, "and that includes helping parents understand their child's development, and connecting them to appropriate support systems and resources."
The Newborn Follow-Up Clinic also researches how to stay at the cutting edge of clinical services based on current evidence-based best practices for the care of these kids.
"Our hope is that, over time, we will also be able to track outcomes from the NICU and better understand how to provide the best quality care from birth onwards for this patient population," says Stanley.
Patients come to the clinic from all over the state and beyond, and Stanley is driven and inspired by the children and families she works with. "Kids are amazing because they will work so, so hard!" says Stanley, "and we see parents who are devoting enormous amounts of time and energy to a child who is facing complex developmental or medical challenges. To us, it feels like an honor to be a part of that child's care."
Jaden and Jalissa have indeed been working hard, and with help from Stanley and her team, they are both doing well. Jaden still has to come in for clinic appointments, so his health and development can be monitored. But for now, he has more important things to do: there are toenails that need to be painted purple!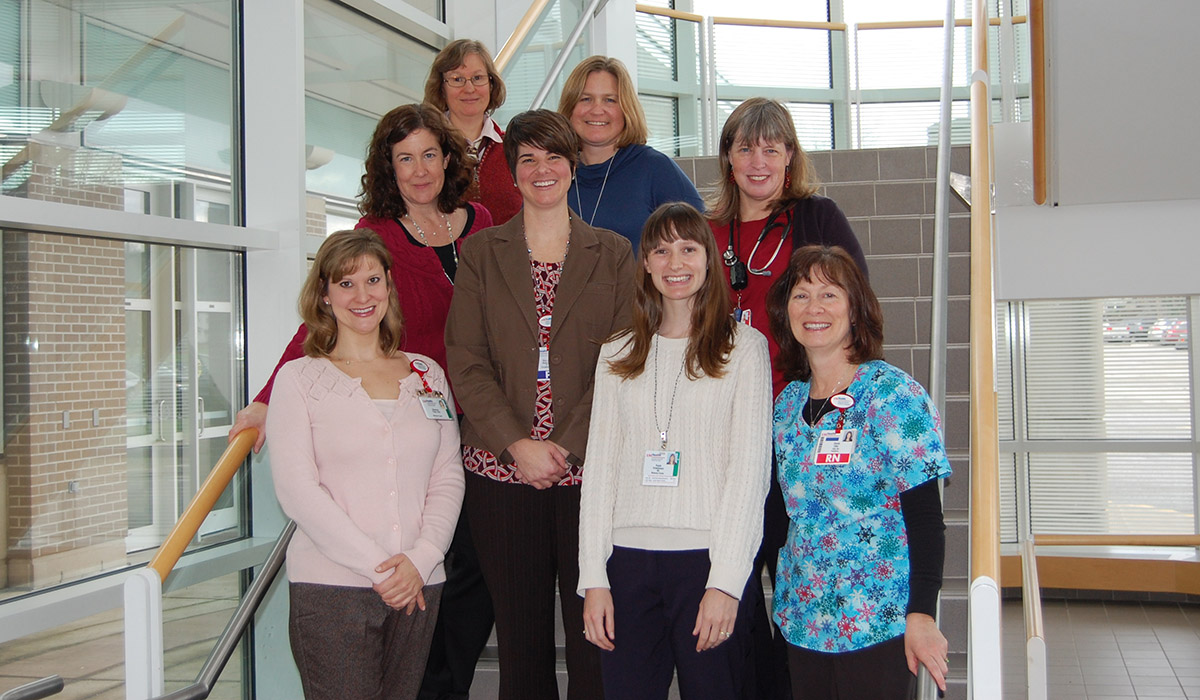 By Adityarup "Rup" Chakravorty, Waisman Communications