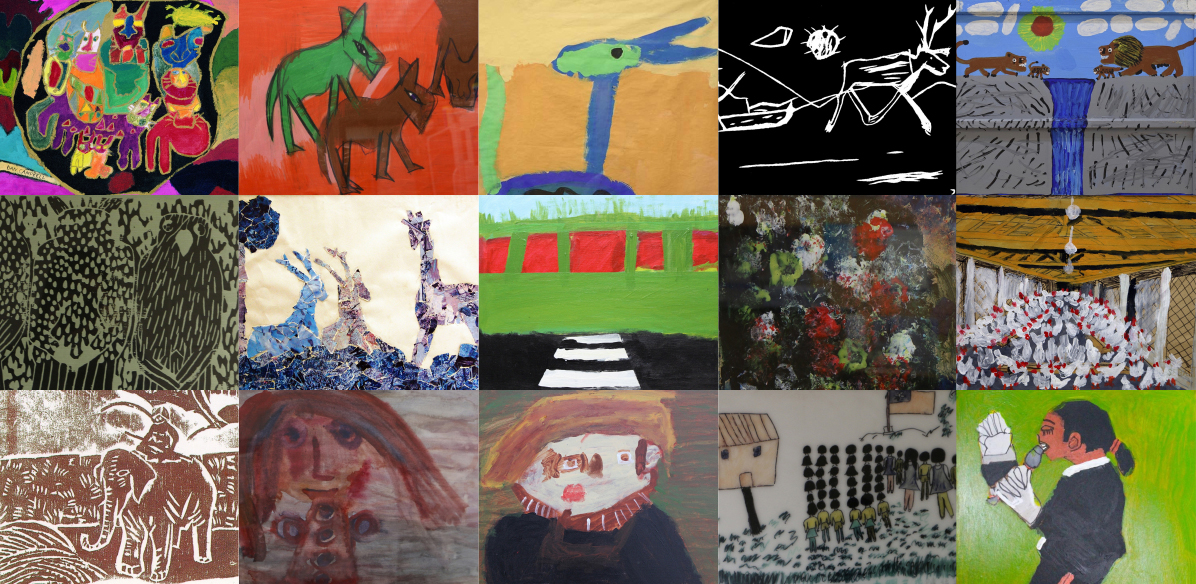 If you walk around the Waisman Center, you might be greeted by Stray Cats or Dogs or even An Emu.
You might catch a glimpse of Reindeer or Lions or Two Owls Sleeping, One on Watch.
It's not that the Waisman Center doubles as a home for an esoteric group of Animals. It's just that the Road to almost anywhere within the center will take you past art that's part of our Harvey A. Stevens International Collection of Art by People with Developmental Disabilities.
The collection began in 1976 with the gift of Amor perfeito – Perfect love – a painting by David, an artist from Brazil. Harvey A. Stevens, who was the first administrator of the Waisman Center, received this gift more than 40 years ago, and it has served as a catalyst for a collection that now includes more than 225 pieces by artists from 16 different countries.
To celebrate the 40th anniversary of the collection, the Friends of the Waisman Center published a book, Drawn to Art, which highlights 78 works of art from the collection.
The book was edited by Neil Heinen, editorial director at Channel 3000 and Madison Magazine. "The art [in the Harvey A. Stevens Collection]…is a statement of appreciation and encouragement for people with disabilities expressing themselves and expanding their world through art," he writes.
The book also includes a foreword by Timothy Shriver, son of the late Eunice Kennedy Shriver, whose family has had a great impact on the history and mission of the Waisman Center.
"The art highlighted in [Drawn to Art] tells a remarkable story of imagination and perseverance," writes Shriver. "Each piece of art helps us not only discover and embrace our differences but also see the many threads of the shared human spirit that bring us together."
All of the pieces highlighted in the book are on exhibit at the UW-Madison Chazen Museum of Art from May 11 to July 15.
On May 10th, The Chazen hosted a talk, From the Margins to the Mainstream: Artists with Disabilities in a Contemporary Context, by Tom di Maria, director of Creative Growth Art Center.
We hope you will join us at the Chazen exhibit, where you can gaze into The Coop of the White Chickens, hang out with the Man on the Elephant, make friends with the Red Woman or the Bad Boy, join school children Hoisting the Flag, and even catch a glimpse of Michael Jackson!
Copies of Drawn to Art are available for $25.00. You can request copies via email at artbook@waisman.wisc.edu or by calling 608.263.5837 or at our online store.
Related: