Wisconsin Public Television's Wisconsin Life recently featured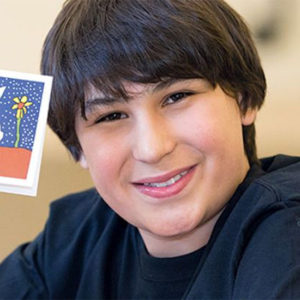 Klawiter, a young artist with autism, who for the past decade has been designing and selling holiday cards across Sawyer County, raising awareness for autism and more than $18,000 dollars for autism research at the Waisman Center.
Diagnosed with autism at age five, Giizhik (whose name means "White Cedar" in Ojibwe) enjoys painting Wisconsin wildlife and drawing greeting cards for all occasions, which he has sold for the past decade.
"He wants to make a difference, and isn't that wonderful? Fifteen years old and wanting to make a difference, you have to love it," says Sara Balbin, the co-founder of the nonprofit See My Art, Inc. or "SMART" of which Giizhik is a member. The organization provides supports to those with disabilities through art.
To watch the segment, click here.
Giizhik has previously been featured on our website.
You can learn more about Giizhik and SMART here.
---
To Order Giizhik's Cards for Autism
Support autism research at the Waisman Center, UW-Madison