For many, a mention of Special Olympics invokes images of accomplished athletes, a community of inclusion and support, and the joy of athletic competition.
But what many may not know is that Special Olympics is the world's largest public health organization for individuals with intellectual disabilities. Research shows that individuals with disabilities experience high rates of poor health, as well as more secondary health conditions such as high blood pressure or diabetes, leading to a greater need for healthcare services at younger ages. That's why two Special Olympics programs, Healthy Athletes and Healthy Communities, were developed to provide access to preventative health screenings, such as dental or eye exams, and to help athletes connect with one another in a welcoming environment free of anxiety.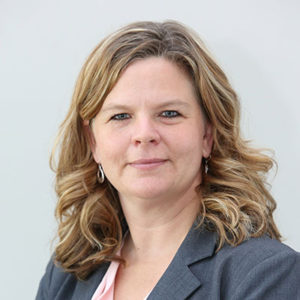 In order to help athletes thrive on and off the field, Special Olympics Wisconsin (SOWI) teamed up with Karla Ausderau, a Waisman Center investigator and assistant professor of kinesiology, to evaluate the programs and their impact on the lives of Special Olympics athletes.
In an innovative twist, Ausderau invited Special Olympics athletes to also be part of the research team.
"If we really want to make sure that we are asking the right questions and that our research findings are going to be translatable, we need to make sure that we are including the community that we are researching," says Ausderau. "We need to start talking and learn about their lived experience to gain information about how Special Olympics is impacting their daily life."
As part of the Healthy Communities evaluation, athletes from Special Olympics conducted interviews on the impact of health-related programming with their peers.  Reflections from the athletes that participated in the study were recently published in the journal Intellectual and Developmental Disabilities.
Evaluations are not the only way that athletes are able to contribute to research. Another project led by Ausderau's graduate student, Britany St. John, used Photovoice, a community-based participatory research method, to gauge what the barriers and facilitators are to health promoting activities for individuals with an intellectual disability in Madison. Using Photovoice—which allows for alternate forms of data, such as photographs, to support verbal communication—researchers sat down and reflected with study participants how easy it is or how hard it is to be healthy as an individual with an intellectual disability.
After the brainstorming session, they went out into the community to take photos that represent those ideas. Researchers then worked with participants to develop a photo-based narrative of the research questions in order to capture a nuanced understanding of athletes' own definitions of health, including supports and challenges.
The results of that study were recently published in the Scandinavian Journal of Occupational Therapy. Ausderau and St. John hope that the pilot study will open the door for others to implement the method.
"Having people with intellectual disabilities and their caregiving community as part of your research team is not common," Ausderau says. "But I think the importance of stakeholder engagement is clear and having inclusive research practices will soon be the norm."
Including Special Olympics athletes in evaluating programs designed for them makes the findings of the evaluations more relevant. Although her research is still ongoing into how the programs faired and what changes should be made, Ausderau has already started her next project to improve inclusivity in research.
Collaborating with Special Olympics International, Ausderau will lead a project titled, Research Engagement with People with Intellectual and Developmental Disabilities that was selected for Eugene Washington PCORI Engagement Award funding to help develop a skilled community of patients and other stakeholders from across the entire healthcare enterprise and involve them meaningfully in every aspect of PCORI's work.
"We are thinking about how we can create and build communities to participate in health research and help identify what the important questions are to people with intellectual disabilities," says Ausderau. "All of this requires flexibility, listening to your stakeholders, and adapting based on their needs, because we are in a real life laboratory."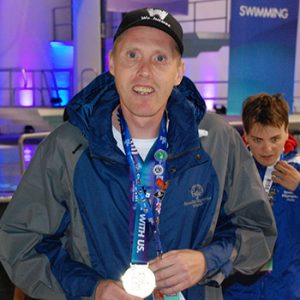 Community stakeholders from Wisconsin, New York, Rhode Island, Arizona, and South Carolina will all take an integral role. Wisconsin Special Olympics athlete Steve Woodard is one of those key stakeholders.
Woodard, a tall and slender young man, is a talented swimmer. He earned a gold medal and set a personal record time in the 50 meter breaststroke last July at the 2018 Special Olympics USA Games in Seattle, Washington. Woodard interns at the SOWI office, acting in helpful videos and as a Special Olympics Health Messenger, promoting healthy routines and habits in his fellow athletes.
"Eunice Shriver once said that 'the Special Olympics is not only important, it's nice," Woodard says. "It's nice. You meet a lot of great people who are there to value your opinion and what you have to say."
Making research inclusive of Special Olympics athletes, like Woodard, positions Ausderau's research to better address concerns that are more important to individuals with intellectual disabilities. Woodard takes pride in "knowing that somebody will benefit from my information, my story."
Related Stories