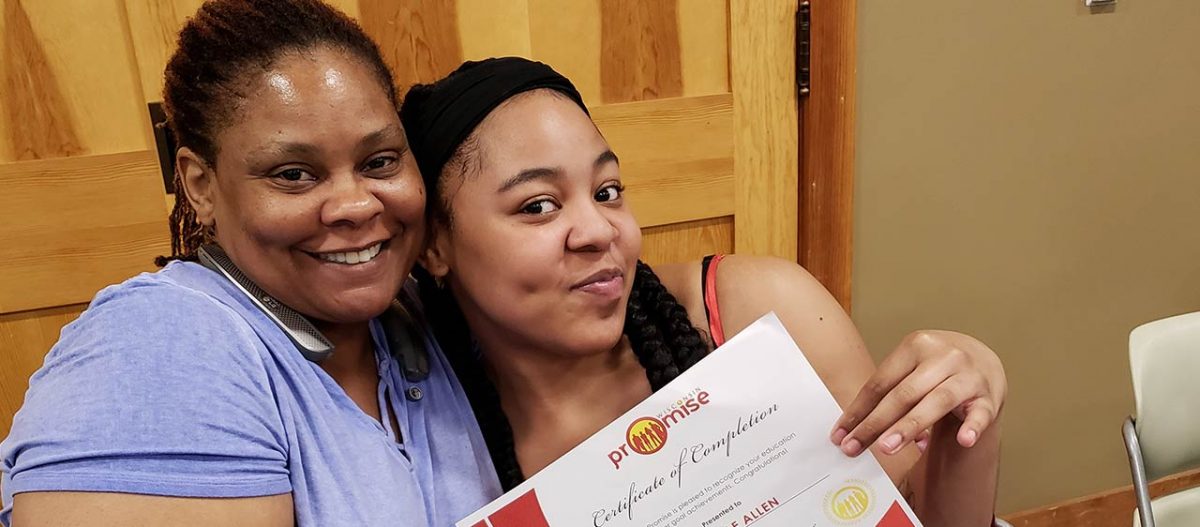 Helping youth with disabilities pursue post-high school employment and education opportunities can mean piecing together services from a broad range of agencies and organizations. This can be a challenge for anyone, but for low-income families, day-to-day survival may create additional barriers to accessing services and supports needed to launch youth with disabilities into adult life. For example, a family member might not have the transportation needed to access those services or may miss phone calls from a service provider because they ran out of phone minutes for that month.
The Waisman Center was a key partner on a statewide program to help families of children with disabilities overcome some of these barriers. Wisconsin Promise, a 5-year initiative assisted more than 1,000 youth social security income (SSI) recipients and their families. The program was implemented by the Division of Vocational Rehabilitation (DVR) in collaboration with other state and service agencies, including the University Center for Excellence in Developmental Disabilities (UCEDD) at the Waisman Center.
The goal of the Promise program was to help youth with disabilities and their families achieve better outcomes in education, employment, and financial self-sufficiency through transition services and supports including training and guided support in the form of one-on-one family navigators or advocates.
The Waisman UCEDD has a long history of incorporating family navigation into its programs and clinical services. "The Waisman UCEDD's emphasis and programs on family support and leadership made hiring family advocates through the Waisman Center a good fit," says Ellie Hartman, PhD. Hartman was the project manager of Wisconsin Promise.
"We found through experience that one-on-one services from someone in the community with similar lived experiences really helps build trust, especially when that individual meets the youth and families wherever they are," Hartman says. "Helping navigate today's concern built trust, so family advocates could start to talk about
transition and future planning with the youth and family."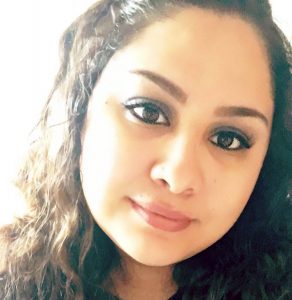 Fatima Becerra was one such family advocate. She knows the importance of self-advocacy for families affected by disabilities. Growing up, her family struggled to get services for her brother who has Down syndrome. At 9 years old, she often had to translate between English speaking service providers and her Spanish-speaking parents.
"I was able to adapt and learn a lot of things," the Milwaukee resident says. "It was a roller coaster of emotion because services wouldn't follow through. I think it's more frustrating for people who can't speak the language to express themselves."
The Waisman Center hired and trained the Promise advocates who then worked with families throughout the state. Advocates were hired not for their educational background, but for their firsthand experiences. The advocates were required to have been impacted in some way by a disability. This way, they were more able to relate to the families they served as a peer.
Wisconsin Promise is an example of the types of programs and partnerships that underscore the UCEDD's mission to support the full inclusion and self-determination of people with developmental disabilities and their families.
Wisconsin was one of six states participating in the national Promise initiative. It was a joint effort of the U.S. Department of Education, the U.S. Social Security Administration, the U.S. Department of Health and Human Services, and the U.S. Department of Labor.
Each state approached the Promise program differently. Wisconsin's family-centered approach differed in two ways. First, Wisconsin not only provided Promise and vocational rehabilitation services to youth, but to their families as well. The second, and most integral difference, was that Wisconsin was the only state to include family advocates. Other states had similar group training opportunities, but only Wisconsin evolved this service into individual family advocates with lived experience and one-on-one coaching and mentoring. The family navigators were an important and essential component to the success of Wisconsin Promise.
Bercerra and others helped reconnect teens and their families to Promise services provided through DVR. These services included career exploration and planning, job development and placement, financial coaching, and counseling on how to increase overall income through work and maintain access to needed supports including
healthcare. She also provided on-the-job support.
The advocates in Wisconsin were hired to increase expectations and help youth and families connect to needed resources and supports. Families were struggling with moving forward with some Promise services due to barriers such as lack of housing or transportation, healthcare, substance abuse, or poverty. In addition to the career services typically provided by DVR, Promise advocates provided guidance in education, nutrition, financial wellness, and self-advocacy, and connected them to available services. While DVR may connect people to employers, sometimes that is not enough to keep one's head above water. The Promise family advocates, however,
created a more manageable path to engage in employment services and supports.
"It's great to find a job," says Beth Moss, the Promise youth transition coordinator at the Waisman Center who supervised the family advocates. "But if you don't have a place to live, then it's really hard to have a job because you don't know where you're going to be, you don't have clothing, you don't have transportation."
Wisconsin Promise included extensive family and self-advocacy training. Once advocates were connected with their families, they could stay connected with them beyond the DVR's typical business hours and in more accessible and convenient environments. Advocates texted on evenings and weekends or met up with families at restaurants or in their homes.
Becerra speaks candidly and passionately about the work she did as an advocate.
She tells the story of one family in Milwaukee whom she was able to help. The family was not connected to any employment or education services. They "had been let down many times" and "had a very, very bad relationship with the school" that the youth attended. "It was challenging at times when they were going through hardships to support them through that process," she says.
Having Becerra by their side during intense meetings, such as organizing an individualized education program (IEP) for their son, the family was able to reconnect with the school and strengthen their relationship. "We talked to the staff and made a plan about what everybody was going to do," Becerra says. "They want to help their child, but they don't know how. They want things to be explained in a way that they can understand."
But her help was not just limited to the youth. She was also able to help the father get a job that he was happy with. Shortly after, he also started learning more English
and volunteering at the school.
"It's beautiful having a relationship with the school because it's supportive for the youth," Becerra says.
Wisconsin Promise wrapped up operations in September 2019, but its results will have a lasting impact on communities throughout the state.
Family advocates "were super successful at engaging families," Moss says. "The number of jobs that the youth and families got vastly increased when they worked with a family advocate."
Sixty-seven percent of Wisconsin Promise youth have been employed since enrolling in the program compared to 2% who were employed before the program started. This increase is 10 percentage points higher than observed in the control group. Youth that met with family navigators had twice the number of jobs since enrollment than youth who had not met with a family navigator. Further, and most importantly, those youth helped by family navigators had twice the weekly earning amount.
A 2019 study of Wisconsin Promise published in the Journal of Vocation Rehabilitation concludes: "Youth with disabilities continue to show their skills, strengths, and potential can help build a better workforce in all local communities. Models that empower youth and their families while at the same time provide the needed disability-related supports and connection to paid work can increase employment outcomes and self-sufficiency."
While Promise was a trial initiative, the success of the family navigator component specifically has led to two bills in the Wisconsin State Senate (344) and Assembly (375) that, if passed, would fund permanent family navigator positions within the Department of Workforce Development.
When asked how she personally feels about her experiences with Wisconsin Promise, "I have no words," Becerra says. But then she continues, "I think I was just made for this — to help people and guide them through and connect them with services."
She recounts growing up in her own family — relying on disability and vocational services that never came through — and relates those experiences to those of the families she has helped.
"My mission was to help every family to the very end," she says. "To build those bridges and for them to approach services and to advocate for themselves. To be firm, but also have those relationships. I love this project, I love the mission. If I could do this for the rest of my life, I would."