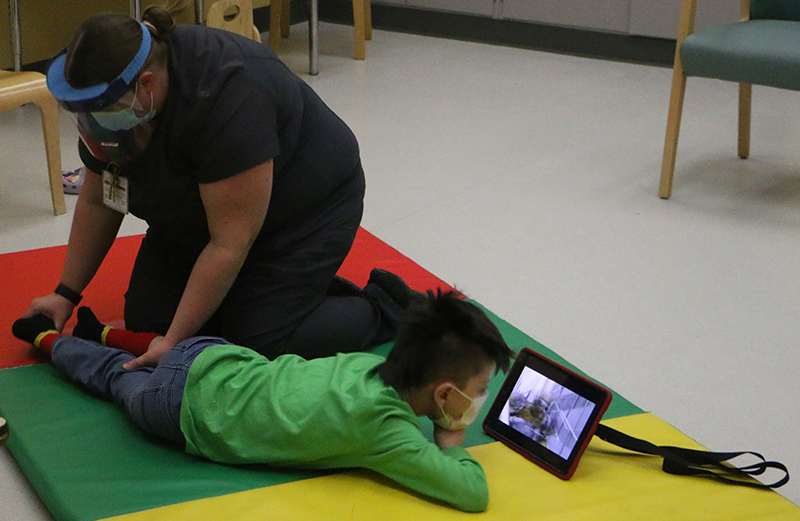 By Peter Jurich, Waisman Science Writer
Twins Sebastian and Charlotte Sundly are quite the contrasting pair, yet they balance one another out perfectly in some interesting and unexpected ways.
For example, Sebastian's favorite subject in school is reading, and Charlotte's is science. "Sebastian loves robots and computers and everything super high tech," says Kendra Hill, the mother of the 9-year-old twins. Meanwhile, Charlotte prefers singing and dancing. "She hates being in crowds, but if you put her on a stage, she's a different kid!"
But Kendra also shares some less visible, yet more impactful, examples of this contrasting balance: when the children were born at just 24 weeks, doctors did brain scans on the micro-preemies and noted some bleeds in both infants. "Even their brain bleeds matched up perfectly," Kendra says. "The three quadrants that were full of blood in Sebastian's brain were not in Charlotte's. And vice versa."
That's when Kendra and her partner Kevin were told their children had cerebral palsy (CP), a group of disorders that affect a person's ability to move and maintain balance and posture. CP is the most common cause of severe motor disability in children. Up to one-half of children with CP may have a co-occurring intellectual disability. Symptoms of the condition vary. Individuals with CP can experience difficulties in motor function such as spasticity, muscle weakness or stiffness, and balance and coordination impairments. They may also experience issues with speech and language development, cognition, weight gain, and eating.
Because of their diagnoses, the twins have received services at the Waisman Center Cerebral Palsy Clinic since they were less than a year old. The CP Clinic is one of several specialty clinics at the Waisman Center with an interdisciplinary team of clinicians.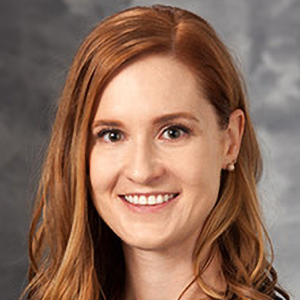 "I think it's really beneficial to have all of the different disciplines available to families for evaluation," says CP Clinic director Melissa Villegas, MD. "Motor diagnoses can affect children in multiple different ways. Being able to have speech and language pathology, the communication aids, and occupational and physical therapy all together provides a more comprehensive evaluation as well as a cohesive management plan going forward."
During an initial visit, multiple clinicians will be present to get the patient history, write up their own initial evaluations, then work together to figure out how best to serve that patient. The clinical team meets with the family to discuss shared expectations and realistic goals.
"Motor abnormalities can affect a lot of different areas of function," Villegas says. "It can be really beneficial to have not only that broader evaluation, but also one in the areas where we do have an overlap in knowledge. We can discuss what's best for the patient, making sure that we're including the patient family in the decision."
A family road trip
Kendra describes her family's first visit to the clinic as overwhelming – even a little bit scary – because so many specialists were involved in her children's treatment plan. But now, since it's such a part of their lives, they do something a little more special to commemorate the annual visit.
This last year, due to the COVID-19 pandemic, Kendra and Kevin could bring only the twins to their annual appointment. But in previous years, they would load their five children in the car and make the trip from their home in Beloit to the Waisman Center. Then, afterward, "We'd make a day of it!" Kendra says.
"We only have to go once a year and it's just become our norm, so we try to just have a big fun time." The family always tried to get the earliest appointment so they can knock it out first and have the rest of the day for a kind of mini vacation. After the appointment, the family might go to the zoo or the beach.
Even the appointment itself is fun, Kendra says. The family would typically be seen in one of the clinic's larger exam rooms. During an appointment, the twins see a variety of specialists: an occupational therapist, a physical therapist, a speech therapist, and "just a mix of everyone there."
"All the kids play there, which is great because the doctors and therapists love to see Charlotte and Sebastian interact with other kids and see how they're talking and moving around," Kendra says. "It's also nice for them to see how the kids do in actual play versus just with a bunch of adults."
Though the family only visits the Waisman Center once a year, these appointments are additionally strengthened by the therapies that the children receive more regularly outside of the clinic – like through school, for example.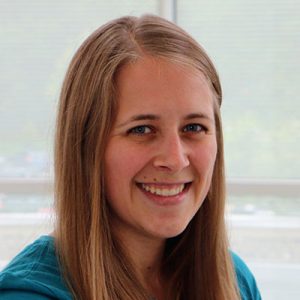 "What our clinic adds to that picture is a group of providers who are very specialized in CP or in the needs of individuals with CP," says Abygail Marx, CCC-SLP, a speech-language pathologist in the CP Clinic. "I think what we add is a melding of that expert knowledge about the diagnosis to their private provider's expert knowledge about the individual. Then we can work together."
Challenges overcome
With CP, a "one size fits all" approach won't suffice. Something more individualized is necessary and treatment goals are reflective of the patient's impairment: for example, when it comes to mobility, the goal might be that a patient learn to walk, or it might be to get an assistive device for their house as quickly as possible.
"When we're setting goals, we certainly want to make sure the patient and family are the most important in the discussion," Villegas says. "We have lots of recommendations, but we want to make sure that the primary recommendations are addressing whatever the family's concerns may be."
Sometimes, it's a just a small recommendation by the CP Clinic that makes all the difference in the world.
One of the biggest challenges facing Kendra's family is finding things they can do together. They love hiking, but Sebastian – who often uses a wheelchair – does not yet have the strength for long walks. The therapists at the Waisman Center recommended a carrier for him that is like a backpack for one of his parents. This way, Sebastian can easily hitch a ride and see what everyone else sees.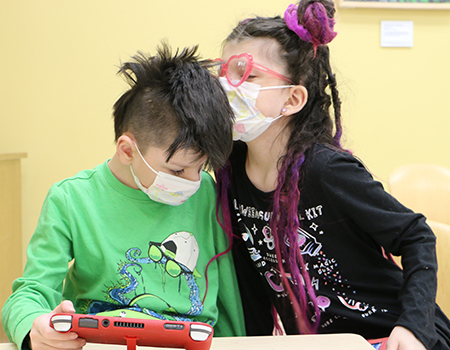 But sometimes, the stressors are not so easy to handle. When asked what challenges families most, Villegas quickly says, "Insurance." By way of example, she cites the six-month waiting period by insurance providers for approval of a wheelchair. She also says that a lot of CP services offered at the
Waisman Center are considered habilitative – or pre-existing – which many insurance companies don't cover.
"Our nurse is very interested in exploring more caregiver stresses," Villegas adds. "We don't necessarily have that full repertoire of options to offer, but that's hopefully an area that we would like to expand on in the future."
When they were infants and toddlers, Kendra says many people doubted her children's capabilities, but thanks to the Waisman Center CP Clinic, they've met and exceeded many of their goals. "In the beginning, everyone was really panicked," Kendra says. "Charlotte couldn't walk through grass because the sensation was so overwhelming that if you picked her up and tried to set her down on grass, she would hold her legs up in the air – she wouldn't touch it! Now she rolls in the grass and runs down hills!" Kendra adds that Sebastian, who needs a wheelchair for most of his ambulatory needs, is also making strides and gaining strength with walking. "They can do a lot of things that other kids can do. Now, everybody's so optimistic and they can't wait to see where Charlotte and Sebastian will be in another 10 years."
"I wish all of the other doctors that we see that are not part of the UW Health system were like the ones at the Waisman Center," Kendra says. "I think if we didn't have the CP Clinic, we would not have been able to get as far as we are now."