By Emily Leclerc, Waisman Science Writer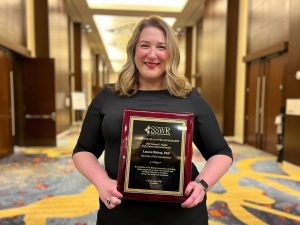 Lauren Bishop, PhD, an assistant professor in the School of Social Work and a Waisman Center investigator, was recently honored with the 2022 Deborah K. Padgett Early Career Achievement Award from the Society for Social Work and Research. This award seeks to recognize, "individuals who in their early careers have done innovative work and are making a notable influence in their field and in the profession."
Bishop's research focuses on helping adults with autism spectrum disorder (ASD) achieve better health and quality of life as they age. Through a better understanding of what health issues adults with ASD face as they grow older, Bishop hopes to develop interventions to help adults with ASD improve their health and remain healthy throughout their lifetime. Her work has also helped to uncover important health disparities for adults with ASD.
"She has sought to elevate the value and visibility of individuals living with developmental disabilities in the field of social work and within the communities in which she works," writes Stephanie Robert, PhD, director of UW Madison's Sandra Rosenbaum School of Social Work, in Bishop's nomination letter.
Bishop joined the faculty of the School of Social Work in summer 2017 after completing the Waisman Center's NICHD-funded postdoctoral training program in intellectual and developmental disabilities research.
Bishop was presented with the award Jan. 15th at an awards ceremony in Washington D.C. Congratulations!
| | |
| --- | --- |
| Your support makes a difference. Donate now to advance knowledge about human development, developmental disabilities, and neurodegenerative diseases through research, services, training, and community outreach. | DONATE NOW |