By Charlene N. Rivera-Bonet, Waisman Science Writer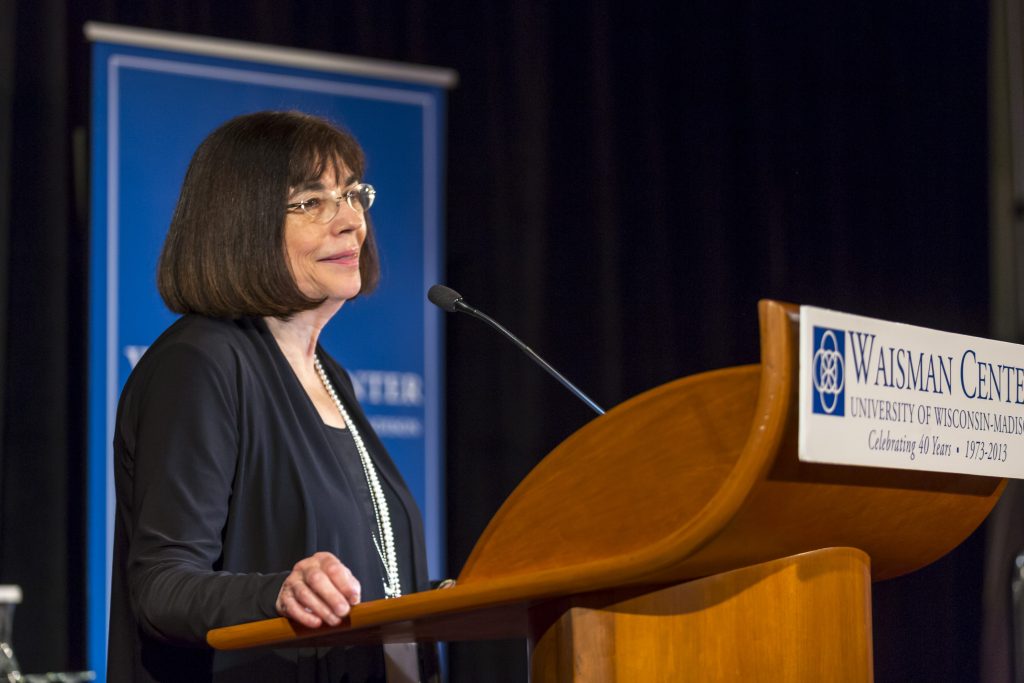 Multiple angles of vision all focused on a common question is what attracted Marsha Mailick, PhD, emeritus vice chancellor for research and graduate education at the University of Wisconsin-Madison, to the Waisman Center more than 35 years ago. She believed interdisciplinary research was key to furthering the understanding of intellectual and developmental disabilities (IDD) such as autism, Down syndrome, and fragile X syndrome (FXS). This belief is embodied by her leadership style, mentorship, and research.
In 1988, Mailick moved from Boston University to the Waisman Center, University of Wisconsin-Madison, and was appointed Professor in the School of Social Work.  She brought her line of research focused on the life course trajectory of individuals with an IDD, and how the family environment affects and is impacted by individuals with an IDD. Her research fit perfectly with the center's mission to advance knowledge about human development and developmental disabilities, and so did her vision of interdisciplinary work.
"The way I like to describe the Waisman Center to people is that it is one of the few places in the US where 600 people get up every day thinking in general about the same set of problems: how to deeply understand the causes of developmental disabilities and neurodegenerative diseases, their consequences across the life course, and possible strategies for interventions and cures," Mailick says. "And that kind of cohesive effort drawn from students, postdocs, staff, and faculty from multiple disciplines and perspectives is a very powerful resource for the state of Wisconsin and beyond."
The Lifespan Family Research Lab
Mailick established the Lifespan Family Research Lab upon her arrival at the Waisman Center. A high-bar for quality research and a deep commitment to scientific rigor and innovation have distinguished her research style and lab management, says Leann DaWalt, PhD, director of the University Center for Excellence in Developmental Disorders (UCEDD), former postdoctoral fellow in Mailick's lab, and current co-principal investigator of the Lifespan Family Research Lab.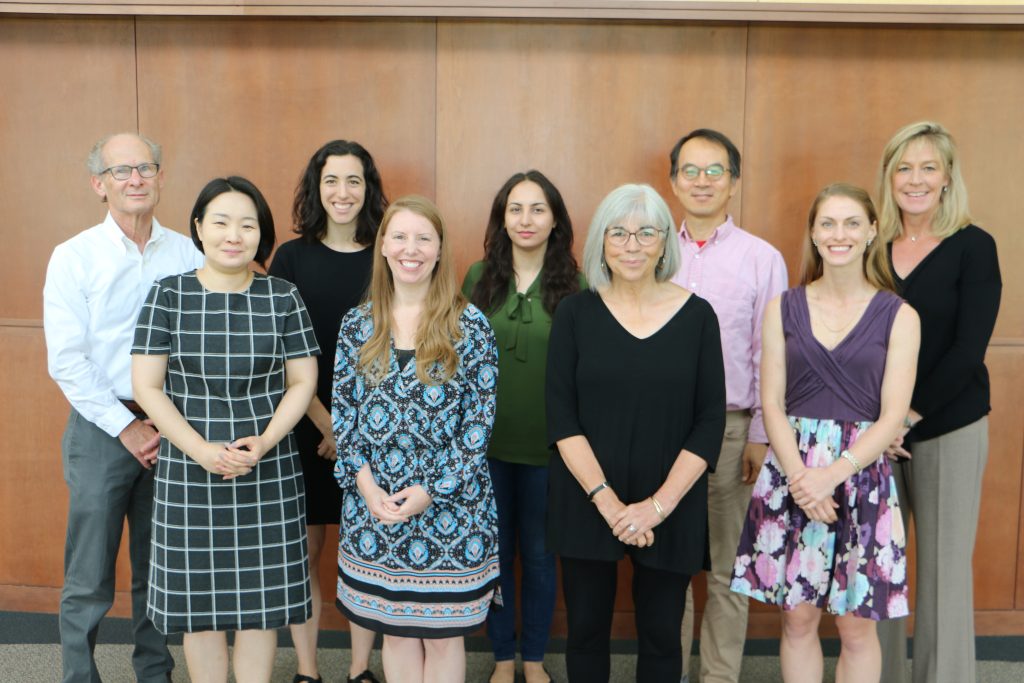 These characteristics are reflected in her successful line of research on the changes in the behavioral phenotype of neurodevelopmental disorders during adolescence, adulthood, and old age, and family dynamics.  "She has really been a pioneer throughout her career, achieving many firsts for the field," DaWalt says.
Research on the full lifespan of individuals with IDDs is rare. Most of the research focuses on the early stages due to the importance of early intervention. However, "childhood is the shortest stage of the life course, and IDDs continue well into adolescence, adulthood, and beyond," Mailick says. In fact, some individuals with IDDs like fragile X or autism are not diagnosed until adulthood.
With funding from the National Institute of Aging, the Family Lifespan Research Lab began a longitudinal study of more than 400 families of autistic individuals, which is now the largest longitudinal study on autism in adulthood. What makes it even more unique, is that it includes data from multiple generations – parents, siblings, and autistic individuals who are entering their elder years. This study has resulted in more than 80 scientific publications, and the development of evidence-based programs such as Transitioning Together and Working Together, which help individuals with autism and their families transition into adulthood or the workforce. Mailick has also led other similar longitudinal studies focused on individuals with Down syndrome and fragile X and their families.
Mailick's research also focuses on the context of family as they play a big role in the life of an individual with a disability. In many cases, it becomes their responsibility to navigate services to support their loved one with a diagnosis. "As the individual is affected by the family, the family is affected by the individual," Mailick points out. In other cases, such as fragile X syndrome, the genetic variant can be hereditary, genetically involving multiple members of the family. "So, there's no way that fragile X can be understood without understanding the family," Mailick says.
Another way Mailick works to push the field forward is through collaborations with researchers from different disciplines, including epidemiology, genetics, biostatistics, and bioinformatics.  "I fully believe that to really answer critically important questions in the field of IDD, it takes interdisciplinary, innovative science and all of Marsha's research embodies that approach," DaWalt says.
This is a view Mailick instills in her trainees, and something DaWalt learned from her.
DaWalt started working with Mailick as a postdoctoral fellow in 2006 through the T32 Postdoctoral Training Program, established by Mailick and Len Abbeduto, PhD, former Waisman investigator and current director of the MIND Institute at UC-Davis. Mailick continued to support DaWalt as she moved into a scientist track and began pursuing her own line of funding. DaWalt now co-leads the Lifespan Family Research Lab alongside Mailick. "And all of that is possible because of Marsha's support, mentorship, guidance, and her unending commitment to people's success," DaWalt says. "She's constantly thinking of ways to further the science and further the careers of the people that she trains and supports."
Milestones as Waisman Center director
In 2001, former Waisman director Terry Dolan, PhD, took a sabbatical to help establish a center like the Waisman Center in Saudi Arabia. In his absence, Dolan appointed Mailick as interim director, which Mailick thought would be a short-term position. "Although I didn't relish the thought of becoming the director of the Waisman Center and it wasn't on my aspiration list, I quickly found what a rewarding and incredibly interesting role that was," Mailick says. So, when Dolan decided to retire at the end of his sabbatical, there was no doubt in her mind that she would apply for the position of director, which she occupied until 2014.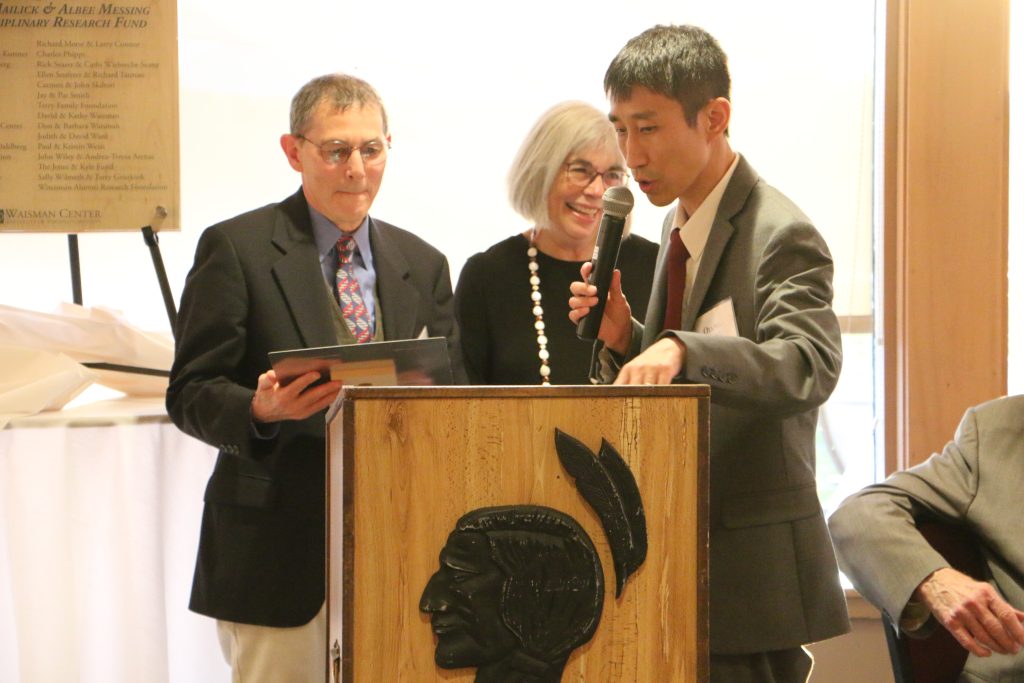 Many significant and impactful changes occurred under Mailick's tenure as director such as the completion of the $25 million building addition started by Dolan and Judith Ward, emerita executive associate director of the Waisman Center, which included the Translational Research Tower and the Early Childhood Wing. "Having that large expansion of space opened up many doors, literally, as well as figuratively," Mailick says. The Translational Research Tower now houses the Brain Imaging Core, Waisman Biomanufacturing, and many biological labs. In addition, Mailick also propelled the renovation of the sixth floor of the original building known as the South Tower.
Three of the labs now living in the new or renovated spaces are led by Xinyu Zhao, PhD, a professor of neuroscience and the Jenni & Kyle Professor in Novel Neurodevelopmental Diseases, Su-Chun Zhang, MD, PhD, professor of neuroscience and neurology, and Qiang Chang, PhD, professor of medical genetics and neurology. Zhao, Zhang, and Chang were hired through the Translational Research and Neurodegenerative Diseases Cluster Hire, finalized the year Mailick became director. The three scientists still run extraordinarily successful and fruitful research programs at Waisman, and are close collaborators, reflecting the vision that brought Mailick to Waisman. "When I first came here, she was very supportive with recruiting me and providing all the necessary resources after I was here. She really provided additional support when I needed it, and she brought me into the leadership team," says Chang, who now directs the Waisman Center.
Throughout her directorship, Mailick always maintained and fostered the view of bringing together multiple angles of vision. "For me, it was more observing, learning from my colleagues, and capturing what I thought was the most creative and innovative and impactful way forward," Mailick says. She familiarized herself with the different programs, projects, and initiatives so that she could advocate for the work done at the center.
An example of this was the establishment of the Waisman Center's Induced Pluripotent Stem Cells Core. It started during the Recession of 2008 when National Institutes of Health funding was scarce. Mailick had the vision of establishing this highly innovative technology of stem cells as a core service at the Waisman Center that wound bring more funding to support investigators. "She was able to see the opportunity and get the money to establish the core. From there on, the center became a front runner in using that technology to do innovative, multidisciplinary research. And to this day, our center is viewed within the IDDRC network as the leader in this space [of stem cells]." Chang says. "She has this ability to not only conceive the idea, but also make it into reality."
Making connections – at individual, community and university levels
One of Mailick's most notable strengths as a leader is her ability to connect and build genuine relationships with collaborators, the university, and the community.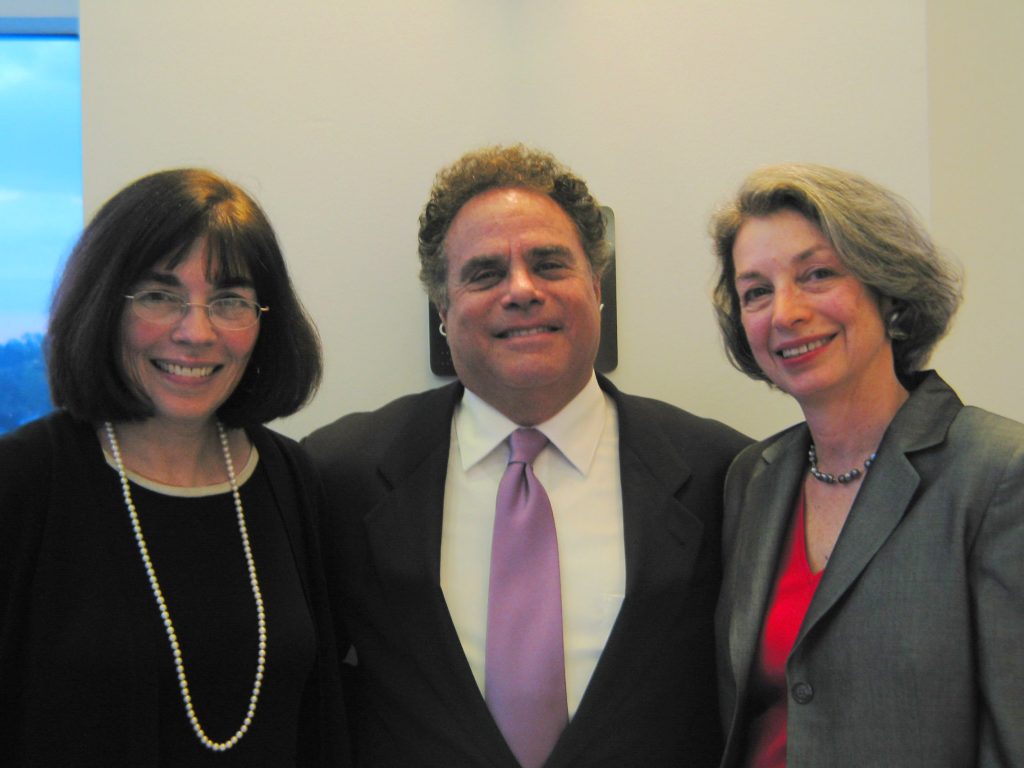 "She became a symbol of something that I treasured a great deal, which was how to break down the silo-like structure of the university," says David Ward, PhD, UW-Madison chancellor emeritus. He mentions that, during her leadership at the Waisman Center, Mailick, a social scientist, created bridges with disciplines such as the biological sciences, medical school, public policy and beyond, all through campus. "There was this sense of somebody really trying to live out the dream of breaking down boundaries within the university," David Ward says. "But also the boundary between the university and the community. That is very hard to do."
A few years after Judith Ward's retirement, Mailick reached out to ask her to get involved in some volunteer activities at the center. This also included becoming part of the Board of Visitors, which was established in 1995 by Judith Ward and Terry Dolan as a link between the Waisman Center and the community and private sectors. "She also has the talent of dealing with people who are not academics. Community leaders, people in Madison. She could help them understand what was going on at the Waisman Center," Judith Ward says. "One of her great accomplishments was really growing the Board of Visitors and expanding the advisory role that the board could play and really partnering with them."
Lastly, building bridges with individuals with disabilities and their families has helped advance research on the understanding of IDD. "Families really connect with her. She's very personable," says Teresa Palumbo, communications manager at the Waisman Center. "She is very genuine in her interactions with families. She makes them feel seen and heard."
Other leadership positions on campus
While being the director of the Waisman Center, Mailick also became the first interim director of the Wisconsin Institutes for Discovery (WID). "When John Wiley was trying to establish WID as a new entity, he thought of Marsha as someone who could make it happen," Qiang says. In 2014, she stepped down as director of the Waisman Center to enter a new role as the founding vice chancellor for research and graduate education, a role she held until 2018. In this role she applied her bridgebuilding and leadership skills across campus and the nation helping UW-Madison be one of the top research universities in the country.
New research directions
Mailick's impact in the field and at the Waisman Center is evident, long-lasting, and continuous. She is now fully dedicated to her research and mentorship.
In her research, Mailick is currently diving into increasing representation of underrepresented and underserved communities in FXS and autism research using data from electronic health records.
She also continues to lead new discoveries, and venture into new projects such as longitudinal studies addressing how the health and behavioral function in individuals with FXS changes across adulthood, and identifying factors that alleviate or worsen those functions.
"She's been really unafraid to take the field in new directions and to not settle for the ways that things have been done in the past," says DaWalt. "Our field has so much to thank her for, including the discoveries that have been made because of her work and her imprint on the field."
| | |
| --- | --- |
| Your support makes a difference. Donate now to advance knowledge about human development, developmental disabilities, and neurodegenerative diseases through research, services, training, and community outreach. | DONATE NOW |
---
Learn more about the Waisman Center's 50th Anniversary, including events, history, stories and images:
50 Years | 1973 - 2023
---